Itís Official: Venice is Funky!
The book, FunkyTowns USA by Mark Cramer, rated Venice as one of the nations funkiest towns. The book lists the best alternative, eclectic, irreverent and visionary places in the country. Cramer rated the communities across the nation from unconventional regional customs to cross-cultural diversity to bizarre geography. Venice rated third, only the Mission District in San Francisco and New Orleans out funked Venice.


How Venice Scored

Unconventional regional customs
6 of 6 points
Pedestrian friendly
4 of 4 points
Cross-cultural mix
5 of 5 points
Public hangouts
5 of 5 points
Alternative economy
3 of 3 points
Positive-expectations gambling
6 of 6 points
Bizarre geography
2 of 6 points
Non-mainstream recreation
6 of 6 points
Independent politics
2 of 3 points
Freedom in the bedroom
2 of 2 points
The Doors, not just another Venice band
| | |
| --- | --- |
| This mural in Venice was painted by Rip Cronk as a tribute to Jim Morrison of the "The Doors" - Photo by Jeffery Stanton | Venice was the birthplace of the Doors. Before their fame and fortune as one of the top rock bands of their time, the Doors played for the Venice locals. You could catch their show at the Cheetah on the Ocean Park Pier. Jim Morrison actually lived in one of the houses on the Venice canals. The Doors were the epitome of the Venice culture in the Sixties. Hollywood director Oliver Stone brought his production crew back to Venice to film the history of Jim Morrison and the Doors, and he didn't have to look far for authentic-looking extras. |
---
Shelby Mustang Gets its Start in Venice
Carroll Hall Shelby was one of Americaís premiere sports car drivers in the 60s until a heart condition ended his career. He decided to turn to race car manufacturing. In 1964, he opened his first Shelby manufacturing plant in Venice, California. Shelby would convert a stock Ford Mustang into a gutsy, stiff, loud, and incredibly fast street-legal race car.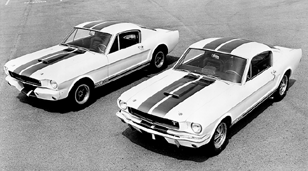 A Shelby for road or track
---
Venice High School Stands and Delivers
In 1996, the Venice High School Science Department won the National Science Bowl. Out of 54 teams across the United States, Venice High School captured the award. The energetic chemistry teacher Richard Erdman has brought the high school to the National Science Bowl three times. This demonstrates how a teacher can enthuse and motivate students. Quite a feat in the rough and tumble streets of Los Angeles.


---
Ince Field, California
Ince Field was located on the corner of what now is Venice Blvd. and Abbot Kenny Blvd. It was the first official airport of California and was the starting point for Trans Pac race of 1914. Unable to extend the runway due to the urban sprawl surrounding it, Ince Field was replaced by houses and stores in 1923.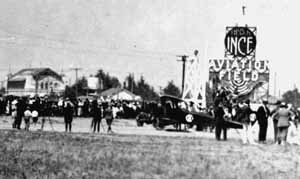 Ince Field in 1905, First airport of California.







Back to the Venice Home Page...

This page was produced by the Westland Network
Copyright © Westland Network 1996-2009 - All Rights Reserved