Coney Island - Sea Lion Park
The material is copyrighted © 1998 by Jeffrey Stanton.
Revised June 1, 1998
When Captain Paul Boyton arrived at Coney Island in 1895 he was already famous and a world wide celebrity. He had achieved his fame by paddling to shore from far out at sea in a rubber suit designed as a life-saving device for steamship passengers . The suit, designed by Pittsburgh manufacturer C.S. Merriman, was very supple and perfectly watertight. It had compartments filled with air so it would float. Boyton would then paddle himself around feet first, kayak style.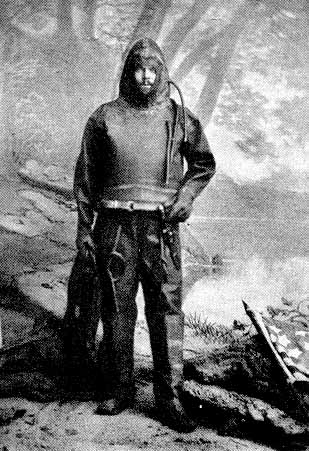 Paul Boyton, founder of Sea Lion Park. - 1890's



His most daring exploit was on the night of October 21, 1874 when a trans-Atlantic ship, a day sail from Ireland, stopped and let him jump overboard in heavy seas. It was a rough night when a westerly gale wrecked 56 craft on the shores of the British Isles. But Boyton paddled on and after seven hours in the water passed Cape Clear Light and went up Roaringwater Bay to Skibbereen. By the time he got to Cork by stage he was a full-fledged celebrity.

In Europe he performed a succession of swimming feats; paddled down the Thames, crossed the English Channel and swam 450 miles down the Rhine. He demonstrated his skills on the Seine, Po, Loire, Tiber, Danube and Tagus Rivers, swam to the island of Capri from Naples, and paddled his way across the Straits of Gibraltar and Messina. When he returned home, New York gave him a hero's welcome. Later newspapers devoted hundreds of columns to his conquests of the Mississippi, Ohio and Hudson Rivers. He paddled himself 2300 miles down the Mississippi / Ohio Rivers to the Gulf of Mexico. In Peru in 1885, he was credited with swimming out at night to a Chilean man-of-war and blowing it up by attaching a torpedo with a short fuse. The grateful Peru government awarded him the rank of Captain.

Boyton operated an aquatic circus as a road show for a number of years, but eventually decided to settle down. In 1895 he bought 16 acres behind the Elephant Hotel and opened his Sea Lion Park in time for Fourth of July. It was the first outdoor amusement park in the world; one enclosed by a fence with an admission charged at the gate.

Sea Lion Park featured a broad lagoon, an old-mill water ride and a Shoot-the-Chutes ride. The later was an aquatic toboggan slide in flat bottomed boats that slid down a long steep slide into the lagoon. Boyton and inventor Thomas Polk designed an upcurve at the incline's lower end that launched the down-rushing boat into the air before it hit the surface of the water. The result was that it performed a series of hops and skips, each impact heaving the passengers from their seats then thumping them down again. It produced a thrilling climax for both its passengers and spectators. The boat was guided to a landing by a boatman on board, then pulled up the ramp by cable and turned around on a small turntable to be ready for the next complement of passengers who arrived at the top by elevator.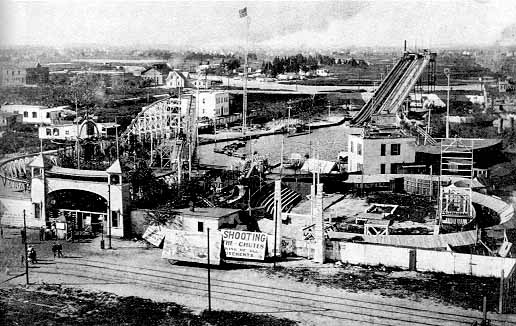 Sea Lion Park - The Shoot-the-Chutes is on the right and the Flip Flap Railroad is near the entrance on the left. - 1897



The captain was his own headline attraction where he demonstrated his swimming skills in his rubber suit. He also had forty sea lions trained to juggle and compete in water races. Boyton also promoted water races, in which the contestants wore pneumatic shoes he had invented, and aquatic ball games on water bicycles.

The park, beginning in 1895, featured Lina Beecher's unique Flip Flap Railroad, probably Coney Island's scariest ride. Two-passenger roller coaster cars descended from a high lift hill and speed through a vertical 25 foot diameter loop. Its cars were held in place at the top by centrifugal force. Most visitors preferred to watch the few brave dare-devils rather than experience the ride themselves. Besides the ride had one major flaw; its abrupt high G-forces sometimes whiplashed rider's necks as it entered the circular loop.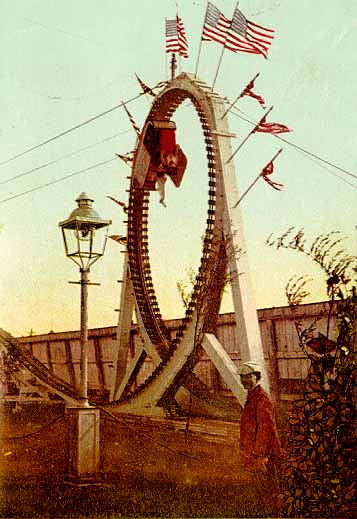 The Flip Flap Railorad was the first looping roller coaster. Its high G forces sometimes whiplashed rider's necks. - 1895



In subsequent years Paul Boyton added an old-mill water ride, a gee-way and cages of live wolves. After he built a large ballroom in 1899, the park increased in popularity. However, it was only modestly successful finacially since it failed to entice repeat customers with new attractions on a yearly basis. But it was the dismal rainy 1902 season when it was wet and cloudy nearly 70 days of the 92 day summer season that brought Boyton to nearly financial ruin. When Thompson and Dundy, the men who operated the "Trip to the Moon" ride at Steeplechase, approached him, he was eager to lease his property to them for a 25 year lease.

Captain Paul Boyton continued to live in the Brooklyn area until died on April 19, 1924. A memorial plaque was placed at Luna Park in honor of his invention of the Shoot-the-Chutes ride. While he was the orginator of the enclosed amusement park concept at Coney Ilsand, he was always annoyed that people, especially newspaper reporters continued to mispell his name as Boynton instead of Boyton.