Coney Island - Movie List
Revised July 10, 2006
Numerous movies have been filmed at Coney Island's colorful amusement parks and along its beaches. Unfortunately most have stories that have little plot involvement with the amusement attractions. There are exceptions, and probably the best of those movies is a little known classic called "The Little Fugitive." Usually the movie characters visit the area for only a few brief scenes, or views of Coney Island's beach and amusements are simply used to set the locale of the story.

The more likely explanation of why there aren't more movies filmed at Coney Island was that film studios, mostly located in Hollywood or Culver City, California used Los Angeles area's Venice and Ocean Park amusement piers, and Long Beach's "Pike". Sometimes, in the case of the movie "The Crowd", where Venice Pier's attractions doubled for Coney Island, and in "Strike Me Pink," the fabulous roller coaster chase scene was filmed on the Cyclone Racer at Long Beach's "Pike".

This movie list had its beginnings with Bill Figie's compiled list of movies with scenes of roller coasters, even if they were only seconds long. I added to it with the help of the Internet Movie Database, and I hope others will too. If you know of other movies or even shorts, please either E-Mail me or write to Jeffrey Stanton 12525 Allin St. Los Angeles, California 90066.


Short Films From 1897 - 1912


Early movies by Edison Manufacturing, American Mutoscope and Biograph were were five minute one-reel shorts that were travelogues or silly comedies, and they often depicted an amusement ride or scene at the beach.

Fun on the Steeplechase - 1897

Aerial Slide at Coney Island - 1897

Fatima's Belly Dance - 1897 Oriental dance in a dance-du-ventre to the music of a Turkish Band

Riding on the Merry-Go-Round - 1897

Coney Island Bikers, The - 1898

Diving Horses - 1899 Horse dives off a 40-foot-high platform into Sea Lion Park's Shoot the Chutes lagoon.

Around the Flip-Flap Railroad - 1900

Capt. Boynton Feeding His Pets - 1900

Pretty bathing girls - short

Swimming Pool at Coney Island - 1901

Around the Flip Flap Railroad - 1902

Shooting the Chutes at Luna Park - 1903

Execution of Topsy (aka Electrocution of an Elephant)(Edison) - 1903

Infamous short of Luna Park's rogue elephant being electrocuted in January 1903 during construction of the park. Edison filmed various animals being electrocuted to show how dangerous his rival's AC current was, and to scare potential customers into not allowing anything but his safer DC current into their homes.

Rube and Mandy at Coney Island - 1903

Short comedy in which a country couple visit Coney Island. At Steeplechase they amuse themselves on the Steeplechase Horses, the Rope Bridge, the Down and Out slide, and riding the bulls. At Luna Park, ride the miniature railway, shoot the chutes, ride in the boats at the Red Mill, visit Professor Wormwood's Monkey Theater, and do stunts on the rattan slide. They then visit fortune tellers on the Bowery, and eat frankfurters.

Double Ring Act, Luna Park - 1903

A Total Accident - 1903 Catastrophe of William Gordon in an attempt to ride a loop-the-loop ramp on a bicycle. As he neared the bottom after circling the loop, the wheel swerved into the framework. The injured man was carried away.

Great Fire Ruins, Coney Island - 1903 Scenes of the aftermath of the Bowery fire on November 1, 1903.

Looping the Loop at Coney Island - 1903 A ride on the Loop the Loop coaster on Surf Avenue and W. 10th St.

Fire and Flames at Luna Park - 1904

Hippodrome Races, Dreamland, Coney Island Chariot Races on the track around the Dreamland lagoon.

Coney Island at Night - 1905

Boarding School Girls ( ) - 1905

Chase scenes through an amusement park.

Stagestruck ( ) - 1906

Chase scene through an amusement park.

Monday Morning in a Coney Island Police Court (Biograph) - 1908

D.W. Griffith directed this comic courtroom burlesque.

Cohen at Coney Island ( ) - starring John Bunny - 1909

Cohen's Dream of Coney Island ( ) - starring John Bunny - 1909

Jack Fat & Slim Jim at Coney Island ( ) - starring John Bunny - 1910

Shows Coney's hurly-burly atmosphere in this slap-stick comedy.

Gone to Coney Island ( ) - 1910

Short comedy

At Coney Island ( ) - starring Mack Sennett and Mabel Normand - 1912

Short comedy


Movies of the Teens Through 1930's
Rafferty Goes to Coney Island ( ) - starring Charles O'Hara - 1915

The Whirl of Life - 1915

Story of Vernon and Irene Castle who had a dance academy at Luna Park.

A Coney Island Princess (Famous Players) - starring Irene Fenwick & Owen Moore - 1916

Behind the scenes look at Coney Island based on the play "Princess Zim-Zita. Rich guy imagines he is in love with a Streets of Cairo dancer. After he disgraces himslf by coming to the polo field drunk, his fiancee returns his engagement ring. He goes to Coney Island where he obtains a job as a piano player at the Turkish Dream and meets Tessie, "The Princess of Coney Island."

Fatty at Coney Island (Paramount) - starring Fatty Arbuckle & Buster Keaton - 1917

Short comedy photographed at Luna Park and other locales, where Keaton dresses as a girl and doubles as Fatty's date on a ride on the Shoot-the-Chutes. There is great stock footage of Luna's `The Top' roller coaster, and the Witching Waves, but after the first ten minutes, the comedy scenes take place mainly on the beach. The movie was a disappointment for me since I expected the entire short film to show lots of skits on the rides.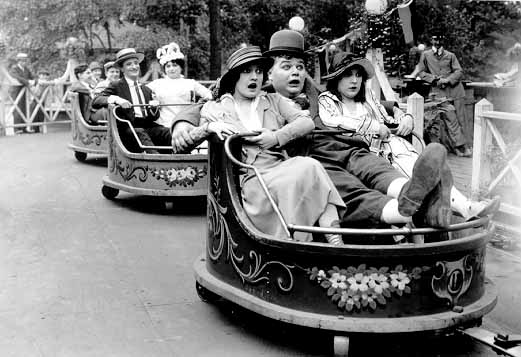 Fatty Arbuckle rides on the Whip at Luna Park in the movie "Fatty at Coney Island" - 1917.



Night and a Day at Coney Island - 1919

Documentary

Such is Life at Coney Island ( ) - 1920

A humorous look at life at New York amusement park.

Just Another Blonde (aka Girl From Coney Island) ( ) - starring Dorothy MacKaill & Jack Marshall - 1926

Drama / romance

Speedy (Paramount) starring Harold Lloyd & Ann Cristy - 1928

The movie comedy involving a plot to steal the franchise for the last horse-pulled streetcar. To keep it the conveyance must run every 24 hours. Lloyd, who dates the granddaughter of the streetcar owner, takes his girl on a date to Luna Park. When her grandfather becomes ill, Speedy organizes the neighborhood oldtimers to thwart their scheme. The silent film was shot in New York City, and the amusement park scenes were filmed at Luna Park and Steeplechase. The fun house scenes were in Steeplechase's Pavillion of Fun where Lloyd and Cristy try the Barrel of Fun, the Spinning Disks and other fun house devices.

The Crowd (MGM) - starring Bill Murray, Eleanor Broadman & Bert Roach - 1928

Two couples go to Coney Island after work. The exterior night scenes are of Luna Park but the interior fun house scenes are at the Venice Pier in California.

Coney Island (FBO) - starring Lois Wilson & Lucille Mendez - 1928

Drama / romance

Symphony of Six Million ( ) - starring Irene Dunne, Ricardo Cortez - 1932

Young doctor abandons his Jewish ghetto neighborhood, family, and friends to join Park Avenue set and make big money. There is a long shot of an unknown coaster, and a few seconds of a shot of a man and woman riding on the coaster.

Manhattan Melodrama ( ) - starring William Powell & Myrna Loy - 1934

Boyhood pals, one a gangster and the other a District Attorney, remain adult friends. One goes on a date to Coney Island.

Guilded Lady ( ) - starring Claudette Colbert, Fred MacMurray, Ray Milland - 1935

New York stenographer meets an Englishman and falls in love. She discovers he is a duke's son and already engaged. She confides in her reporter friend who publicizes her as the 'No Girl', so she cashes in her notority and becomes a cafe entertainer. Scenes at Luna Park??

Shopworn Angel (MGM) - starring James Stewart and Margaret Sullivan - 1938

Naive solider falls in love with a loose-moraled actress. There are Coney Island scenes where they court.


Movies of the 1940's - 1960's
Devil and Miss Jones (RKO) - starring Robert Cummings and Jean Arthur - 1941

Millionaire department store owner masquerades as a clerk in his own store to investigate employee complaints. He and one of his female clerks visit Coney Island.

Meet Boston Blackie ( ) - starring Chester Morris, Rochelle Hudson - 1941

When a murder occurs on an ocean liner docked in New York, the trail leads to Coney Island and a spy ring.

Coney Island (20th Century Fox) - starring Betty Gable, George Montgomery - 1943

This is a turn of the century musical of a saloon entertainer being turned into a musical star by hustling Montgomery. The movies use a drawing of a coaster during the credits and the scene in the restaurant uses a matte background shot of a coaster somewhere in the background (not a Coney coaster)

When Strangers Marry (Monogram Pictures) - starring Robert Mitchum, Kim Hunter & Dean Jagger - 1944

Film-noir about a sweet girl whose new husband (Jagger) may be a murderer. Mitchum is her ex-boyfriend. Shows short clips of the Human Pool Table and a scene from an unknown coaster.

Coney Island Honeymoon ( ) - 1945

Short

Mister 880 ( ) - starring Burt Landcaster, Dorthy McGuire - 1950

The skipper is a charming old man loved by all his neighbors. Unknown to them, he is an amateur conterfeiter who eluded the Secret Service of 20 years. Scenes at Coney Island where the old man rides the coaster with two kids.

Little Fugitive, The (Joseph Burstryn, Inc) - starring Rickie Brewster, Richie Andrusco - (1953)

A young boy thinks he has killed his brother and he wanders lost through Coney Island. There are lots of shots around Coney Island, some along the Bowery and at the Parachute Jump; but few of the Tornado and Cyclone in action.


Ricky Andrusco buys a ticket on a carousel at Coney Island in the movie Little Fugitives - 1953.



Clown, The (MGM) - starring Red Skelton, Tim Considine, Jan Greer - 1953

Story of a sentimental clown who worked at Steeplechase. Scenes on Steeplechase's Pavilion of Fun stage where he worked as a clown.

Imitation of Life ( ) - starring Lana Turner & John Gavin - 1959

In 1947, a down-on-her-luck actress and her young daughter meet a black woman and her daughter. There is a long shot of Coney Island that shows the Wonder Wheel in the background.

Incredible Mr. Limpet ( ) - starring Don Knotts & Jack Warden - 1964

The movie has a brief long shot of Coney Island which shows its roller coasters in the background. Much of the movie is animated and is about a fish.

Only One New York ( ) - 1964

Documentary about ethnic oddities in Manhattan and Brooklyn.It interviews a gypsy family at Coney Island.


Movies of the 1970's to 2003
Carnival of Blood (Kirt Films) - starring Earle Edgerton & Judith Resnick - 1970

Psychopathic killer uses a carousel ride to pick his victims at a Coney Island amusement park. Cop on his trail.

Lords of Flatbush ( ) - starring Perry King, Sylvester Stalone, Henry Winkler, Susan Blakely - 1974

Group of teens in Brooklyn form a gang. Scenes at Coney Island with coasters in the background.

Annie Hall (United Artists) - starring Woody Allen & Diane Keaton - 1977

About a girl who grew up in the house under the roller coaster, who is romanced by quirky Allen. Shows a short shot of the Thunderbolt plus a scene in the house under the coaster where it vibrates from the running coaster.

The Wiz (Universal) - starring Diana Ross & Michael Jackson - 1978

A black version of the Wizard of Oz. There are scenes of the Oz characters singing and dancing under the Cyclone roller coaster.

Boardwalk (Atlantic Releasing) - starring Ruth Gordon & Lee Strasberg - 1979

The movie is about an elderly couple struggling to survive in a decaying neighborhood, and are terrorized by gangs. During the opening credit, the Thunderbolt can be seen in the background.

The Warriors (Paramount) - starring Michael Beck & James Remer - 1979

Comic book plot about a rival gang crossing rival turf to get home. There are several shots with the Thunderbolt and Tornado in the background.

The Goodbye People (Castle Hill) - starring Judd Hirsch, Pamela Reed - 1984

A man's foolish scheme to open a juice stand on a badly located beach location. Both the Jumbo Jet and Thunderbolt can be seen in the background, but they aren't operating.

Hot Stuff ( ) - starring ??? - 1984

This X-rated movie contains on-ride footage of the Jumbo Jet and the Wonder Wheel.

Over the Brooklyn Bridge ( ) - starring Elliot Gould, Margeux Hemingway & Sid Caesar - 1984

Brooklyn Jewish restaurant owner (Gould) wants to borrow money from his uncle to open a Manhattan eatery, but his family objects to his Catholic girlfriend. Scenes of the Cyclone roller coaster.

Crossover Dreams (Miramax) - starring Ruben Blades, Shawn Elliot - 1985

Salsa performer when he thinks his upcoming record is going to be a hit, shafts his friends and starts living the good life. His record flops. There is a scene at the Coney Island boardwalk with the Thunderbolt in the background.

Heaven Help Us (HBO) - starring Donald Sutherland, Mary Stuart Masterson and Andrew McCarthy - 1985

Sixteen year-old boy arrives at St. Basil's Catholic Boys School in Brooklyn circa 1965 in a coming of age movie. The movie contains a scene along the Boardwalk with the Wonder Wheel and Parachute Jump in background, followed by a walk on the beach and kissing in seclusion under the boardwalk.

Brighton Beach Memoirs (Rastar Pictures) - starring Blythe Danner, Jason Alexander - 1986

Movie is about two sister's families that live under the same roof in 1937 Brooklyn. One scene at Coney Island shows two boys talking on a street corner and the lower portion of the Cyclone shows in the background.

Remo Williams, The Adventure Begins (MGM) - staring Fred Ward, Joel Grey - 1986

N.Y.C. cop is recruited to fight the bad guys. There is a fight and chase on the Wonder Wheel. The Cyclone can be seen in the background.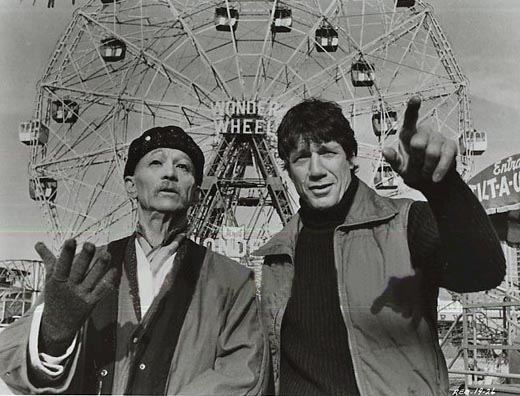 Remo Williams actors Fred Ward and Joel Grey pose in front of Wonder -1986.



Streets of Gold (20th Century Fox) - starring Klaus Maria Brandauer, Wesley Snipes - 1986

Former Russian boxing champ trains two street kids for the U.S. Boxing team. Coney Island coasters can be seen in the background while men run on the beach.

Pick-up Artist, The (20th Century Fox) - starring Molly Ringwald, Robert Downey, Jr. - 1987

Womanizer meets his match when he falls for the daughter of a mobster. There are brief shots of the Thunderbolt that can be seen in two scenes.

Angel Heart (Carolco) - starring Micky Rourke, Lisa Bonet & Robert DeNiro - 1987

Two-bit private eye is hired by DeNiro to track down a missing man. Rorke goes to the beach to see Madam Zora where there are scenes of Coney Island in the background.

Shakedown (Universal) - starring Peter Weller, Sam Elliot - 1988

The good guys try to rid N.Y.C. of drugs and corruption. There are good shots of the Cyclone (on the ride) and the coaster jumping the track.

Enemies, A Love Story (Morgan Creek) - starring Angelica Huston, Ron Silver - 1989

Story of an aloof Jewish intellectual who after hiding from the Nazis during World War II, settles in Coney Island in 1949. He is married, but is fooling around with a sexy married woman. Several of the long shots show the Cyclone and Thunderbolt coasters. There are also several closeups of the flat rides at Astroland.

N.Y.P.D. Mounted ( ) - starring Spike Allenander and Anna Berger - 1991

In this made for TV movie, a wisecracking, streetwise veteran cop is reassigned to Mounted Division. Cops on horseback chase the bad guys around Coney Island with the coasters in the background.

The Pickle (Columbia) - starring Danny Aiello and Dyan Cannon - 1993

About an aging film director who is in desperate need of a hit. There are scenes of the Cyclone.

Little Odessa (New Line Cinema) - starring Tim Roth and Edward Furlong - 1994

Tale of a dysfunctional family of a cold-blooded professional killer, and his relationship with his younger brother. There are scenes of the amusement zone in the background.

Car 54, Where Are You ( ) - starring David Johansen, John McGinley, Fran Drescher - 1994

Brash NYC policeman partnered with stiff by-the-book officer and assigned to protect an important mafia witness against organized crime in Brooklyn. Reported to be a lot of Coney Island scenes???

Coney Island of Lawrence Ferlinghetti, The ( ) - starring Gregory Corso, Allen Ginsberg - 1996

Documentary about poet ???

He's Got Game (Touchstone) - starring Dentzel Washington and Mila Jonovich - 1998

Spike Lee movie depicts a landscape defined by housing projects and basketball courts. Basketball player's father tries to convince him to go to college in order to get a shorter sentence.

Went to Coney Island on a Mission from God...Be Back by Five (Phaedra Cinema) - starring Jon Cryer and Ione Skye - 1998

Two young men, friends since childhood, go on a trip to find a third friend.

Requiem for a Dream (Artisan) - starring Ellen Burstyn, Jared Leto & Jennifer Connelly - 2001

Drug induced utopias for four Coney Island individuals are shattered when their addictions become stronger. Portrays Coney Island as a desolate landscape.

Uptown Girls ( ) - starring Brittany Murphy and Dakota Fanning - 2003

A carefree woman is a nanny to a precosious uptight 8-year-old girl. She takes the girl to Coney Island to ride the teacups, but the season hasn't opened and the rides are closed. View of the Wonder Wheel and several kiddie rides. Later in the movie the girl runs away one night and the nanny finds her on the teacup ride.

Tom and Nichole ( ) starring Dylan Davey, Nancy Mitchell - 2004

A couple spends their last day together at Coney Island


Television Documentaries


Coney Island (1991)

PBS American Experience documentary by Ron Burns.

Coney Island: America's Dreamland (2000)

Discovery Channel documentary.

Coney Island Sideshow (2003)

Discovery Channel documentary about Dick Zigan's freak show and its performers currently at Coney Island.