Coney Island - Luxury Hotels
The material is copyrighted © 1997 by Jeffrey Stanton.



During the mid-1880's, business men, notably William Engeman who acquired the title to Brighton Beach, and August Corbin, a rich banker who acquired title to Manhattan Beach, decided to develop their respective property. Corbin became interested in the seaside during a visit to Coney Island House (Oceanic Hotel??) with his wife and ailing infant son. The child's doctor had recommended a few weeks of sea air. Corbin was a wall street investor and railroad tycoon who saw potential profits by building two large luxury seaside hotels and a railroad to bring in customers. His New York and Manhattan Beach Railway brought the shore within an hour of uptown New York.

Corbin's Manhattan Beach Hotel was built on the far eastern shore of Coney Island. Architect J. Pickering Putnam set its nearly 700 feet long front with its covered verandas and acres of manicured lawns facing the sea. It was considered the most elegant and fashionable hotel in the United States. It featured 258 lavish rooms, restaurants, ballroom and shops. When Ulysses S. Grant delivered the dedication speech for the hotel's grand opening on July 4, 1877 the event and the free fireworks show drew such huge crowds that it overwhelmed Corbin's railroad. And those who once thought that Corbin overpaid for the land changed their minds and pitied Littlejohn for selling so cheap.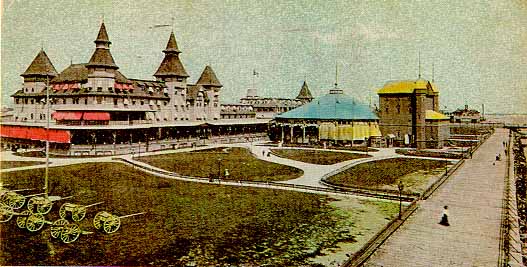 The 700 foot long Manhattan Beach Hotel was built in 1877. It featured 258 lavish rooms, restaurants, ballroom and shops. - 1890



The second resort that came into existence about the same time was William A. Engeman's Brighton Beach, located west of Manhattan Beach. But to put together the land deal to build his magnificent Brighton Beach Hotel, required several years of patience and craft on his part.

Engeman constructed his Brighton Beach Hotel in time for the 1878 season. This vast wooden hotel, 460 x 210 feet and several stories high, with accommodations for nearly 5000, could also feed 20,000 people per day. He also constructed an Iron Pier nearby and the 400 foot wide, two story Brighton Beach Pavilion. His resort was connected to New York by railroad and was frequented by the upper middle class rather than the wealthy because its location in Brighton was too close to Coney Island's seedier section immediately west of it.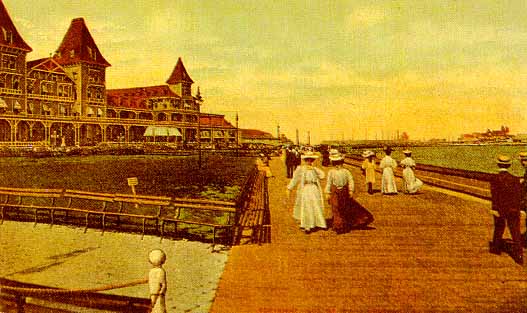 The Brighton Beach Hotel built in 1878 had accommodations for nearly 5000 and could feed 20,000 people per day. - 1890



The third and final big-time developer was Andrew R. Culver who ran a steam line to West Brighton shortly before Corbin and Engeman got their railroads started. His Prospect Park & Coney Island Railroad, called the Culver Line, terminated in 1875 at a spacious terminal on the ornamental Culver Plaza along Surf Avenue. It offered regular and speedy service to Coney Island for a 35 cent fare.

Opposite the station stood the 300 feet tall Iron Tower, a structure with steam elevators that wisked visitors to the top for a high view of Coney Island. Culver had purchased it from the 1876 Philadelphia Exposition. A Camera Obscura, which showed a panoramic view through a combination of lens and mirrors, also from the fair was installed nearby.

Two large hotels were built nearby, The first, the 150 room Cable Hotel, was built by Thomas Cable, a friend of Culver. A larger one was built by Paul Bauer, a maitre-d' of a New York hotel who married the daughter of John J. O'Brien, Republican leader of the area east of the Bowery. Bauer choose a 12 acre lot close to Culver Plaza but it had already been leased to a Gravesender, James Voorhies for $75 a year. Since Voorhies only needed a strip of land along the beach for his flourishing bath house business, Voorhies paid him $1000 a year for the rights of his lease and charged him only a token dollar for use of the beach strip. Then he proceeded to sublease a fraction of his lot to other tenants for $13,000 a year. With capital provided by his rich father-in-law, He hired McKane to build for him the biggest hotel in West Brighton. When it was completed in May 1876 it could accommodate 250 guests and had a dining room that could serve one thousand at a time. Its four tower rooms were used for private banquets.

Coney Island's three big luxury hotels, the Manhattan Beach, Oriental and Brighton Beach were the epitome of a gracious and leisurely age, a unique expression of their era. They were long rambling wooden structures, 600 to 800 feet in length with deep verandas (porches) reaching down their entire length. They faced the sea but were set back by wide green lawns decorated with beds of geraniums and lobelias, and had broad curving walks. Pinkerton detectives, patrolling the grounds and beach, provided security.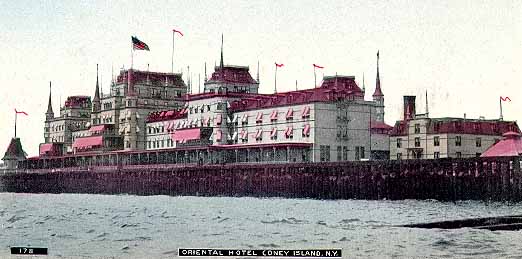 The Oriental Hotel - 1890's



The hotels took pride in their cuisine which was served in immense dining rooms where the evening dress was formal. Littleneck clams were twenty-five cents per portion, baked bluefish - forty-five cents, roast lamb with vegetables - sixty cents, and a desert of meringue glacee - thirty cents. Diners would be lucky to avoid spending at least #3.50 for a typical dinner meal; a half week's wages for the ordinary man in 1880.

Evening entertainment included music and fireworks. Bands like John Philip Sousa, and Patrick Gilmore's 22nd Regiment Band entertained with concerts. Young ladies swooned when the celebrated cornetist Jules Levy entertained at Manhattan Beach and Admiral Neuendorf's Naval Band played at Brighton Beach. Those who yearned for something more exciting often attended one of Henry Pain's spectacular firework's displays. These depicted scenic wonders, famous legends and battles. Pain conjured up colorful rocket bursts, bombs and Catherine wheels to depict the defeat of the Spanish fleet at Manila or that of the Russians at Vladivostok.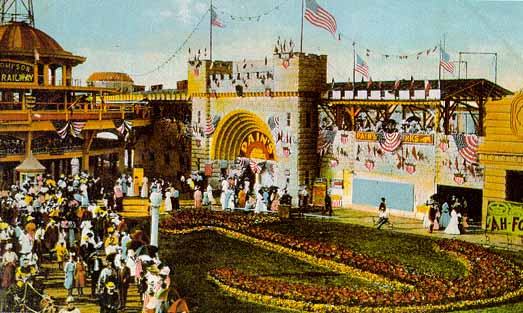 Pain's fireworks show entertained visitors with lavish reenactments of disasters and battles. - 1890's



These gracious hotels became more and more popular as salt water bathing became popular. The Manhattan Beach Bathing Pavilion increased its number of bathhouses from 117 in 1877, to 800 the following year. They doubled their capacity for the 1879 season and in 1880 offered 2,350 single bathhouses and 350 larger rooms for groups of half-dozen bathers.

The exclusive New York City clubs adopted the hotels as their summer headquarters. The Manhattan Beach Hotel was used by the University Club, the Union League Club, the New York Club and the Coney Island Jockey Club. The Brighton Beach Hotel to the west was home to the Bullion Club and the New York Club. The Oriental Hotel, the most snobbish of the lot, served rich customers with their families who often stayed the entire summer. Weekends were the most crowded when passengers arrived on trains seventeen cars long. Cots were set up in the hotel's corridors to accommodate the overflow.

While businessmen like Feltman in West Brighton profited by the build up of sand that increased the depth of their ocean front property, the beach was steadily eroding to the east of them at Brighton Beach. By 1888 the beach became so badly eroded in front of the Brighton Beach Hotel that waves threatened the structure. To save the 500 foot long, three story hotel that weighed 6000 tons, workers jacked up the entire hotel placed it on 120 rail cars, and eased in inland six hundred feet. Six locomotives in two teams of three each, beginning on April 3, 1888, moved the building so gently that not a pane of glass was broken nor a mirror in a room was cracked. The job was finished on June 29th with the hotel ready for business.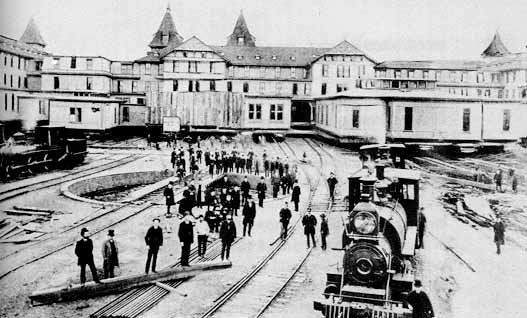 The 6000 ton three story Brighton Beach Hotel was moved 600 feet inland by jacking it up and placing it on 120 railroad cars. - 1888



Coney Island's visitor's tastes began to change during the first decade of the twentieth century. The exclusivity that the rich enjoyed at the big luxury hotels was being diluted by large numbers of middle class visitors vacationing at the seashore. For the rich, spending the summer at the seashore began to become unfashionable, especially after the race tracks closed in 1910. The venerable wooden hotels began losing money and were soon boarded up.