Coney Island - Horse Racing
The material is copyrighted © 1997 by Jeffrey Stanton.



The wealthy and fashionable crowds that frequented the hotels at Manhattan and Brighton Beaches needed diversion and many craved a race track. In those times most men fancied themselves as expert judges of horse flesh. Every Sunday there were hundreds of impromptu races along Ocean Parkway and thousands of spectators crowded around those who were taking bets.

In 1879 William Engeman was the first to meet the public's need when he formed the Brighton Beach Racing Association. It took him only six weeks to build his track and grandstand at Brighton Beach. It's sandy track wasn't very good for setting records when it opened in June 1879. It wasn't the best location either as it sometimes flooded during heavy rains.

The Coney Island Jockey Club, envying Engeman's success and led by August Belmont, Jr., William R. Travers, and A. Wright Sanford, began carving out their Sheepshead Bay track out of a maple and oak forest. When it opened in June 1880, its judges, W.K. Vanderbilt, J.G. Lawrence and J.H. Bradford were well known horsemen. It immediately became a successful race track and attracted wealthy men who thought of it as their playground. Horsemen like Bet-a-Million Gates, James Buchanan (Diamond Jim) Brady (steel salesman), A.J. Cassatt (railroad baron), Jesse Lewisohns and Abe Hummel were regulars and owned racehorses. Brady's colt, Golden Heels was winning every race it entered.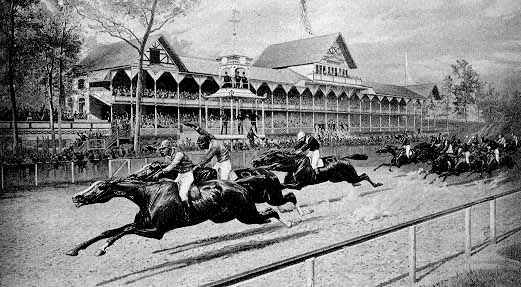 The Futurity at Sheepshead Bay Race Track - 1890's



The whole stretch of shore on the north side of Sheepshead Bay was bought up by millionaires. They built docks for their yachts, lodges were they could live and entertain, and stables for their horses. They created three great restaurants; Tappan's, Villepigue's and Lundy's.

The third race track wasn't built until 1886. It was built by the Brooklyn Jockey Club, which included some of the same men who had earlier formed the Coney Island Jockey Club. Noteworthy among them were Phil and Mike Dwyer, prosperous Brooklyn butchers. The track was built at Gravesend, just off Ocean Parkway.

For a time there was talk of opening a fourth race track when Tammany leader Richard Croker considered buying the entire West End of the island. Senator Mike Norton would have sold, but Croker dropped the idea when Austin Corbin declined to extend his Long Island Railroad to the Point.

The three race tracks made Coney Island the race track capital of the country. Their seasons somewhat overlapped so that horse racing fans could find a race from May through October. Each held high stake races. The crowd would start the season in the spring with the Brooklyn Handicap at Gravesend, move on to the Suburban at Brighton, and then to Sheepshead for the Futurity around Labor Day. During its last fifteen years of Coney's horse racing dominance, the Preakness became Gravesend's outstanding annual race.

Coney's three race tracks were essential to the development of Coney Island because they drew to the seaside horse racing fans of all walks of life. The politicians, easy money men, Wall Street barons and Western railroad men, society leaders, actors and actresses, the parasites of the rich and large group of middle class all visited Coney and needed places to sleep, eat and party. Crowds grew yearly and by the 1905 and 1906 racing seasons 40,000 people would be on hand to cheer the winners in the Suburban or Futurity races. While the well-to- do stayed at Manhattan and Brighton Beach's three luxury hotels, professional gamblers thought nothing of spending $20 a day for a room at Richard Ravenhall's hotel and bookmakers made their headquarters on the porch of the Riccadona Hotel, opposite the Brighton Beach Music Hall. Others that profited from the racing crowd were Risenweber's, the Shelborne Hotel, Pabst's Hotel and Dick Garm's hotel in the old Sea Beach Terminal.

Betting was considered the lifeblood of the sport, and while it was considered illegal John Y. McKane turned a blind eye to what was going on. McKane stuck to his philosophy that those who bet knew what they were doing, and that anyway, reforms were up to the Jockey Club officials.

The local clubs, however, had McKane's support in a fight against New York bookmakers who wanted free and immediate information about the races. When high board fences were erected around the Gravesend track, the New Yorkers put up still higher poles outside. Telegraph men would perch on top of them to peer over the fences and describe finishes for the benefit of Manhattan's poolroom patrons. Since mistakes were costly, the New Yorkers planted men in the stands to signal to the telegraphers. Once officials caught on, any man that waved his hands or made any gesture that could be interpreted as a signal was hustled to a lockup by Pinkerton detectives. Finally the New Yorkers sent agents to leave at intervals to make reports. The Dwyer brothers countered by closing the track completely during the running of the races. Regardless of excuses, patrons were not allowed to leave and were literally prisoners from 2-5 P.M. Eventually the New Yorkers gave in and agreed to pay several thousand dollars for track information.

There were many high rollers who were regulars at Coney's race tracks. These included Joe (the Boy Plunger) Yeager, E.S. Snathers, Lucky Baldwin, Herman Duryea, Jesse Lewisohn, Mike Dywer, John W (Bet- a-million) Gates and George Ellsworth Smith, better known as Pittsburgh Phil. The later always shied away from odds-on favorites and followed a policy of pressing lucky streaks and waiting out unlucky ones. He had ice water in his veins. His first big killing came with a colt named King Cadmus. In 1891 after the horse ran miserably in the $60,000 Futurity, Phil placed a big bet on the horse when it entered the Sapphire Stake several days later at odds of 10-1. He won $143,000, the largest amount made up to then on an American horse race. He went down in history as the only American to make a million by betting on the races, and keep it.

Mike Dwyer, the butcher who helped start the Gravesend track, was a wild better. He thought nothing of wagering $100,000 in a single day. When he broke up his racing partnership with his brother in 1892, he was reputed to be worth $2,000,000. However, he went to England to make a killing in the racing business and lost most of his winnings there.

While all three tracks were financially successful, they faced legal challenges by Brooklyn's reformers and its anti-gambling statutes. When preachers complained, Brooklyn's authorities had to act. First Engeman was arrested and indicted in 1885, and again in 1886. Then the governors of the Coney Island Club were served with subpoenas and actually put on trial for permitting gambling at their track. While everyone knew that there were as many as one hundred bookmakers operating at each of the three tracks and each paying management $100 / day for the privilege of handling $15,000,0000 in bets, it was another thing to convince a twelve man jury that betting on horses was a sin and punishable. The odds were always in the favor of the accused since several of the men on the jury were sure to be horse-players themselves.

Crookedness among the racing fraternity was becoming more obvious than ever, and the public was beginning to show less patience. The worst was at the Brighton Beach track where several arrests were made that involved taking rivals' horses from the stables in the dead of night and galloping them almost to exhaustion to insure their defeat the next day. Disciplinary action was taken against another of jockeys who pulled their horses to throw a race. Timers and even judges were accused of conspiracy.

But it wasn't until 1908 that reformers had any real chance to enact legislation against track betting. When William Randolph Hearst ran for governor that year, one of his campaign issues was the mortal sin of gambling. His opponent Charles Evans Hughes, who eventually won the election, assured voters that if he won gambling wouldn't be an issue. But he immediately double-crossed the voters by calling a special session of the legislature to enact laws against betting of horse races. Again arrests reached a peak, but it was nearly impossible to convict. However, after a two year struggle the horseman finally decided that they had had a enough. Both the Gravesend and Sheepshead Bay tracks closed in 1910, while Brighton Beach had closed three years earlier.