History Articles - Timeline - Historic Maps - Bookstore - Links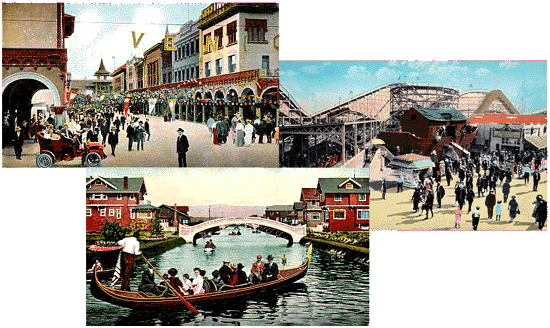 Venice, California History Site
Updated November 11, 2006

This interactive educational site (online since 1996) covers the history of Venice Beach, California. It features timelines, historic articles and photographs, interactive maps that when clicked on show historic views, and a list of movies filmed on Venice's streets, amusement piers and canals. Venice California was considered the "Coney Island of the Pacific" during the first half of the 20th Century. It was a town built to resemble Venice, Italy and with its network of canals, business district built in Venetian architectural style, and its two huge amusement piers, it became the finest amusement resort on the America's West Coast.

The historic articles and photographs for this educational site are based on Jeffrey Stanton's history book, "Venice California - 'Coney Island of the Pacific.' The author who is the content provider for this educational site, has condensed material from his book for these articles and has digitized numerous photographs and color antique postcards from his archives. The majority of the images used here are are not among the 367 historic photos used in his book. While only 34 antique color postcards were used in Stanton's book, over 150 were digitized for this site. Many of the additional 150 B&W historic photos are seen here for the first time. The 43 modern color photographs used to illustrate the 1996 Venice Map are postcards sold at several stores and at Stanton's weekend table on Venice's Ocean Front Walk. They are all photographs by the author.

Note: Stanton's table, as of March 2006, is temporarily shut down by police because his items have "nominal value" in the new ordinance, as his postcards can be mailed, his books read, and maps used to navigate the town. No one is interested in a possible lawsuit.

What's New - Added June 2005
List of Venice's Businesses (1907-1938)


What's New - Added July 2006

The material is copyrighted © 1996 to 2006 by Jeffrey Stanton.

While students may use it freely in their school reports, commercial use of the material in any printed form is prohibited without permission and fees paid to the author.

If you would like to know something about the author click here for
Jeffrey Stanton's Biography
The site is looking for additional historic material; antique postcards, original photographs, ride tickets, and various souvenir items. If one has material either for sale or to donate to this site, please leave an E-mail message or write to:
Jeffrey Stanton 12525 Allin St. Los Angeles, California 90066.
E-Mail messages must have a Tag line like with the word Venice in it, otherwise messages like "Hi Jeff" or "I have a question" will be discarded as Spam since I receive over 200 messages per day, nearly all Spam.

NEW! The author has a similar historic amusement park site for Coney Island, New York.


History Articles - Timeline - Historic Maps - Bookstore - Links
---
History Articles - The 41 illustrated articles are divided into five groups; General History, Venice as a City, its Amusement Industry, Competing Resorts, and Proposed Plans for a new Amusement Pier. One of the more interesting articles is an extensive list of movies and television shows that were filmed in Venice along with exactly where they were filmed. There are also reviews of all Venice and Santa Monica history books.
Time Line - This section features important dates and events that occurred during Venice's history. Since it is rather long, it is divided into two decade sections. Currently there are no photos here.
Historic Maps - This area is graphics intensive and requires considerable download time. There are currently seven interactive (click on) maps available. Each SVGA (700 x 500 pixels) map is approximately a 50K file. There are between 15 and 50 interactive click points on each map that show views of Venice and its amusement piers attractions. Each click point brings up one or more views of the attraction. These are a combination of color antique postcards (30K) or B&W photos (25K). Each view is captioned.
Bookstore - Several amusement park books were written about the Venice / Ocean Park / Santa Monica areas. Ordering information for these books and availability of several out of print books are listed here.
Links - Links to other sites; Amusement Parks, Venice California, Coney Island New York, and various World's Fairs.
Sponsors - Yes this site has its sponsors, including the university where this site is stored.
Historic articles and photos copyrighted © 1996 & 2006 by Jeffrey Stanton



Website Hosted by the Westland Network
Also see Venice History from the Westland Network