Venice Schools
The material is copyrighted © 1998 by Jeffrey Stanton.
Revised May 21, 1998
Grammar Schools
Venice's first grammar school, Martha Washington, was located at Westminster and Washington Boulevard. It had a single teacher and 23 pupils when it opened in 1905, but after residents began moving into Venice of America and adjoining tracts in 1906, school enrollment jumped to 300 students. The city added several classrooms, but facilities barely kept ahead of increasing enrollment. By 1912 thirty teachers taught 700 children in very crowded classrooms.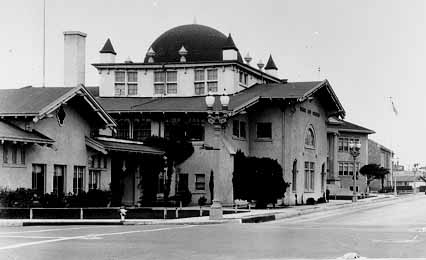 Central school was Venice's first grammar school. - 1913



Fortunately, in 1912 the voters approved a $60,000 bond issue to finance expansion of the Martha Washington School and construction of a second grammar school. Martha Washington School's new $29,000 building included an auditorium that seated 650. A new two room school, the Machado School was built at Zanja and Walgrove on the southwest corner of the high school property. When it opened in September 1913, 800 students were being taught by 34 teachers in Venice's two grammar schools.

Another called Florence Nightengale School opened in the 1920's on Trolleyway at Island Street (now Anchorage Street) on the Venice Peninsula. It was temporarily closed in the early 1930's when it found itself and its students surrounded by dangerous oil rigs after oil was discovered nearby in November 1929.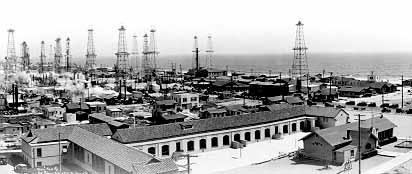 Florence Nighengale School was built on the Venice Peninsula but was closed after oil was discovered in 1930. It reopened several years later and educated students until 1956. A new school called Anchorage School was built on the site.
Venice Union Polytechnic High
Venice was very progressive and on May 16, 1911 the votors approved the decision to open a high school to prepare teenagers for various career choices. They leased the old Lagoon Bathhouse from the Kinney Company for $250 / month. It had been previously converted to classrooms when the Venice Military Academy used the building during the 1909 and 1910 school years. The pool in the basement was drained and boarded over.

When Venice Union Polytechnic High opened in 1911, Principal Cree Telford. Work, who was brought by Abbott Kinney to Venice after successly establishing the Manual Training School in San Francisco and another in Texas, was in charge of five teachers. Fifty-two students attended, most of them in the ninth grade. Courses of study included Mechanical Arts, Household Arts, Applied Arts, Commerical Arts and Liberal Arts. Miss Finley taught science and math, Miss Gillette taught drawing and design, Miss Rogers taught Latin and modern languages, Mr. Misner taught commerical subjects, and Mr. Ross taught mechanical work.

A lone student was in the school's first graduating class on Sunday June 9, 1912. Miss Florence Work eventually became a teacher and taught in Fresno California. Four students graduated in 1913 and ten in 1914, the only three years that the school operated at the Lagoon Bathhouse.

The high school's colors were Dark Blue and White and the school's motto was "Rowing, not drifting." Sports were important and the school fielded boy's baseball and football teams, and a girl's basketball team.

Because the high school's lagoon site was only temporary, in 1913 votors approved $200,000 for a permanent school. The city purchased a 29 acre site for the high school in the Walgrove district at the eastern edge of the city; corner of Venice Boulevard and Walgrove. C.H. Russel was chosen as architect and J.F. Atkinson won the contract to build it. Ground breaking was March 1914 and the cornerstone of the Administration Building was laid on May 29, 1914. There were to be four brick school buildings, farm lands and an athletic field.

However two natural disasters, one serious, changed the school district's plans. First there was a flood at the Bathhouse school on January 25, 1914 when the canals overflowed. Several inches of water covered the school's ground floor. Then on September 10th a fire destroyed the structure. The start of school was delayed two weeks until the Household Arts Building on the new campus was useable for temporary classrooms for the entire school.

When the entire campus was completed the following year, 166 pupils began attending classes. Structures in Lobardist Italian style, all in brick, included the central Administration Building which was connected by a colonade to the Household Arts Building. Also on the west end of campus was the Mechanical Arts Building. The Science Building was located on the east end of campus. There was also a men and boy's gym and in 1922 a woman's gym was added. Students, depending on their career interests and sex, took instruction in mechanical arts, household arts and science. They were taught by 17 teachers who earned an average annual salary of $1315. Enrollment increased to 1200 students in 1922 and to 1600 students in 1926.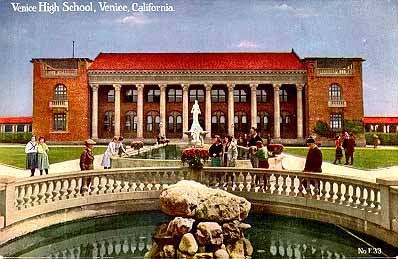 Venice High School's main building. The ornate fountain in front was modeled after the movie actress Myrna Loy who attended school here. - 1915



The high school was noted for its excellent art department after Harry Weinbrenner was hired in 1915 as head of the art department. Students in his painting classes used live models, and those in his sculpture classes worked on several groupings of statues to be installed at various locations on campus. In 1920 they completed the central female figure in a grouping of three figures located in front of the Administration Building. The two lower kneeeling figures (one male & one female) were added the following year. And in 1923 the central feamale figure was replaced with one with a more striking pose. A student named Myrna Loy was the model long before she became famous as a movie star.

The high school installed an art gallery in the main building in 1922. It had exibitions of leading American artists and sculputers. A magazine called the Gondolier was published many times per year. It featured colorful art work by the gifted students.

Venice Union Polytechnic entered a float in the 1923 Tournament of Roses Parade in Pasedena. Students designed a float that featured three tons of kelp, and it won first prize in its class. Myrna Loy was one of the girls riding on the float.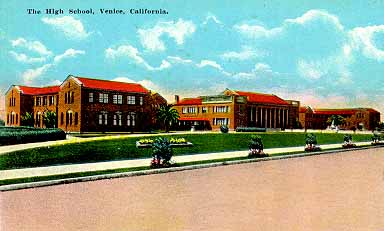 Venice High School's campus with its brick buildings was considered the most beautiful in the Los Angeles area. Unfortunately the buildings were damaged during the 1933 earthquake. - 1915



While Venice Polytechnic High was considered the most beautiful campus in the Los Angeles area, it sustained considerable damage to its brick buildings during the Long Beach earthquake on March 10. 1933. Its high school auditorium was wrecked and other buildings were declared unsafe. When classes resumed two weeks later, students attended classes during 1933 and 1934 in two buildings that survived (the gym and cafeteria), and in makeshift bungalows and tents. The tents were so damp in wet winter weather that students often resorted to umbrellas to keep their desks dry. The area beneath the colonades became a cafe at lunch time.

Construction, using Works Progress Administration funding of $375,000, began in February 1935. The three new buildings were constructed of reinforced concrete. The central administration building contained offices and a library (contains two WPA murals), and two adjacent structures, each contained twenty four classrooms. The Art-Deco styled buildings were completed in time for September classes. The junior unit for 7th, 8th and 9th grades, located nearby, was completed in October. Ground breaking for the school's 1200 seat auditorium began the following July and the structure was completed on March 31, 1937. Construction costs for it and two shop buildings was $110,000.

Venice High School has had numerous famous graduates. There was astronaut Walter Cunningham and actress Myrna Loy. There were the Lennon Sisters, a singing act who performed on the Lawrence Welk Show and who are currently performing in Bandon, Missouri. There were television announcers Harry von Zell and Gary Collins.
Venice's Schools Today
Grade Schools
Broadway School - 1015 Lincoln Boulevard

This minority school on the edge of the Oakwood area in Venice enrolls 380 students.

Coeur D'Alene Elementary School - 810 Coeur d'Alene Avenue

This elementary school teaches 500 students with 24 teachers.

First Lutheran School - 815 Venice Boulevard

This non-profit school, operated by the First Lutheran Church of Venice, educates 115 students.

St. Marks - 912 Couer d'Alene

This Roman Catholic school enrolls 305 students from pre-kintergarten through eighth grade. They installed a new computer labortory last fall and operates its own television station. Graduating students attend St. Bernard High School in Westchester.

Westminster Avenue School - 1010 Abbot Kinney Boulevard

This minority elementary school is known for its magnet school program in computer science. Children are bused from all over Los Angeles to attend it. The school teaches 650 students using 17 teachers in its regular school and nine teachers in its magnet school.

Westside Alternative School - 104 Anchorage Street on the Marina Peninsula

This alternative school for students in kintergarten through eighth grade is run by the Los Angeles School Student. It has a very liberal curriculum. About 90% of its students are bused in from the inner city.


Middle Schools
Marina del Rey Middle School - 12500 Braddock Drive in Mar Vista

A few Venice students living south of Washington Street in either the Oxford Triangle or on the Marina Peninsula attend school here. The school enrolls 800 students, mostly minority children.

Mark Twain Middle School - 2224 Walgrove Avenue in Mar Vista

This middle school for sixth through eighth grades educates 1000 students.


High Schools
Venice High School - 13000 Venice Boulevard in Mar Vista

This high school, that is attended by 2200 students, has a magnet program in foreign languages. It recently added a bilingual business school. Students in its science program competed against 54 teams nationaly last spring and won the 1996 National Science Bowl. They repeated their win in 1997.

NOTE: Teachers at the schools listed above who wish to add or amend the information listed above, please send E-Mail on the home page.