Revised April 6, 1998
---
When Abbot Kinney was building Venice in 1905, he decided that his new resort should have an internal transportation system to shuttle visitors and residents around town. He turned to John J. Coit who operated a successful eighteen inch gauge (1/3rd scale) miniature steam railroad at Eastlake Park (now Lincoln Park) in Los Angeles. He persuaded him to oversee the construction and management of a mile and three quarter long railroad that would take passengers from the Windward Avenue business district on a loop across canal bridges and through the canalled residential district, then return via a loop up Washington Boulevard, past its Lake Avenue maintenance yard and back to the Windward station along Mildred Avenue.
Coit, who had designed his own locomotive, ordered a heavier Prairie 2-6-2 oil burning engine at a cost of $4510 from the Johnson Machine Works in Los Angeles. The locomotive was finished in black with brass rails and silver lettering. The first set of five, 12 passenger cars was painted royal blue, while the second set ordered later was painted cherry red. Work on laying the tracks on the city streets, however, was delayed while Kinney awaited the Ocean Park's Board of Trustees to grant him permission.
Coit, in the meantime, constructed a storage and maintenance year along Lake Avenue (now Venice Boulevard where it intersects Abbot Kinney Blvd). He built a three stall engine house, 20 foot diameter turntable, oil and water tanks, a two-track storage shed for the passenger cars, and a machine shop capable of servicing and repairing the locomotives and cars.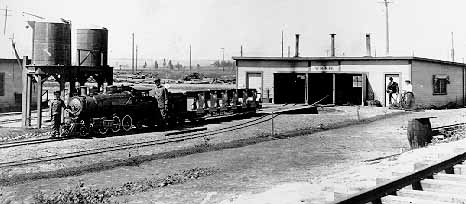 The Venice Miniature Railroad's train yard included a roundhouse for three locomotives. - 1905
The #1 locomotive for Kinney's miniature railroad arrived on July 29th and began operation the following day. The route through the not yet completed residential canal district, passed over bridges spanning romantic named canals. The five cent train ride became so popular, particularly among children, that management ordered a second engine and five more passenger cars. When the manufacturer couldn't deliver on time, Coit closed his Eastlake Park operation for the remainder of the season and transferred his slightly smaller 2-6-0 locomotive to Venice.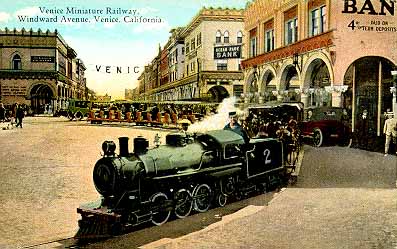 The Venice Miniature Railroad loaded passengers at its turn around point at Windward Avenue. - 1906
Kinney who was determined to involve his sons in his resort business, even the youngest, appointed Carleton, age nine, as president of the railroad. Innes, age twelve, became its chief engineer. Of course John Coit actually operated the railroad, but Kinney nonetheless paraded the boys out, dressed in railroad uniforms, whenever important dignitaries were in town.
By 1906, Kinney began to ride roughshod over the town's businessmen, some his partners, in his attempt to gain complete control of the town's concessions. It soon became apparent to John Coit and his brother that Kinney attempted to terminate their lucrative five year contract. Kinney shut down the railroad for six weeks during the busy summer tourist season with the excuse that one of the wooden canal bridges needed to be replaced with a concrete one. Coit felt that their intent was to force them to sell at a bargain price.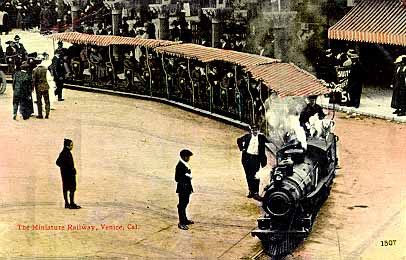 View of the Venice Miniature Railroad at Windward Avenue. - 1908
The Coit brothers decided to fight back. Initially they tried to settle matters in November 1906 by asking for their share in possession of the engines. When Kinney refused and tried to break the lease and operate the railroad without them while Coit was out of town, the two brothers sneaked back into town and removed crucial locomotive parts before departing. With no replacement parts available west of the Rockies, Kinney's railroad was effectively shut down.
Kinney swore out an arrest warrant for theft and malicious destruction of property against the brothers. But when the matter ended up in Los Angeles court on November 20th, the jury refused to find the men guilty. Both Abbot Kinney and John Coit were stubborn men and neither would yield, Finally they agreed to arbitration. The arbitrator ruled in favor of Kinney on January 19, 1907. The terms of the cash settlement are unknown but Coit agreed to return the 200 missing parts and the railroad began operating several weeks later.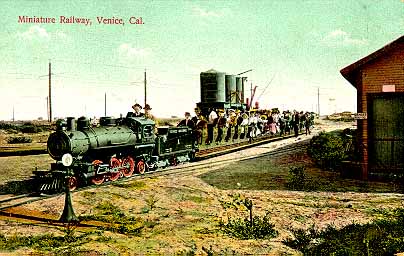 The Venice Miniature Railroad taking passengers for a tour of Venice. - 1906
The Venice Miniature Railroad remained a popular ride and had run of weekend for twenty years. However, the train was opposed by merchants along its route on Washington Boulevard. Since the city of Venice planned an ordinance that would prohibit miniature railroads from operating on streets, Thornton Kinney closed it on February 13, 1925. The 30 day notice to quit would have been up in ten days.
Kinney said that the railroad wasn't popular, but he maintained it for the purpose of giving Venice a unique means of advertising. He laid off four employees and sold the railroad to Prior and Church. They sold it to a man in Denver in 1928 who said he was moving it to Spokane Washington.
The locomotives, track and rolling stock eventually found their way into the hands of two scrap dealers. Locomotive #1 became a curbside attraction in a Vernon scrap yard while locomotive #2 ended up with a San Francisco scrap dealer and was purchased by the late Billy Jones, a veteran Southern Pacific railroad engineer. He operated it as a backyard railroad for many years in Los Gatos. When he died it was moved to a regional park where it operates today.
Al Smith bought the Venice Miniature Railroad's #1 engine from the Vernon scrap yard in 1935. When Smith balked at the scrap dealers $950 asking price, the dealer threw in track and the turntable. The train was moved to Smith's home for several years while he painstakingly restored it. Smith then operated it at several locations in the San Gabriel Valley. Shortly after World War II, Smith established it permanently at Streamland Park in Pico Rivera. When Smith died and the park folded, it was run by careless operators and the train was badly in need of restoration.
Fortunately the railroad was acquired by Don McCoy who as a boy watched Smith originally restore the train. McCoy and his two sons then spent three years restoring the train from the ground up. The train then began operation in 1972 at Legg Lake at the Whittier Narrows Recreational Area. It operated on its one mile long loop until 1978 when vandalism became a problem. Tentative plans are to exhibit it in Venice sometime this year.