Pacific Ocean Park (1958-1967)
The material is copyrighted © 1998 by Jeffrey Stanton.
Revised April 6, 1998
In 1956 CBS and the Los Angeles Turf Club (Santa Anita) acquired the lease on the Ocean Park Pier and they proposed to build a $10,000,000 nautical theme park to compete with Disneyland. They closed the pier after Labor Day, hired the best amusement park designers and Hollywood special effects experts and began to design innovative new attractions for the theme park. More than 80 special effects men, scenic designers and artists worked for more than a year on the project.

They like Disney, found corporate sponsors to share the expenses of some of the exhibits. To save money they renovated existing buildings and incorporated six of the old attractions into the layout; the roller coaster merry-go-round, Toonerville Fun House, Glass House, twin diving bells, and Strat-o-liner ride. They called the new park Pacific Ocean Park.

The 28 acre park was decorated throughout in a sea-green and white art moderne look. Its entrance set amidst fountains, sculptures and large sea horse and clam shell decorated frieze, set the mood for the wonders within. The ticket booth in Neptune's Courtyard was set under a six legged concrete starfish canopy. Plastic bubbles and sea horses adorned its top. All day admission was ninety cents for adults; less for children. This included access to the park, Neptune's Kingdom, the Sea Circus and the Westinghouse Enchanted Forest exhibit. Other rides and attractions were at additional costs.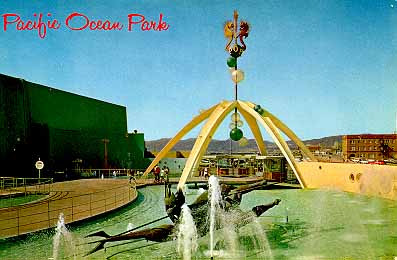 The ticket booth and entrance to Pacific Ocean Park. - 1959



Opening day on Saturday July 28, 1958 drew 20,000 curious people and dozens of Hollywood celebrities. Sunday's 37,262 paying customers brought traffic jams to the area. During the first six days it out performed Disneyland in attracting customers.

Visitors entered the park through Neptune's Kingdom where they descended in a submarine elevator to the oceanic corridors below. Across from the elevator was an enormous sea tank where it appeared a shark and its prey shared the same tank. Beyond and covering one entire wall was a large diorama filled with creatures that couldn't live in captivity. Motorized artificial turtles, manta rays, sawfish and sharks glided by over coral reefs and hanging seaweed. Sponsored by Coca Cola.

NOTE: This article is condensed from the P.O.P. chapter in my book Venice of America - Coney Island of the Pacific. While the book is rich in detail, ride descriptions in this article are sparse since this site is designed to view photos by clicking on locations on the park maps. [See Pacific Ocean Park map.]
Westinghouse Enchanted Forest & Nautilus Submarine Exhibit - 150 foot model of atomic reactor section of submarine. House of Tomorrow featured a room full of electronic appliances. Robot from the 1939 World's Fair.


Sea Circus - 2000 people could watch performing dolphin and Sea Lion shows. Feed the seals in the Seal Pool.


Diving Bells - Passengers in leaky diving bells were pushed under water by hydraulic pistons. Views of aquatic life through porthole glass.


Ocean Skyway - Bubble gondolas transported passengers on a half-mile ride 75 feet above the Pacific to the end of the pier and back.


Union 76 Ocean Highway - Drivers of these miniature futuristic looking cars drove along a causeway on the edge of the pier.


Flight to Mars - A spaceship like theater transported passengers to Mars. When they exited they passed dioramas of Martian creatures and toured these creature's homes.


Flying Carpet - A fantasy excursion into the Tales of the Arabian Nights. Vehicles resembled Flying Carpets suspended on monorail tracks soared high above Arabian palaces and Sinbad's Baghdad.


Mirror Maze - A standard glass mirror maze was part of the fun house experience.


Davy Jones Locker - A walkthru nautical themed fun house with slides and crooked mirrors.


Flying Dutchman - A dark ride on tracks with threatening pirates and others behind bars. Obviously inspired Disney's Pirates of the Caribbean.


Deepest Deep - Passengers rode in a submarine style car with a plastic dome while they looked out at mermaids and other under- water scenes. Had mechanical problems and was rarely open.


Round the World in 80 Turns - Tub-like cars whipped sharply to the right and left to show travel scenes from around the world. Passenger complaints of nausea and neck pains closed the ride in the middle of the second season.


Safari Ride - Children riding tracked jeeps used a electronic rifle to hunt animals in the African jungle.


Mystery Island Banana Train Ride - Passengers boarded a tropical banana plantation train and traveled through bamboo jungle to the seaward end of the pier. The train circled a bubbling volcanic crater and passed through rotating tunnels that simulated an earthquake. Then riders entered a spider cave witch entered a mountain full of geysers, then passed through a rain storm complete with lighting and thunder before returning to the station. It was the park's best ride.


Sea Serpent Roller Coaster - The old 1926 Hi-Boy roller coaster was painted in various shades of pastel.


Whirl Pool - A centrifuge that pinned riders to the spinning walls as they dropped the floor beneath them.


Mr. Dolphin - The old Start-o-liner ride with its spinning rocket ships on a high tower was renamed.


Flying Fish - A standard wild mouse roller coaster.


Carousel - The old Looff carousel.


The park also had numerous standard carnival rides like the Octopus, Rock-o-plane, Sea Ram bumper cars, Fly-o-plane, Tilt-a-world, etc.
Pacific Ocean Park also had two dining and shopping areas. Inside the park was a recreation of a New England harbor called Fisherman's Cove. Outside along Ocean Front Walk was the International Promenade offering superb cuisine in authentic foreign restaurants, as well as exotic souvenirs, gifts and imports in various shops.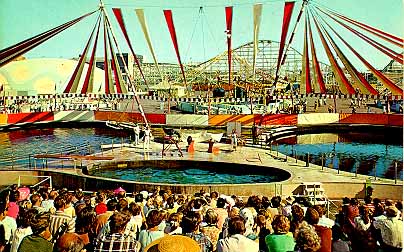 The seal show at Pacific Ocean Park. - 1959



Apparently many people enjoyed the park, for by the time it closed for remodeling on January 5, 1959, it had attracted 1,190,000 visitors. Management decided to add four new attractions at a cost of $2,000,000. Actually only two of the attractions were completed.
Space Wheels - A pair of double Ferris wheels.


Fun Forest - Children's area with helicopter, boat, monorail and covered wagon rides. Also a tree maze with slides and other surprises.
Since the second season's attendance wasn't as good as the first, the owners decided to close it in October for the winter. Then a month later they announced that they sold the park to John Morehard for $10,000,000.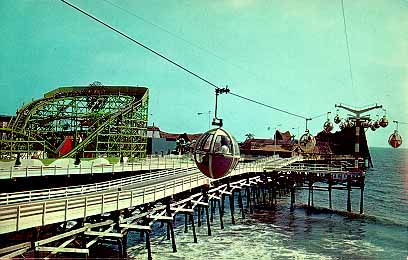 The Aerial Skyway transported passengers to the end of the pier and back. The Sea Serpent Roller Coaster is in the background. - 1959



The new owner instituted a one price admission policy to attract more customers. He set the price the following spring at $1.50 for adults and $1.00 for children. The Sea Serpent roller coaster was an extra 25 cents because it was the one ride not owned by the park. Morehead's goal was to run the park as a small family amusement park instead as competition to Disneyland. He expected to raise prices for the summer.

Unfortunately the park continued to lose customers. The trouble was that Pacific Ocean Park was in a run down, seedy part of town. The nearby streets were littered with bums and winos who accosted customers for money. Local teenagers, whose parents frowned on them going to the park on weekend evenings, told them they were going to a movie and sneaked down to P.O.P.

The park, too, was having trouble maintaining its own operation. It offered a large number of rides and attractions for the price, but with such a high overhead it had to skimp on maintenance. Rides were often broken, and everything deteriorated against the rough ocean elements. In short the park was run down, but however, it did attract 1,216,000 customers in 1963.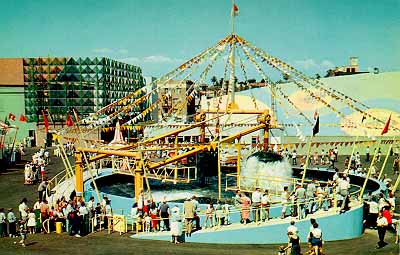 The Diving Bells plunged passengers beneath the sea to view creatures in the ocean. - 1959



It was sold in October 1963 to Irving Kay, a San Francisco real estate developer, for $7.5 million. At first he leased P.O.P. back to management, then in January sold the park to Robert's company for $2.5 million.

The 1964 season was the most successful; 1,663,013 visitors. New rides included a flat ride called the Himalaya and the Monster Mouse steel roller coaster where Fun Forest stood. The kiddie rides were moved to the Fisherman's Village area.

But in 1965 Santa Monica began its Ocean Park urban renewal project. There was wholesale demolition of nearby buildings and closing of streets leading to the park. The entire area was chaos while they built two large apartment towers nearby. In short, visitors couldn't reach the park and attendance plummeted to 621,000 in 1965 and 398,700 in 1966. Roberts paid bills rarely, not even his modest lease rent to Santa Monica.

Finally at the end of the 1967 season, P.O.P.'s creditors took action and forced the park into involuntary bankruptcy. Santa Monica precipitated the action when they filed suit to take control of the property because Roberts owed them $17,000 in back rent since 1965. The park closed on October 6, 1967.

The park's assets were auctioned off on June 28, 1968 and ran through June 30th. The proceeds from the sale of 36 rides and sixteen games were used to pay off creditors. The park's dilapidated buildings and pier structure remained until several fires and the final demolition in the winter of 1973-74 removed it from all but people's fond memories.

Today there isn't even a sign saying where the park once stood. But in the no man's area between Venice's Rose Avenue parking lot and Santa Monica's Ocean Park parking lot, there are signs saying "No Swimming - Possible Underwater Obstructions." One can stop their bikes on the bicycle path and stare out at sea and wonder what might have been if the amusement park had survived.