Venice California History Site -
Movie Making in
Venice and Ocean Park
The material is copyrighted © 2013 by Jeffrey Stanton.
Revised August 18, 2013
---
Venice's unique architecture, canal network and amusement piers provided Hollywood's newly established motion picture industry with colorful settings for early silent pictures. Thomas Ince was one of the first to bring a motion picture camera crew to Venice. Rivals studios like Bison, Biograph, Vitagraph and Liberty were quick to follow. Movie companies became so numerous and disruptive to business, that for a time in 1915, there was talk of banning them from Venice's streets. However, no action was taken, and in later years movies like Buster Keaton's "The Camera Man" and several "Our Gang" comedies were filmed along the beach and on the pier. Harold Lloyd leaped from a canal bridge, Mary Pickford was rowed down the Grand Canal and Mabel Norman emerged from the ocean beside the pier with a fish on her head. Some Keystone and Max Sennett Comedies were also filmed in Venice.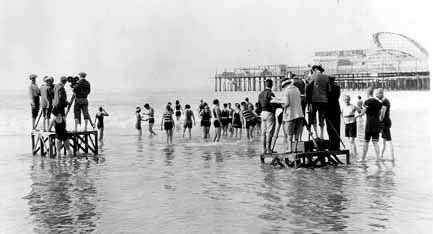 Movie making in the surf near the Lick Pier. - 1926



Venice was also a favorite of Hollywood's stars. Many purchased homes and summer cottages to enjoy the beach life. Charlie Chaplin in the 20's rented a penthouse apartment at the Waldorf Hotel on Ocean Front Walk. Night life at cabarets like the Ship Cafe and King George Hotel's roof garden attracted many screen celebrities. Private parties, like the one in 1937 given by Carole Lombard at the Venice Pier's Fun House, were attended by stars like Cary Grant, Virginia Field, Dennis O'Keefe and others.

Even after World War II, when Venice lost its amusement piers and acquired a seedy, run down look, movie producers took advantage of its locale. Orson Wells in 1958 converted downtown Venice into a Mexican border town and installed a border crossing on Ocean Front Walk. Roger Corman used Venice as a locale for his horror movies.

Currently there are several independent studios in Venice. Producer/director Tony Bill's studio is on Market Street and Roger Corman's studio is located on Main Street. Arnold Schwarzeneggar's offices are on Main Street above his restaurant Schatzi. There are also several digital production houses like Digital Domain in Venice. Many actors, producers, directors, screen writers, cinema photographers, and movie stars live in Venice. Those living in the Venice canals include Matt Groening (Simpson's creator), Ed O'Neil (Married with Children), Eric von Denton (Disney movies), Orson Bean (Dr. Quinn Medicine Woman) and his wife Alley Mills (Wonder Years). Those living along the beach south of Venice Boulevard to the Marina Channel include Wesley Snipes, and Nicholas Cage (recently moved). Others living in other sections of the community are Julia Roberts, Oliver Stone, and Dennis Hopper.

CONSIDER THIS LIST A WORK IN PROGRESS. It is definitely incomplete, often inaccurate and sometimes plain wrong. While I've personally viewed many of these movies, others and especially television shows were input by others. Marc Wanamaker, a noted film archivist and historian, supplied many of the more obscure films, especially the silents. If you wish to add or correct, even submit names of particular TV show episodes, SEND E-MAIL or if it isn't available contact: Jeffrey Stanton 12525 Allin St. Los Angeles, California 90066


Movies from the Silent Era:
Never Again! (Biograph) starring Mary Pickford & Billy Quirk (short)- 1910

Filmed on location in the Venice canals.

Water Nymph (Keystone) starring Mabel Normand, Ford Sterling & Mack Sennett (short) - 1912

Mack and his father show up separately at the same beach, the son with a neighborhood girl (Normand). Mack encourages her to vamp for his father so he might like her, but he likes her for the wrong reasons. Comedy short.

Mabel's Lovers (Keystone) starring Mabel Normand, Mack Sennett & Ford Sterling (short) - 1912

Mabel arrives at the summer resort and has many lovers. Possessed with a beautiful figure, she decides to put the men to a test, and when donning she bathing suit fills her long stockings with numerous bumps. When she discards her coat at the beach, the men beat a hasty retreat, except the one who peeped when Mabel was fixing up. Later, of course, the men who were fooled are miffed. Filmed at Venice beach and on boardwalk in front of one of the walk streets.

Kid Auto Races at Venice (Keystone) starring Charlie Chaplin (short)- 1914

Filmed on location near Coral Canal and Westminster, two blocks from the beach. While most of the action takes place on a dirt track and ramp, you can spot the distant Race Thru the Clouds roller coaster in the background.

Tilie's Punctured Romance (Keystone) starring Charlie Chaplin, Marie Dressler & Mabel Norman.

First feature length comedy. City slicker (Chaplin) tries to con farm girl out of her inheritance, while he romances Norman. Film has a chase scene on the Kinney Pier with stars pursued by the Keystone Cops.

Curse of the Flirting Heart (Universal) starring Max Asher (short)- 1917

This short has scenes on the beach near the Ocean Park bath house.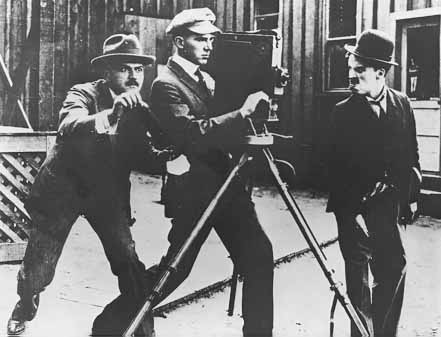 Charlie Chaplin in Venice on the set of "Kid at the Auto Races."


Number, Please (Hal Roach) starring Harold Lloyd & Mildred Davis (short) - 1920

Story concerns the fate of two men who are jilted and how they decide to end it all. Lloyd decides to ride himself to death at an amusement pier. Filmed on the Ocean Park's Pickering Pier and on the Blarney Racer coaster.

High Sign ( ) starring Buster Keaton (short)- 1921

Buster is thrown off a train near an amusement park. He gets a job running a shooting gallery on the Venice Pier run by the Blinking Buzzards mob. In his quest to earn more money he obtains a job as a body guard at the same time as he gets a job to assassinate the same man he is assigned to protect. Scenes on the Venice Pier.

Sheik of Hollywood ( ) starring Fred Caldwell and Gale Henry (short) - 1922

The story concerns the owner of a shooting gallery. Much of the action takes place on the Race Thru the Clouds roller coaster on the Venice Lagoon (along Grand near the present day traffic circle).

Balloonatic ( ) starring Buster Keaton (short) - 1923

The short is supposed to be at Coney Island but shot in Venice and on the Ocean Park Pier in the early part of the film. Keaton then climbs up to put a flag on a passenger balloon, but the balloon escapes with him on top.

Abysmal Brute (Universal) starring Reginal Denny & Mable Scott - 1923

Story of a boxer who rescues a man from drowning. He then meets a society woman who he falls in love with despite their different social status. A Jack London story that used the interior of the Venice Plunge for filming.

Tire Trouble (Hal Roach - Our Gang Comedy) - 1923

Wealthy gentleman is coerced by wife and doctors into believing he is sick with gout. When he sees the gang of kids heading to the beach, he tags along and treats them at the Venice amusement pier.
Century Comedy Kids - Speedboys - 1924
Two 13 year olds, one white and one black are hired to operate the Venice Miniature Railroad, one as an enginner and the other as the conductor. Each has girls flirting with them, and the engineer lets a girl ride with him on the locomotive, but tosses her friend off. The rebuked boy decides to get even and dressed as a girl is picked up by the enginner who finds him/her prettier. During his break near at Windward, they ride on the pier's Caterpillar circular ride which has a canopy that closes over the riders to encourage kissing unseen. Afterwards the boy/girl removes his dress to the negineer's suprise. Scenes shot at the Venice Miniature Roundhouse, along Washington Blvd. across the Riveria canal bridge, and at its trunaround at Windward and Trolleyway.

No Father to Guide Him (Hal Roach) starring Charlie Chase (short) - 1925

Charlie's battle-axe mother-in-law breaks up his marriage and tries to separate him from his son, Charlie abducts the boy for a father-son outing on the beach, while his mother-in-law pursues. Shot on Venice boardwalk and beach.

It (Paramount) starring Clara Bow and Antonio Moreno - 1927

Clara Bow and her employer visit the Venice Pier near the end of the film. The scene of the spinning saucer is in Venice's Fun House.

Sugar Daddies (MGM / Hal Roach) starring Laurel & Hardy (short) - 1927

Scenes of the movie, where Stan Laurel disguises himself as Hardy's, wife, were shot on the Venice Amusement Pier. They and a rich man, who had married a woman while drunk the previous night, are chased by her family down the pier and into the Venice Fun House. A four to five minute segment shows the entrance stage with air jets, the slides, rotating barrels, moving sidewalks, etc.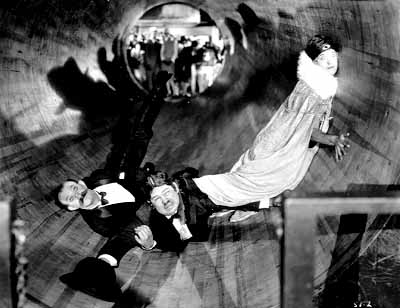 Laurel & Hardy at the Venice Fun House in the movie Sugar Daddies.



The Circus (United Artists) starring Charlie Chaplin - 1928

A long segment of the movie takes place on the Venice Amusement Pier. The Little Tramp eludes police in the Noah's Ark Fun House, and posses as one of the human figures atop the rocking boat. There is a long chase on the pier.

The Camera Man (MGM) starring Buster Keaton - 1928

Although much of the movie is set in New York City's Chinatown, the scenes where Keaton visits a bathhouse and indoor swimming pool were filmed at Venice's Plunge near the amusement pier.

The Crowd (MGM) starring Bill Murray, Eleanor Broadman - 1928

A man takes his date to a night at Coney Island. Although the exterior shots are of Luna Park, the slides and spinning turntables were shot inside Venice's Fun House.

Red Hair (Paramount) starring Clara Bow, Lane Chandler - 1928

Bow is a gold digging manicurist who captures the attention of a wealthy young man. There are Shots on the beach in front of the Ocean Park Bathhouse.
Note: No known copies of the film exist; only fragments..

Mack Sennett Comedies - 1916 to 1929

Numerous short comedies were shot along Venice's beach, boardwalk, streets and amusement piers. (If anyone knows of particular titles, tell me).

Keystone Comedies - 1912 to 1916

Keystone shot numerous comedies along Venice's beach, boardwalk, streets and amusement piers. One Keystone Cops film featured Mabel Norman in which she emerges from the sea with a fish in her mouth. (If anyone knows specific titles, tell me.)
Movies from the 1930's & 1940's
Floradora Girl (MGM) starring Marion Davies - 1930

Davies as a chorus girl who doesn't want to be a rich man's toy. 1890's period piece. Shot on boardwalk in Ocean Park.

All for Mable (Pathe) Campus Comedies - short - 1930

Shot at the old Venice High school.

On the Loose (Hal Roach) starring Thelma Todd, Zasu Pitts & John Loder- 1931

The girls, tired of being taken to Coney Island, meet up with two Englishmen who offer to take them on a date to Coney Island. It was shot on the Venice Pier and inside the Fun House according to child actor Bud McDonald in a recent interview. Film has an uncredited cameo by Laurel & Hardy.

Twice Two (Roach) starring Laurel & Hardy (short) - 1933

A case of mistaken twins aboard a large ship. There is a chase scene in a restaurant where the waitresses are dressed as pirates. This is the Ship Cafe on the Venice Pier.

Our Gang Comedies (Little Rascals) (MGM / Hal Roach) (shorts) - 1933
Fish Hooky - The children's teacher takes them on a surprise visit to the Venice amusement pier. Two boys, who played hooky from school that day, play hide and seek with their teacher. Background shots show the boys at the Fun House entrance, but the best footage is stock footage that shows Some Kick roller coaster and the Flying Circus airplane ride in operation.


Mush & Milk - Cap gets his pension and treats the poor kids at a bleak boarding school to new clothes, toys and a trip to an amusement park. Some stock footage of the Venice Pier is used at the end of the short.


Arabian Tights ( ) starring Charlie Chase (short) - 1933

Charley and his buddies are captured and imprisoned by an Arabian sultan. What this has to do with Venice is unknown, but it is reported that it used the same stock amusement park footage of the Venice Pier as was in Mush and Milk.

Dante's Inferno (Fox) starring Spenser Tracey, Claire Trevor - 1935

Story of a carnival owner who gets too big for his own good. The scenes of hell were shot on a studio sound stage but exterior views on the Ocean Park Pier show numerous rides including Loop-O-Plane and the Chute-the-Chutes.

Widow from Monte Carlo (Warner) starring Dolores del Rio, Warren Wilson - 1936

In this story of a social climber threatening a rich man with a compromising love letter, much of it takes place in Monte Carlo. But in the end it shifts to a seaside amusement park that is either Venice Pier or the Ocean Park Pier (sorry I haven't seen it.)

Some Like It Hot (Paramount) starring Bob Hope, George Archainbaud - 1939

Carnival barker tries to get Gene Krupa's swing band into a respectable dance hall. This forgettable musical was definitely shot on the Ocean Park Pier and possibly also on the Venice Pier.

Hollywood Cavalcade (Fox) starring Alice Fay, Don Ameche - 1939

This musical has an evening love scene on a park bench at Venice Beach. For about 30 sec, you can see a great color view of the Venice Pier with its roller coaster and Dragon Slide illuminated at night.

A Little Girl Learns How to Play (Paramount) starring Albert Dekker & Betty Brewer (1940)

This movie is either a working title or a short (have several studio stills from it). It appears that a man and his 13-year-old niece?? visit the Venice Pier's Fun House and Racing Derby. The plot may involve a circus midget that works at the Fun House.

Dancing Masters (Fox) - Laurel & Hardy (1943)

Ollie Hardy recruits Stan Laurel to fake an injury on a roller coaster to raise needed cash. Ocean Park Hi-Boy seen at rear.


Movies from the 1950's & 1960's
Dark City (Paramount) starring Don Defore, Charleton Heston, Jack Webb - 1950

Heston plays a cynical gambler who cheats a business of his investment money in a poker game. When the man commits suicide his psychotic brother is out to kill the players of the poker game. Heston travels to Los Angeles to meet with the widow and find out what the brother looks like. He takes her and her son to a seaside amusement park in Ocean Park. During a one to two minute sequence, there is some stock ride footage of the Venice and Ocean Park Piers and a scene along the Ocean Park Pier with some rides in the background. The brief scenes aren't worth watching considering the length of the movie.

Hollywood Story (Universal) starring Richard Conti, Julie Adams - 1950

A murder mystery where a producer makes a picture in an attempt to uncover the culprit. One scene shows the exterior of Jack's at the Beach on the Ocean Park Pier.

Quicksand (United Artists) starring Mickey Rooney, Jeanne Cagney, Peter Loore - 1950

An auto mechanic "borrows" $20 from his boss' cash register. Loore plays the part of a sleazy penny arcade owner. Filmed on the Ocean Park Pier.

Big Night (United Artists) starring John Barrymore, Jr. & Joseph Losey - 1951

This movie is the brooding account of a rebellious teenager. Scenes were shot along Venice's Grand Canal.

Man in the Dark (Columbia) starring Edmond O'Brien & Audrey Totter - 1953

First 3-D movie from a major studio. A thug is convicted and experimental surgery is performed on him to remove the criminal element in his brain. He loses his memory, but after he is released is kidnapped by his old cronies who want to find out where he stashed the loot. He eventually, through a series of vivid dreams recovers his memory. The climax is at an eerily-lit amusement park. The gangsters chase O'Brien onto the Ocean Park Pier's Hi-Boy roller coaster. The Toonerville Fun House, Whip ride, and various concession booths along the midway can be seen in black and white 3-D.

A Slight Case of Larceny (MGM) starring Mickey Rooney - 1953

Story of two army buddies who open a gas station, but when an oil company opens a rival station across the street, they survive by tapping into their pipeline. There are scenes shot at Venice's beach.

Touch of Evil (Universal) starring Charlton Heston - 1958

Although director Orson Wells disguised Venice's downtown business district as a Mexican border town, it shows Venice before much of its historic buildings were torn down in the early 60's. The opening few minutes features a two block long moving dolly shot along Windward Avenue and Ocean Front Walk. The border crossing is on Ocean Front Walk and several chase scenes are through the oil fields along the beach south of Washington Street.

Bucket of Blood (Alta Vista Films) starring Dick Miller, Barbara Morris - 1959

This is a Roger Corman beatnik horror spoof. Part of it was filmed at the Gas House coffee house on Ocean Front Walk and Market.

Crime and Punishment, U.S.A. ( ) starring George Hamilton, Mary Murphy - 1959

A law student becomes involved in robbery and murder. Thornton Tower at Speedway and Thornton was the home of Hamilton, who plays a paranoid Venice beatnik.

Night Tide (Virgo Films) starring Dennis Hopper & Linda Lawson - 1961

A sailor searches for a mysterious woman posing as a mermaid at a seaside carnival. Scenes are on the Santa Monica and Ocean Park piers and in the Venice area.

Inside Daisy Clover (Warner) starring Robert Redford & Natalie Wood - 1964

Wood playing a teenager, marries matinee idol Redford to get her name in the gossip columns. There is a scene in the Venice Canals on a canal bridge.

Two on a Guillotine (Warner) starring Connie Stevens, Dean Jones, Caesar Romero - 1965

Two people receive an inheritance and must spend a night in a haunted house. There are scenes of them riding on Pacific Ocean Park's sky ride and on the Sea Serpent roller coaster.
Hold On! - Herman Hermits (Peter Noone, Karl Green & Keith Hapwood) - 1966
The British singing group is on a tour of Los Angeles and visit Pacific Ocean Park where they ride the roller coaster and several other rides. Reviewers rate this musical as awful.

Wild Angels (AIP) starring Peter Fonda, Nancy Sinatra - 1966

Roger Corman's movie is about a destructive motorcycle gang. Its opening scene along Venice's decaying canals shows Peter Fonda blasting his motorcycle up a sidewalk where a woman is wheeling a baby carriage.

I Love You Alice B. Toklas (Warner) starring Peter Sellers & Jo Van Fleet - 1968

Comedy of a freaked-out mild mannered lawyer who meets a girl who is a Venice 60's hippie. Numerous boardwalk scenes populated by hippies and Sellers buys something from an outdoor stand on Windward Avenue.

They Shoot Horses Don't They (Palomar) starring Jane Fonda & Gig Young - 1969

This movie, which depicts the grueling dance marathons of the late 1920's and 30's, was filmed in the old Aragon Ballroom on Venice's Lick Pier. The novel that was filmed was inspired by a real murder of a dance marathon contestant under the Ocean Park Pier in either the late 1920's or early 1930's. Have been unable to find the news articles, but reported to be in the Santa Monica Evening Outlook. Contact me if anyone knows!




Movies from the 1970's and 1980's
Dracula vrs Frankenstein (Independent International Pictures) starring Lon Chaney, Jr., Anthony Eisley, Regina Carrol - 1971

Girl looking for her sister who disappeared into the hippie community of Venice. She is the victim of an axe-wielding homicidal maniac working for Dr. Durray, last of the Frankensteins, who runs a house of horrors by the beach. One night Count Dracula visits the doctor, and shows him where his original Frankenstein monster was buried in a nearby graveyard. The doctor exhumes it, revives it, and uses it to take revenge on his professional rivals. Where shot in Venice??

Cisco Pike (Columbia) starring Gene Hackman, Karen Black and Kris Kristofferson - 1972

Small time marijuana dealer buys from a crooked cop (Hackman) - trouble! Was filmed near remains of old Pacific Ocean Park pier. His residence is on O.F. Walk near the derelict pier. There are scenes at the Ocean View Hotel at Rose and O.F. Walk, and at the Gingerbread Court, which was an apartment building.

The Outside Man (United Artists) starring Ann Margaret, Angie Dickenson, Roy Scheider - 1973

Man kills gang boss and his pursued. Scenes at the burned out Pacific Ocean Park ruins, the Ocean View Hotel at Rose, and along the Venice canals. During a deadly police pursuit that begins on the Boardwalk in North Beach ends up on Dell Avenue in the canals, Scheider's car flies into the air when he speeds over the canal bridges.

Executive Action ( ) starring Burt Landcaster, Robert Ryan and Will Geer - 1973

This movie about the Kennedy assassination had a 30 second scene where Lee Harvey Oswald rousted a man handing out Cuban literature on a New Orleans street corner. Since they didn't have a budget to film there, they chose the corner of Windward and Pacific in Venice as a substitute, according to someone who was involved in its production.

Harry and Tonto (Fox) starring Art Carney &amp and Ellen Burstyn - 1974

In this cross country road trip of a retired 80 year old man and his cat, they finally reach the Pacific Ocean where they encounter a boy who is building a sand castle on Venice Beach. Carney sits on a bench along Ocean Front Walk near Dudley where he encounters a flirtatious "Cat Lady."

Black Eye ( ) starring Fred Williamson, Rosemary Forsyth - 1974

Private eye investigates a series of murders connected with a drug ring in Venice.

The Underground Man ( ) starring Peter Graves, Cleste Holm - 1974

A private detective, Lew Archer (a Ross McDonald mystery), in this TV movie lives in the Venice canals. As he hunts for the kidnappers of his ex-girlfriend, he becomes involved in a series of murders.

Mother, Jugs and Speed (Fox) starring Bill Cosby, Raquel Welch & Larry Hagman - 1976

Black comedy about a rundown ambulance service located along Rose Avenue at 425 Rose Ave (where the Venice Ranch Market is located today), that is more interested in number of patients, rather than their welfare. Larry Hagman has sex with a corpse. There are several driving scenes by drivers Bill Cosby and Bruce Davidson throughout Venice and along Main Street in Ocean Park. Near the begriming of the film, they drive down to Windward Avenue and stop at the Townhouse Bar to pay off a cop. During the finale Toni Basil shoots at the ambulance along Howland Canal before committing suicide.

Grease (Paramount) starring John Travolta and Oliva Newton John - 1978

Venice High School doubles for Rydall High in this 50's period musical.

Spawn of the Slithis (Davis Productions) starring Alan Blanchard and Judy Motulsky - 1978

This awful horror movie involving a mutant Slithis sea monster (nuclear waste) terrorizes pets, hippies and winos, who live along Venice's Canals. I watched them film this along the canal on the Marina Peninsula at Hurricane where the sewage pumping plant is located. The actor playing the monster was dressed in a green seaweed-covered monster suit. The movie was shot along Sherman Canal (amazing how many vacant lots back then), at the sewage pumping plant, in Marina del Rey, and along Windward Avenue. There is also a scene of Turtle Races at Brennan's on Lincoln Blvd.

Roller Boogie (United Artists) starring Linda Blair - 1979

Filmed during Venice's roller skating boom, it mainly takes place along Venice's boardwalk, its adjoining park area and along Windward Ave. Its chase scenes, where a skater jumps a car, are set in Venice's canals. While it isn't a good movie, it captured Venice's roller-disco outdoor skating spirit.

The Champ (MGM) starring Jon Voight, Faye Dunaway & Rick Schroder - 1979

Although most of the movie was filmed in Miami, the scenes of his son on a bike accompanied with Voight jogging, are on Venice's bike path near Rose Avenue. Horses are excercising on the beach, so that it appears to be near the race track. The beach and swimming scenes are also in Venice.

Walk Proud (Universal) starring Robby Benson and Robert Collins - 1979

This gang picture in which a Chicano boy (Benson) falls for a WASP girl was filmed on Windward Avenue and at the Venice Pavilion (also at the Santa Monica Pier & Culver City). They used local youths as extras, but had trouble when actual gang fights broke out between them.

China Syndrome (Columbia) starring Jane Fonda and Michael Douglas - 1979

It is about a reporter proving a cover-up inside a nuclear power plant. The meeting between the reporter and the plant manager is at Hinano's Bar on Washington Street near the Venice fishing pier.

American Gigolo (Paramount) starring Richard Gere, Lauren Hutton - 1980

Guy attends to the needs of a bored, rich, middle-aged Beverly Hills woman. Scenes shot along Venice's beach & boardwalk.

The Jazz Singer (EMI) starring Neil Diamond and Lucie Arnez - 1980

In the story Jolson?? lived in a beach house near the Venice Pier since they filmed numerous scenes at a beach front home several blocks north of the Venice Fishing Pier.

Xanadu (Universal) starring Oliva Newton John, Gene Kelly & Michael Beck - 1980

This roller-disco movie has only brief scenes of Venice's Ocean Front Walk; mainly Oliva skating along the bike path. Although tourists still ask where the famous mural is, the movie and its mural where Oliva came to life, were filmed elsewhere. The film leads you to believe it was at Dudley and Ocean Front Walk.

Sunday Lovers (MGM) starring Gene Wilder and Lynn Redgrave - 1980

Set in four countries - One in America in Venice. There are several scenes at the beach.

Breathless (MGM) starring Richard Gere, Valerie Kaparsky - 1983

Vegas hustler kills a highway patrolman on the way to Los Angeles and is pursued by police. While he is chased by police, his girlfriend, a French college student, and her professor take a walk They pass many of Venice's and Ocean Park's murals from Ocean Park Blvd (underpass) to Windward area in Venice that makes it look like the murals are all located close together. There are also scenes on Ocean Front Walk in front of the Sidewalk Cafe and on Windward Avenue.

Love Letters (Corman Films) starring Jamie Lee Curtis & Amy Madigan - 1983

A film about adult sexual relationships. There are scenes in the Venice canals.

Max Dugan Returns (Fox) starring Jason Robards, Marsha Mason, Donald Sutherland - 1983

A single mother's long lost father tries to make amends in their relationship. He showers her with gifts, using money he obtained in his shady operations. She lives with her teenage son in home in the Venice canals. Mason drives her old car across the canal bridges. Mason and Sutherland have a first date at the Rose Cafe located on Rose Avenue near Main St.

The Buddy System (Fox) starring Susan Sarandon and Richard Dryfess - 1984

This movie where a fatherless boy (Wil Weaton) helps his mom find an eligible man, in this case an inventor / school security guard played by Dryfess. It was shot along the beach and in the canals where the Dryfess character lived.

Mike's Murder (Warner) starring Debra Winger, Mark Keyloun & Paul Windfield - 1984

After an acquaintance is butchered in a drug deal, Winger decides to investigate. The house that Mike was murdered in is on the Venice canals.

Nightmare on Elm Street (New Line) starring John Saxon, Heather Langekamp, Johnny Depp - 1984

There is a scene where Depp and Langekamp stand on a Venice canal foot bridge to discuss a may to thwart Freddie Krugger, the creature who invades their dreams.

Falcon and the Snowman (Orion) starring Sean Penn & Timothy Hutton - 1985

The two teenage conspirators, to exchange State secrets, meet near a pagoda on Ocean Front Walk. Hutton lived in the nearby Waldorf Apartments overlooking the beach at Westminster.

Cobra (Warner) starring Sylvester Stallone - 1986

Stallone plays a detective and lives in one of the Waldorf Hotel's rooftop penthouses at O.F. Walk and Westminster. Later, when looking for a criminal in a building along Ocean Front Walk, he drives his fancy car down there at night. There is also a chase scene over the bridges in the Venice canals.

Down and Out in Beverly Hills (Touchstone) starring Nick Nolte, Bette Midler and Richard Dryfuss - 1986

Story about a bum, Nolte, who moves in with a neurotic, rich Beverly Hills couple and takes over their lives. There is a scene where tycoon Dryfuss and bum Nolte spend the day at Venice Beach along the boardwalk. They mix with Nolte's fellow homeless friends at a Pergola at Dudley St. and sing along in a drunken chorus of "We are the bums! We are the homeless!"

Dragnet (Universal) starring Dan Aykroyd & Tom Hanks - 1987

A small portion of the movie is set in Venice. There is a chase scene on Speedway just south of Windward where a car crashes and blows up. Also a runaway Cadillac loose on the beach demolishes a lifeguard stand.

Colors (Orion) starring Sean Penn and Robert Duvall - 1988

In a cops versus gang members plot, there are chase scenes on Windward Avenue and near by alleys. The fleeing gang member being chased by Robert Duvall, knocks a guy off his stationary motorcycle and steals it to escape. Another policeman jumps in his undercover car, and shadows him on Speedway Alley, carefully watching the motorcycle at each cross street. When he sees a chance, he cuts him off in front of Rebeccas Restaurant(now Canal Club) at N. Venice and Pacific. The rider and motorcycle crashes through the front window into a building full of diners.




Movies from the 1990 - 2006
The Doors (Carolco) starring Val Kilmer & Meg Ryan - 1991

Portions of the movie were filmed along Venice's boardwalk, mainly between Breeze and Wavecrest. Store-fronts were decorated to have a pseudo 60's appearance, but not authentic. Since legend has it that Morrison once lived in the Venice canals (he didn't, but likely partied there), filming was done in a house on Sherman Canal near Eastern Canal. There is also a scene near the beginning where Morrison visits someone living at the Rose Hotel at Rose Avenue and Speedway.

L.A. Story (Rastar) starring Steve Martin and Victoria Tennant - 1991

In this movie where Martin's character falls in love with a freeway billboard, he ends up in Venice. There are scenes in front of a mural on Windward Avenue. They used Venice's old police station on Venice Blvd. in scenes where Martin is arrested.

Intruders (Americana Entertainment) starring Mare Winningham & Susan Blakley - 1992

This made for TV movie about two sisters, who were abducted by UFOs, was filmed in the Venice canals. Since I didn't read the book, I'm not sure if the locale is authentic or the producer just liked the canal locale.

White Men Can't Jump (Fox) starring Wesley Snipes & Woody Harrelson - 1992

Woody Harrelson arrives for his basketball game in a convertible on Windward Avenue. The basketball action takes place at courts built on the Rose Avenue parking lot on the beach adjacent to Ocean Front Walk at the Santa Monica borderline. Filming was too long to shut down activity at the Venice Recreation Center's basketball court @ 18th Street.

Venice / Venice (Rainbow) starring Henry Jaghorn, Nelly Alard, Suzzane Bertish - 1992

Story of a maverick film maker who falls in love. Filmed in both Venice California and Venice Italy. Scenes in a canoe on the Venice California canals.

Falling Down (Warner) starring Michael Douglas - 1993

Douglas' girlfriend lives on a side street off the Boardwalk. And at the end of the movie, when policeman Duvall corners the psychotic defense worker Douglas on the Venice fishing pier at Washington St., leaps off the pier into the Pacific Ocean and drowns.

Point of No Return (Warner) starring Bridget Fonda and Gabriel Byrne - 1993

Fonda is a trained CIA killer on an assassination mission. When she arrives in Venice on Windward Avenue, she walks to the Boardwalk were she watches the skaters in front of the Venice Pavilion and she encounters roller skating entertainer Harry Parry, who welcomes her to the neighborhood with his lyrics. Scenes were also shot along Ocean Front Walk near Sunset, where she rents a beach front house.

Speed (Fox) starring Keanu Reeves & Sandra Bullock - 1994

Early in the movie a bus explodes on Main Street in Venice. The huge suspended Ballerina Clown facing Rose Avenue can be seen in the background.

Monkey Trouble (New Line) starring Thora Birch and Harvey Keitel - 1994

Lonely girl finds an escaped monkey like an organgrinder uses. Turns out he is a trained thief owned by a con-man at Venice Beach who wants the monkey back. Chase scenes along Venice Boardwalk and bike path.

Little Rascals (VIP) - 1994

This remake of the 30's Saturday matinee serial used a look-a-like cast of children used the Venice canals where the children rowed their boat in one scene.

Death in Venice, CA ( ) starring Sebastian Dickens, Shirley Knight, Nick Rafter - 1994

Movie uses Thomas Mann's plot of an academic man, who suffers from stress and goes on a vacation. His wife arranges for him to spend a summer lodging at the Venice home of one of her relatives. The man is attracted to their 17-year-old son, who is involved in the rough homosexual trade along the beach. Where is it shot?

Clean Slate (MGM) starring Dana Carvey - 1995

Carvey lives in an apartment overlooking Venice's boardwalk at Westminster. Some of the action takes place along Speedway alley behind his apartment. There are also views of the park in front of the Pavilion from his window.

Mixed Nuts (Tristar) starring Steve Martin, Madeline Kahn, Julliette Lewis, and Adam Sandler - 1995

Martin, a psychiatrist, has his office in Venice near the beach. It is the Christmas season so they lit up Windward Avenue at night with Christmas lights. There are also scenes of him walking along the boardwalk, and going into the Waldorf Hotel building at Westminster, which was a suicide prevention center. Madeline Kahn is stuck in the elevator in the building. The big beach house at Sundet on the Ocean Front Walk is a clonic therapy center.

The Net (Columbia) starring Sandra Bullock - 1995

Bullock's character owned a house in the canals. There is an aerial shot of the canals and a chase scene in the canals where the police pursue her.

Heat (Warner) starring Al Pacino, Ashley Judd, Robert DeNiro, and Val Kilmer - 1995

Cops on hunt for high-tech robber and his gang played by DeNiro. There are scenes near Windward Avenue, and at an O.F. Walk apartment building near Rose.

Lord of Illusions (MGM) starring Scott Bakula, Kevin O'Conner - 1995

Scenes of this Clive Barker horror movie was shot on Windward Avenue at night.

Romy and Michele's High School Reunion (Touchstone) starring Mira Sorvino, Lisa Kundrow & Janene Garofalo - 1997

Best friends living in Venice decide to attend their high school reunion in Tucson. There uis a helicopter view of north Venice Beach during the opening credits and it slowly approaches their apartment building. Some scenes at the beginning of the movie shot along the Venice Boardwalk where their apartment building is located. She is picked up by her friend in a car in front of their building near Paloma on Ocean Front Walk. They also eat lunch at Abbot's Habit, a coffee shop, on Abbot Kinney Blvd and California.

American History X (New Line) starring Edward Norton and Edward Furlong - 1998

Drama about a guy who was seduced by the white supremacy movement in Venice. When he gets out of prison, he tries to steer his younger brother away from trouble. Scenes of playing basketball at recreation center, along Boardwalk and Windward Avenue.

Brink! (Disney) starring Erik von Detten - 1998

This teen roller-blading movie is shot partly in Venice. The kids practice at a place called 'The Pit' at Venice Beach. The painted a skate mural on the back side wall of the handball courts at the Venice Recreation Center along the beach. Unfortunately, after they finished, they took away the practice ramp and sand blasted the mural. It was a nice mural that would have looked good in Venice.

Johnny Famous (Budapest Films) starring Jon Jacobs, Dawn Kapatos - 2000

Adventures of a 30-year-old retarded man living in Venice Beach with his mother. He walks on the beach all day long and pretends he is one of the men from a colorful crowd in Venice Beach. Where shot??

Dogtown and Z-Boys (Sony) starring Stacey Peralta - 2002

The radical skateboarding scene started in Venice and Ocean Park in the early 1970's with a group of teens. Some scenes are along the ocean front and the old Pacific Ocean Park pier before it was demolished.

Local Boys (Capstone) starring Eric Christian Olsen, Jeremy Sumpter - 2002

Two fatherless brothers surf along the Pacific. The younger is mentored by a former surf champion, whose life was shattered when his wife and kid were killed in a car accident, and eventually dates their widowed mother. Although the surfing scenes were filmed in Malibu and Leo Carillo Beach, the scenes where friends of the older boy, posing as lifeguards, bust a group of Hispanics called "The Cleanup Crew" for stealing their surfboards, takes place at the Venice fishing pier. They handcuff them to the urinals inside the bathroom beside the pier, and flush them.

Thirteen (Fox) starring Holly Hunter, Evan Rachel Wood - 2003

Teen drama where a 13-year-old girl becomes friends with a wild girl, who introduces her to drugs, sex, and petty crime. There is a scene where they go to Venice Beach (along boardwalk) to get a tongue piercing at a tattoo shop for a silver stud. The scene just shows the shops along one block for all of five seconds.

Hollywood Homicide ( ) starring Harrison Ford, Josh Harnett - 2003

Two LAPD detectives investigate the murder of a promising young rap act. They delve into the recording industry. Reported that there is a chase scene in the Venice canals.

Lords of Dogtown (Sony / Columbia) starring Emile Hirsch, John Robinson, Rebecca De Morray - 2005

Non-fictional drama about teen skateboarders on Zephyr's Dogtown team in Venice and Ocean Park. Little is seen of Venice except a brief scene of the guys eating lunch at tables beneath one of the Venice colonades probably along Windward. There is also a view of them approaching the beach parking lot in Ocean Park. The scenes of them surfing the cove at the abandoned Pacific Ocean Park amusement pier, was filmed at Imperial Beach in San Diego(since the POP pier was demolished after several major fires in 1974-75), is a pier-built set with a CGI background of several recognizible pier rides (roller coaster and rocket ride).

Venice Underground ( ) Randall Batinkoff, Mark Boone Jr., Edward Furlong - 2005

Group of police cadets from a narc unit to bust narcotic dealers along the Venice Beach boardwalk. A gang turf war kills one of the unit's members, and have 48 hours to solve the case before they are disbanded.

Underclassman (Miramax) starring Nick Cannon, Cheech Marin, Mary Pat Gleason - 2005

A young dectective goes undercover at an elete private school to destroy an international car ring. At the beginning of the movie before he was assigned to the case, he was working as a Venice beach patrol officer. On his own he set up a sting operation of guys selling stolen BMX bikes, but when the bust went wrong on Speedway alley, he chased their fleeing truck down the boardwalk, even borrowing an ATV vehicle from the lifeguards. The "long" chase actually takes place near Windward along the three block stretch of the boardwalk facing the park. You can tell because background scenes of shops and stands repeat often. The remainder of the film is shot at a school and in the Long Beach harbor.

The Cutting Edge 2: Going for the Gold (TV) starring Christy Carlson Romero, Ross Thomas - 2006

Injured teen ice skater visits Los Angeles where she meets an extreme in-line skater at Venice Beach. Scenes where guy shows off doing jumps off series of ramps at the Windward park along Ocean Front Walk with background of the Sidewalk Cafe, and near the Santa Monica Pier. Remainder of the movie takes place at various ice rinks.


Movies with Unknown Scenes & Locations
(Reported to have Venice / Ocean Park scenes by various sources, including those silent films that I have publicity photos).
IF YOU HAVE SEEN ANY OF THESE MOVIES RECENTLY - SEND E-MAIL.

Never Again (Biograph) starring Mary Pickford & Mack Senett- 1910

Definitely in Venice but where shot ???

Calamity Anne movie (American Film Mfg.) starring Louise Lester, Jack Richardson & Jack Kerrigan - 1912

An article in Moving Picture World reported that they brought the stars, a number of cowboys, and their famous burro from Santa Barbara to Venice to film a number of scenes in Venice. Where shot???

The Italian (Paramount) starring George Beban, Clara Williams - 1915

Story of a Venetian gondolier who falls in love with an American girl. He follows her to New York City. Although most of the slums of New York scenes were shot on a set in Santa Ynez Canyon (Pacific Palisades), the canals scenes (Venice, Italy) were shot in Venice California.

Ambrose's Fury (Keystone) starring Keystone Cops - 1915

Keystone Cops short. Reported to be filmed in Venice near or on various roller coasters. Where shot exactly ???

Love, Loot and Crash (Keystone) starring Keystone Cops - 1915

Keystone cops short. Reported to be filmed in Ocean Park. Where?
They Were on Their Honeymoon starring Eddie Lyons, Victoria Forde - 1915
Reported to be shot on one of the amusement piers but haven't seen it.

Jimmy Aubrey Comedy Series (Vitagraph) - 1916

Shot in Venice and Santa Monica but where ??

Poppy (Selznick) - starring Norma Talmadge, Eugene O'brien & Max Swan - 1917

An orphan girl in Africa is rescued by a man. He marries the girl and takes her to London. Scenes on Venice Beach with a donkey???

Maggie Pepper (Paramount) starring Elliott Dexter, Ethel Clayton - 1919

Scenes shot at the Ocean Park Pier.

Perils of the Beach (E & R Jungle Film) starring Napoleon & Sally - 1919

These stars are chimps. There is a production still of two monkeys rolling girls in barrels on beach. Where shot???

Dad's Knockout ( ) staring "Smiling" Billy Parsons - 1919

Where shot???

A Lady's Tailor (Mack Sennett/Paramount) starring Ford Sterling - 1919

Where shot besides beach near Ocean Park Pier ???

Smiling Billy Parsons in Dad's Knockout( ) starring Billy Parsons - 1919

Comedy plot in pursuit of girls unknown, but on the beach next to Ocean Park Pier.

Her Face Value (Paramount) starring Wanda Hawley & T. Roy Barnes - 1921

A movie still shows Wanda on the Pickering Pier with the Blarney Racer in the background.

Nize Baby (Goldwyn) - 1922

Scenes shot at the Ocean Park Pier. Note: The short may not have been released.

Ain't We Got Fun (Warner) - 1924

Might be shot at the Ocean Park and/or Venice Piers.

Don't (MGM) starring Sally O'Neil & John Patrick - 1926

Shows scenes on the Venice Pier.

Beauty and the Bump (Skylark Comedy) starring Nita Cavalier, Perry Murdock & Robert Page - 1927

A young couple on a Circle Swing is harassed by a bully. To make matters worse, the young man is asked by the girl to have the bumps on his head read by a fortune teller to make her happy. His lack of bumps is part of the comedy. Which pier is it shot at ???

Lonesome ( ) starring Barbara Kent, Glenn Tryon - 1928

Two lonely people in the big city meet and enjoy the thrills of an amusement park. They lose each other in the crowd after spending a great day together. One reader E-mailed me that he was sure it was shot on the Venice Amusement Pier because he recognized a publicity shot that I used in my Venice history book. Trouble is that I can't find a video of the movie to view.

First Aid ( ) starring Margerie Beebe, Grant Withers - 1931

An alcoholic doctor works with an ambulance team. His brother gets involved with jewel thieves and gangsters. Shot in Venice & Ocean Park. Where???

Sky Devils (United Artists) starring Spencer Tracey, William Boyd - 1932

Two dumbbells try to avoid WW1 military service as they try to go AWOL in Europe. Tracey was a former life guard, and the beginning of the picture is supposed to have scenes of the Venice Plunge and boardwalk.

Racing Strain (Maxim) starring Wallace Reid, Jr. , Dickie Moore - 1932

A drunken race car driver falls for a girl. Where shot in Venice???

The Gay Divorce (RKO) starring Fred Astaire, Ginger Rogers - 1936

Scenes shot on an amusement pier. Where???

All Over Town ( ) starring Chic Johnson, Mary Howard, Harry Stockwell - 1937

Two zanies try to stage a show in a theater that has a reputation for being jinxed. Reported by Bill Fegie that there is a scene shot on Ocean Park Pier's Hi-Boy coaster where two people ride with a seal.

Maid's Night Out ( ) starring Joan Fontaine, Allan Lane, Billy Gilbert - 1938

A rich man's father won't finance his scientfic expedition to the south seas unless he work's in his father's dairy delivering milk. (He can't miss a delivery). Naturally he falls in love with a girl who is a maid, and after he gets arrested, she covers for him on his route while he is in jail. Bill Figie reports scenes shot on the Ocean Park amusement pier where they ride a coaster to avoid others. Where shot???

Good Old Corn ( ) - 1943

This appears to be a comedy documentary using archive footage of actors like Laurel and Hardy, etc. A reader with an 8 mm print says the film has scenes of Venice Beach which is obvious from this list of individual comedy shorts ??

Bunco Squad (RKO) starring Robert Sterling, Joan Dixon - 1948

The police look for fraud throughout Los Angeles. One case takes them to Venice. Where shot???

Sideshow (Monogram) starring Don McGuire & Tracy Roberts - 1950

Gem thieves use a carnival side show as their front. A production still shows a shot of the interior of a roller coaster station, and while it could be Ocean Park, Long Beach or some place else might be its location.

Dementia( ) starring Adrienne Barrett, Ben Roseman & Lucille Houlian- 1955

This film with no dialogue, but narrated by Ed McMahon, explores the horrors of a woman's insane mind. After see wakes up in a cheap hotel room, the film follows her through a skid row night. Venice was a perfect locale, expecially the Windward area with its dark alleys for a seedy part of town, particularily at night. She encounters an abusive husband, a wino, a pimp, and a rich man who she panders for as she is pursued through the streets. There are flashbacks to her traumatic childhood.

The Beat Generation - starring Mamie van Doren, Steve Cochran - 1959

A detective is assigned to track down and capture a crazed serial rapist of a married woman. Shows wild, weird world of beatniks. Where shot in Venice???

Once Upon a Knight (Olympic) starring Virginia Gordon, Frank James - 1961

An insurance investigator, who is allergic to nude women, must recover a stolen painting of a nude. His search leads to Venice where he is led on a wild chase by nude beatniks called Nudeniks. Is this a comedy? Where shot in Venice??

The Chapman Report (Warner) starring Efrem Zimbalist, Shelley Winters, - 1962

Sexual researchers come to a suburban community to do a statistical survey. The Coaster Movie Directory by Andy Bolin mentions that a man and woman ride on the Ocean Skyway at Pacific Ocean Park and the Sea Serpent Coaster appears in the background.

Girls on the Beach (aka Summer of 1964) (Paramount) starring Noreen Corcoran and Martin West - 1965

Girls of Alpha Beta need to raise $10,000 to save their sorority stage a beauty contest and a baking contest. When three guys hit the beach with love on their minds, bragging that they known the Beatles, the girls plan a concert with them as headliners. The Beach Boys sing two songs in this comedy. Where shot on the Ocean Park beach???

The Money Trap (MGM) starring Glenn Ford, Rita Hayworth - 1966

This is a detective yarn. The Coaster Movie Directory by Andy Bolin says that there is ride footage of Pacific Ocean Park's Sea Serpent coaster. Also shows the Banana Train ride.
Invaders - 1968
An alien space ship lands on earth and Pacific Ocean Park becomes the escape route. Scenes of the abandoned decaying amusement pier. Sorry, I haven't seen it.

The Big Fix ( ) starring Richard Dyeyfuss, Susan Anspach - 1978

Dreyfuss is a private detective, who joins with a radical ex-girlfriend. She is working for a man running for governor, but his campaign is in jeopardy because of flyer with a doctored photo. They go underground to find out who is behind it. One night he goes to her house and finds her murdered. Reported scenes along the boardwalk and at Israel Levin Senior Center. Where shot?

Skatetown USA - starring Patrick Swayze, Flip Wilson, Scott Baio, Ron Palillo - 1979

A disco musical set in a typical roller disco palace (none located in Venice) where a race is scheduled. The clean-cut good guy is pitted against a black leather-clad heavy. Reported to be some outdoor roller skating stunts in Venice. Where shot in Venice??

Slumber Party Massacre ( ) starring Michelle Michaels, Robin Stille - 1982

A mass murderer has escaped from prison. The girls basketball team at Venice High holds an overnight party. But as the boys clown around, the killer kills them one at a time. Where shot in Venice??

Fletch ( ) starring Chevy Chase - 1985

Plays a smart ass undercover reporter (often in disguise) who goes after a major drug ring at Venice Beach. Where shot?

Hot Moves ( ) starring Michael Zorek, Adam Solbar - 1985

Four boys who are virgins make it a project to get laid that summer. A perverted fat kid, who lives in a house facing the beach, uses a telescope to spy on the girls. Where shot??

Seventh Sign (Columbia) starring Demi Moore, Mike Biehn, Jurgen Prochnow - 1988

Horror movie where pregnant Moore character is convinced the apocalypse is near, and her boarder wants her baby for his end-of-world scenario. Where shot in Venice???

Dad (Amblin) starring Jack Lemmon, Ted Danson and Olympia Dukakis - 1989

Businessman attempts to make an emotional bond with his aging father. Where shot in Venice ??

Ted and Venus (aka Love in Venice)( ) starring Bud Cort, James Brolin & Kim Adams - 1991

Tale of an obnoxious California misfit who relentlessly pursues his dream woman. He began stalking the woman after he met her at a community resource center when he was seeking low cost housing. He believes love and acceptance means everything, enough to risk one's fate and freedom. Where shot in Venice??

Switch (Columbia) starring Ellen Barkin, Jimmy Smits - 1991

Guy who dies and reaches heaven gets a second chance to return to Earth as a woman. Where shot in Venice???

Venice Bound ( ) starring Carl Wilson Grant, Jackson Price - 1995

Dark comic crime drama where three young strangers meet on Venice Beach and decide to rob an empty house. One is a small time NY gangster on run from his crime boss. Where shot in Venice??

The Truth About Cats and Dogs (20th Century Fox) starring Michael Lehmann, Uma Thurman and Janeane Garofalo - 1996

Guy falls in love with a radio talk show host (Garafalo). Before he meets her, she has her knockout friend (Thurman) substitute for her. Many people think the movie was shot in Venice because there is a ten second scene showing a guy and his dog on a Venice canal bridge, and they have lunch at Abbot's Habit on Abbot Kinney Blvd. However, those are the only scenes in Venice. Most of the movie was shot in Santa Monica, particularly along Palisades Park and on Santa Monica's beach just north of the pier.


Television
Lawrence Welk Show - Series 1951-???

The band leader and his musical variety show played at the Lick Pier's Aragon Ballroom beginning in 1951. One show in the summer of 1958 showed the newly opened Pacific Ocean Park on the adjacent pier.

77 Sunset Strip - episode " Eyewitness; - 1959

About a boy (Jay North) who is in danger. Final scene at Pacific Ocean Park.

Twilight Zone - "Per Chance to Dream" - 1959

Man has a heart condition who lives in fear of his dreams. In his dreams, he goes to an amusement park where a woman lures him on a roller coaster. Rather than ride it again and possibly die, he jumps out the window of an office building. It was filmed on the Hi-Boy (aka Sea Serpent) at Pacific Ocean Park, but the scenes are at night and last only five to ten seconds. Don't watch it hoping to see the park or to experience the ride.
New Steve Allen Show - Season 1 Epsoide 12 - P.O.P.-1961
The variety show was reportably shot at Pacific Ocean Park
Route 66 - episode " Between Hello and Goodbye; - 1962

Tod and Buzz visit Pacific Ocean Park where they encounter two sisters, one bizarre. The suicide of one sister takes place on Bubble Car ride over the ocean.

Twilight Zone - episode "In Praise of Pip" - 1963

Man learns son is wounded in Vietnam. Gangster's boss wounds father and he wanders into closed Pacific Ocean Park where he finds his 10-year-old son. They go on rides; Mirror Maze, etc.

Mod Squad - episode "Bad Man on Campus" - 1967?

Pete, Linc and Julie work undercover to break up an auto theft ring. In the episode, they visit Pacific Ocean Park.

I Spy - episode "Little Boy Lost" - 1966?

Little boy (Ron Howard) borrows a guidance system to attract his father's attention. An adverse party is interested, and he runs away to an amusement park where the I Spy team attempts to protect him from the bad guys. Filmed at Pacific Ocean Park and shows Ron riding several rides including the Octopus and Mahi-Mahi, then leaping over the fence on the south side to the Lick Pier where the Aragon Ballroom was located...

Get Smart - Series 1965-1969; episode "The Wax Max" - 1966

Bumbling agent Maxwell Smart, showing off for 99 at Pacific Ocean Park's shooting gallery, wins a kewpie doll. KAOS, trying to retrieve the plutonium kewpie doll, empties park and captures Max and 99 in Chamber of Horrors filled with terrifying wax images. Unfortunately, except for the exterior shoot-out scenes along the main midway, little is seen in the park. The wax museum is a studio set and the carousel shoot-out is an outdoor portable ride, not the Looff carousel that was inside a building.

Fugitive - Series 1963-1967; Final episode - 1968??

The showdown between Dr. Kidell and the mysterious one-armed man takes place at Venice & Ocean Park's amusement park (Pacific Ocean Park.) The park was bankrupt and closed at the time. The two protagonists sneak around and chase each other past various attractions, then climb the tower.

Man From U.N.C.L.E. - Series 1964-1968; episode 1967

An episode, The Concrete Overcoat Affair, was filmed at Pacific Ocean Park. The bad guys were hiding out at an abandoned amusement park. Scenes on the roller coaster and a chase scene to the end of the pier. The two agent heroes became trapped on the seaside park's aerial bubble cars which traveled over the ocean.

Simon & Simon - Series 1981-1987

The two detectives owned a house in the canals and worked out of a second floor office near the Venice Fishing Pier.

Starsky and Hutch - Series 1975-1979

This series was filmed throughout Venice. Hutch (the blond guy) lived in a small yellow bungalow in the Venice canals during the first season. Since they were always solving crimes committed in Venice, they filmed on many streets.

T.J. Hooker - Series 1982-1985

Several episodes were shot near the Venice Fishing Pier.

Todays FBI - Series 1981-1882

An episode in 1982, involving a bank robbery and car stunts, was shot behind the old Bank of America building at the corner of Main & Windward.

Chips - Series 1977-1983

The officers were often filmed at a hamburger stand on Washington Street near the Venice fishing pier. One reader says that in one episode they chase a gang of thieves on roller skates that steal jewelry on the boardwalk and rob a bank on Windward. One of the characters that the policeman dates, lives in a house on Thornton.

Rockford Files - Series 1974-1980

Several episodes were filmed in the canals.

Burke's Law - Series 1963-1965

Several episodes were filmed in the canals.
Adam 12 - Series 1968
Police from the Pacific Division worked the day shift at Venice Beach. They catch a stolen dune buggy, ticket a nude sunbather, find a drunk at a beach diner. Likely scenes of the beach and boardwalk.

Three's Company - Series 1974-1984

During the opening credits, the bicycle scene is at Venice Beach.

Heart of the City - Series 1986-1987

The police detective and his family lived in a house facing the Venice lagoon in between Marina del Rey and the Peninsula beach (Silver Strand). Exterior scenes were often filmed on the nearby beach & Ocean Front Walk near the Marina entrance channel.

A-Team - Series 1983-1986

Two episodes were filmed on Washington Street and its adjacent Venice fishing pier. It was a popular show then and hundreds of locals watched the day day-long filming. Even I shot photos and managed to obtain autographs.

Real World (MTV) - 1994?

This three month series involved a group of teenagers living in a huge oceanfront cottage at Sunset and O.F. Walk in Venice. It was filmed throughout the Venice area.

Baywatch - Series 1989 - 1995

This series about lifeguards in Southern California used Venice as a setting in approximately 25% of their shows. The action was usually on the beach or along Ocean Front Walk. One episode "Living on the Fault" was filmed in the Venice canals, and another, where they feature those musical video montages (Toby is being followed by a dozen teen girls) was filmed on the Lighthouse Bridge and on an abandoned concrete oil platform on the canal along the Venice (Marina) Peninsula.

Baywatch Nights - 1995

Episodes of this TV detective spinoff, were filmed at various locales throughout Venice and Santa Monica.

Pacific Blue - 1996 - 1997

This new series about Venice's L.A.P.D. Beach Detail. Scenes filmed along the boardwalk and beach in Venice.

Gilmore Girls - 2003

There is an episode near the end of the Rory's graduation year when her wild boy friend Jess runs away from Stars Hollow and his uncle to live with his real father in Venice California. It was intended as a spinoff to a new series, but the producers decided it would be too expensive to film on location. There is a scene of Windward Avenue where Jess arrives by bus. He walks along Ocean Front Walk, then down to the beach. There are also scenes at the carousel on the Santa Monica Pier and inside Small World Books on the Boardwalk.

Just Legal - 2005

Series about a burned-out grizzled Venice Beach attorney (Don Johnson), who is reluctantly teamed with a teenage genius lawyer (Jay Baruchel), who believes in justice, and renews the faith of the older lawyer. Johnson has his law office in a building on the corner of Windward and Pacific, and the young attorney lives in Venice. There were several scenes along the Venice Boardwalk, and in the sidewalk cafes. The trials were at the Santa Monica Courthouse. The series was cancelled after four episodes.
Freak Show - 2013 AMC Cable
Reality (8 episodes) show about Todd Ray's Freak Show along Venice Beach. Located along the Boardwalk between Brooks Avenue and Breeze Walk, it showcases over 60 alive two-headed animals and a 10 act freak show starring his sword swallowing daughter Asia and freaks of all kinds from a bearded lady to the smallest man in the world.



[Home]
[History Articles]
[Timeline]
[Historic Maps]
[Bookstore]
[Sponsors]