Abbot Kinney
---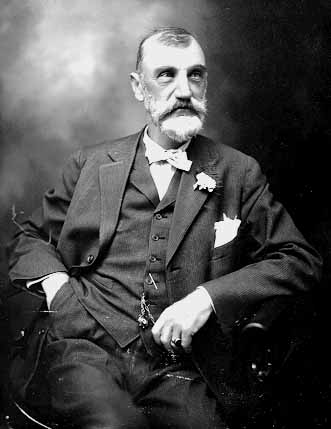 Abbot Kinney (1850 - 1920)
Venice California's founder was born on a farm near New Brunswick, New Jersey on November 16, 1850 to middle class parents, Franklin Sherwood and Mary Cogswell Kinney. He was the youngest of five brothers and a frail boy who suffered from frequent asthma attacks.
His father soon moved his family to Washington, D.C. where as a lawyer, worked as federal government bureaucrat. Abbot's favorite aunt, who he spent much time with at their nearby home, was married to Senator James Dixon of Connecticut.
Abbot matured quickly and was quite tall for his age. He was nearly his adult 6 foot 2 inches height when he was 16 and sent to Europe to round out his education. He studied for a year at the University of Heidelberg, then in Paris and Zurich. His ease at learning languages, especially in the countries he lived and studied, enabled him to speak fluently in six tongues. During his final months of his three year European stay, he traveled extensively on a walking tour of the continent where he visited Venice, Italy and the Italian Riveria.
After returning to Washington, D.C. in 1869, he joined the Maryland National Guard. His family's political contacts enabled him in 1873 to join a United States Geological Survey team headed by Professor Marsh of Yale College (the famous paleontologist) to map the Sioux Indian Reservation in the Dakota Territory. Afterwards he traveled alone to Salt Lake City to view nearby scenic wonders before heading to scenic Oregon. He traveled south through Northern California and rejoined the survey team in Yosemite Valley.
In 1874, Abbot was made a junior partner in his older brothers' tobacco business. The Kinney Brothers tobacco business was located in New York City with warehouses in Virginia and North Carolina. Their most popular brand of hand rolled cigarettes was "Sweet Caporal." Abbot became a buyer who spent much of his time in the south. When the brothers decided foreign tobacco would be a novelty to increase sales, Abbot traveled to Egypt and later to Turkish Macedonia during the winter of 1876. He was in the port of Salonika (modern day Thessalonki) when thousands of Christians were massacred by Turkish Moslem mobs. Kinney barely escaped with his life.
Apparently the experience was traumatic, for instead of returning home, Kinney began a three year vacation as a wealthy man of leisure. He visited numerous European historic cities and absorbed Europe's old world culture. His travels took him to India, Ceylon, New Guinea and Australia where he was thinking of settling. However, Australia didn't suit him so he sailed for Hawaii where he stayed a few months before heading home. By the time he reached San Francisco in January 1880, heavy snows in the Sierras blocked train travel east.
While waiting for the tracks to clear, he learned of a health resort at Sierra Madre in Southern California. Since he was always willing to try a cure for his asthma and insomnia, he took a train south. Being impatient, he drove out to the Sierra Madre Villa Hotel without a reservation. Although they were full, the owner agreed to put him up in the parlor for three days. Abbot was so exhausted from his incessant insomnia that he promptly fell asleep on top of the billiards table. When he awoke, he was completely refreshed and his asthma symptoms disappeared. He had found the place where he wished to live.
He bought a 550 acre piece of property in the nearby foothills and called it "Kinneola." He built a two story home there and intent upon becoming a citrus farmer, planted 6000 citrus trees and 20,000 seedless Sultana grape vines.
He traveled widely through California after meeting author Helen Hunt Jackson. She was documenting the Indian's deplorable conditions at various northern California missions. He became her co-agent and interpreter in 1882. Later he was appointed to a three year position as Chairman of the State Board of Forestry.
It was on his travels to the state legislature in Sacramento that he met the daughter of California Supreme Court Justice, James Dabney Thornton. He married Margaret after a seven month courtship on November 18, 1884. There first child Lucy was born nine months later.
Kinney invested his money wisely, first in a Los Angeles hotel and later in a large tract of land on Washington Street and Main Street which he sub-divided and sold for a handsome profit. By 1886, to escape the Los Angeles summer heat, he built a summer home in Santa Monica. He soon became interested in land development along the coast. His first attempt in nearby Pacific Palisades was a failure. The real estate market crashed in 1888, just before he was ready to place the tract on the market.
Meanwhile his family continued to grow. His son Thornton was born in 1886, and he was followed by Franklin, Kent and Sherwood in that order. Unfortunately tragedy struck during the 1891 rheumatic fever epidemic when Lucy and Franklin died, and Sherwood's and Kent's hearts were damaged. Kent eventually died from heart problems when he was a teenager. Kinney was determined to rebuild his family and had two more sons, Innes and Carleton.
In 1891 Kinney and his partner bought controlling interest in the Ocean Park Casino and that same year purchased the surrounding tract of land, a 1 1/2 mile long and 1000 feet deep that faced the ocean south of Santa Monica. There they built a beach resort called Ocean Park. After Ryan died in 1898, his widow remarried and Kinney had a new partner. When Dudley decided to sell his half in 1902 to Fraser, Gage and Jones, Abbot Kinney had three new partners that he didn't get along with. They dissolved the company and divided their property on a coin toss. Kinney, who won the toss, choose the marshy, undeveloped southern half to built his Venice of America, a recreation of Venice, Italy on the shores of the Pacific.
Venice of America opened on July 4th 1905 and was an instant success. Electric trolley cars with frequent service from downtown Los Angeles and nearby Santa Monica made access easy. Visitors marveled at his canal network, ornate Venetian style business district and his wonderful pier with its immense Auditorium and Ship Cafe. They could tour the resort by miniature steam railroad or by gondolas, swim in the ocean or at his salt water plunge, and listen to band concerts by the swimming lagoon.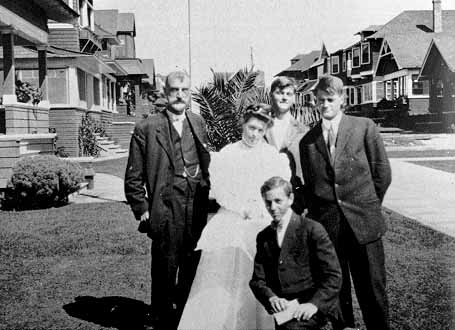 Abbot Kinney and his family at their home on Park Avenue. From left to right - Abbot, his wife Margaret, his sons Innes and Thornton, Carleton in front. - 1907
Kinney eventually expanded his resort facilities by enlarging his pier to become a full fledged amusement pier. He also gained control of the city's politics and changed its name from Ocean Park to Venice in 1911. Kinney was the Doge of Venice.
His wife Margaret died on June 30, 1911. She was only 46 years old. Abbot didn't have a close relationship with his wife in later years. It was an open secret that he actually lived in nearby Santa Monica with his mistress Winifred Harwell and had two illegitimate children, Clan (born 1904) and Helen (born 1906). He eventually married her in 1914 and officially adopted both children.
Kinney built a new home along the canals next to the lagoon and lived there until he contracted lung cancer from smoking cigarettes). He died on November 4, 1920 after collapsing and becoming bedridden in late October. He was buried at Woodlawn Cemetery in Santa Monica beside his wife Margaret. His eldest son Thornton took over the family business.