Jeffrey Stanton - Biography
I was born in Pittsburgh, Pennsylvania during World War II. It was a childhood much different than today; with stories listened to on the radio and 78 RPM scratchy records (each held up to 5 minutes of music) played on crude sounding phonographs. My favorite was "Put Another Nickel in the Nickelodeon" at least until my younger sister sat on it. In 1949, when television stations began broadcasting black and white, my family was the first in the neighborhood to buy a television set; a Dumont 12 inch with a round tube. Programs were all live, and I remember most the test pattern that was on half of the day.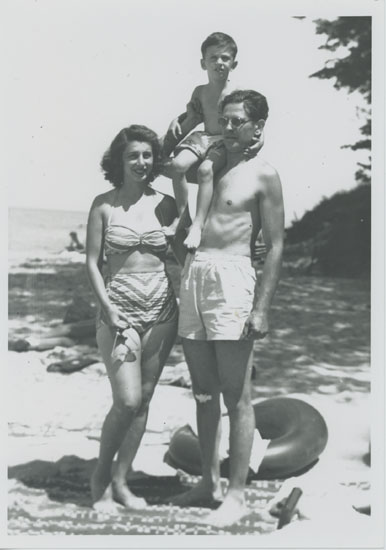 Parents and me on vacation at Crystal Beach, Canada - age five
It was a time when children were to be seen and not heard. If there was a family affair with relatives, children ate at a separate table away from the adults. When my parents had company in the living room and I came in from playing outside, I was expected to politely say hello, then disappear to my bedroom or the basement playroom which was equipped with a ping pong table.

My family's home was near the East Liberty section of Pittsburgh, although we lived two miles away from the business district in a hilly area. There were no stores nearby, but it was at a time when the milk man delivered milk and a traveling grocery store inside a school bus made the rounds of the neighborhoods to serve housewives who rarely worked. As children. we waited each afternoon for the ice cream truck that sold popsicles and ice cream bars for six cents. This was the age of the nickel candy bar, penny lick-a-maid and penny bubble gum with a baseball card inside. My time was spent reading alone, or with neighborhood children flipping early 50's baseball cards (a skillful form of gambling). It was always safe to play outside, even at night as there were never any strangers in the neighborhood. June was my favorite month because you could catch lightning bugs and squish them on your finger tips to make glowing lights.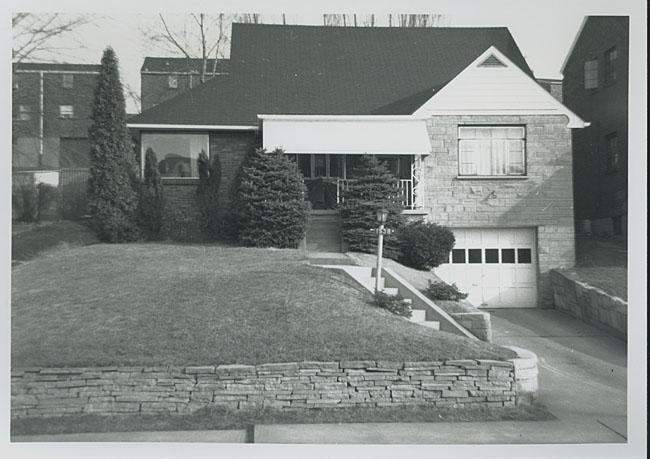 Jeff's childhood home - its second floor has no dormers, just side windows. There was a playroom in the basement.

I wasn't a very popular kid but did have one close and loyal friend from aged five to ten. After Skipper moved away I played with the younger neighborhood children whenever they would accept me. Since I wasn't liked much, I spend much of my time with my dog, a dachshund named Dasher. Some folks assumed that I named him after one of Santa's reindeers, but I was just eleven and the puppy was dashing all over the yard, so the name popped in my head.

My grandfather on my mother's side (her parents were divorced) owned a traveling carnival complete with Ferris Wheel, Roll-o-plane, game booths and a few kiddie rides. My parents would take us to see it when it was set up nearby. I had a fear of heights and wouldn't ride the rides. When they did take me on the Ferris Wheel at the age of five, I screamed as we went up until my grandfather reversed it to take me off. I might have gone to work for him as a teenager, but my grandfather retired when I was fourteen, the same year I was brave enough to ride my first roller coaster. It was the Jack Rabbit at Kennywood Park near Pittsburgh.

I'm not sure where my fear of heights and water were rooted, but my dad's medieval methods of handling it certainly didn't help. He would often, while crossing a bridge by foot, lean me over the rail while holding on to my waist and claim that it would help rid my fears. Then when I was ten while on vacation at a Canadian lake, he took my life jacket off and tossed me off the dock. I sunk and had to be rescued from the bottom of the lake. They couldn't get me near water after that.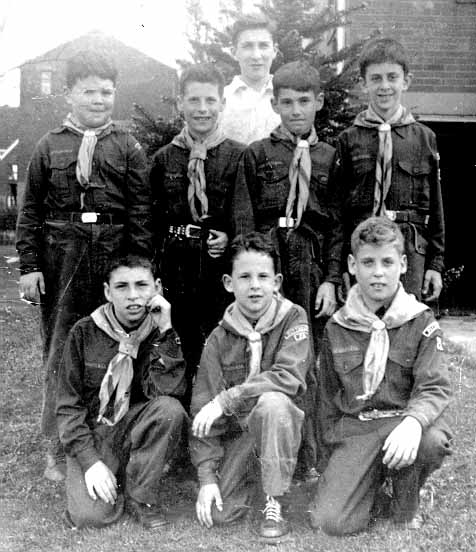 Cub Scout Pack 21. Jeff at the age of 10 is the tall boy in uniform on the right in the back row.


I belonged to the Cub Scouts then graduated to the Boy Scouts. But the requirement to be able to get a First Class badge was the ability to swim. I refused to go to Boy Scout Camp to pass the test and quit. My parents finally solved my inability to swim at age 13 by taking my sister and I to a far away YMCA to be taught by an instructor who was famous for riding kids of their fear of water. I swam like a fish after those lessons.

They fitted me for glasses when I was eleven. My dad discovered that I needed a pair of binoculars to read the baseball scoreboard at Forbes Field where the Pirates played. While I never realized that my eyes weren't up to par (20/200), I was completely amazed when I wore my glasses home the first day. I discovered that trees had individual leaves and weren't just a blurry mass of green.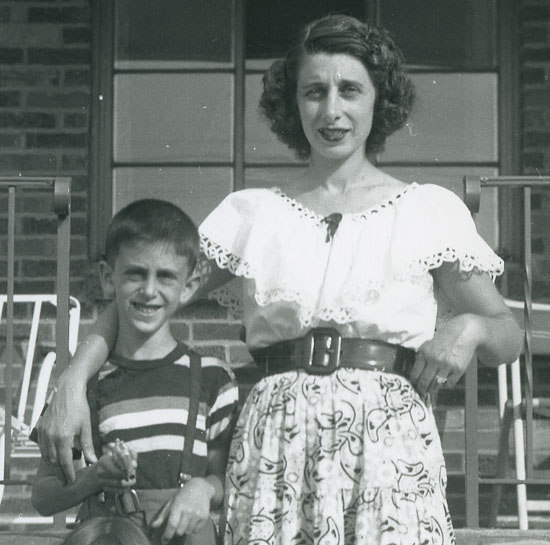 Me and my mom on steps leading to house - age 10
I wasn't very good in sports and my father was too preoccupied with making money to find time to help me improve. However, I did play Little League baseball one summer when I was twelve. It was a disaster because my domineering father made me play left-handed that year since I was a left-hander who threw wild with my right, my stronger arm. It was always easier for me to bat left-handed because I was left-eyed. My family didn't attend games since it interfered with outings on my dad's power boat that was docked on the Allegheny River.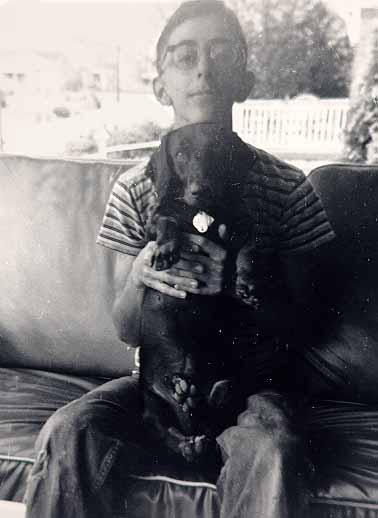 Jeff with his dog Dasher. The glasses gave him a nerd look at age 12.


When I was a teenager my dad bought a 27 foot cabin cruiser while on vacation in Ocean City, Maryland. It was docked on the Allegheny River just above the first dam, but only a few miles by car from my house. Eventually I found boating boring because there were never any children to play with, so my sister and I convinced my mother to join a swim club in the suburbs.My dad eventually sold the boat.
Family's 27 foot dual engine Chris Craft cabin crusier.
Miss Bursick, my seventh grade science teacher, was an avid amateur astonomer and encouraged me and Louis Middleman to join the atronomy club at Buhl Planetarium on the North Side across from downtown Pittsburgh. I already had a TASCO (Japan) 3 inch refractor that I purchased for $200 wholesale. It took me two years to save for it, earning money by running a candy / ice cream store in my garage and selling to the enighborhood kids. I also shoveled snow in the winter and worked once for my dad at his vending machine business for a week. Many of the club members built their own telescopes by grinding their own mirrors. My teacher made an 8 inch mirror and Louis began work on a 6 inch mirror. His friend Darrell was more ambitious and began grinding an 8 inch mirror.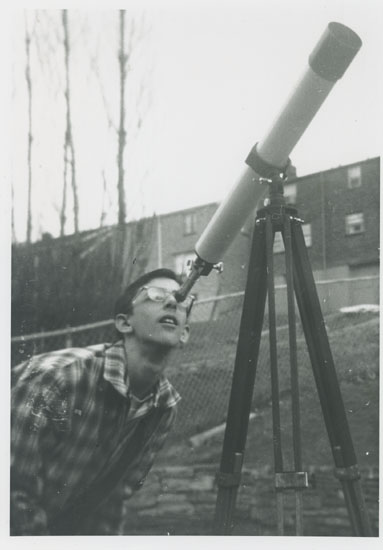 This is my first telescope, a 2.4 inch refractor.
The astronomy club had use of a 13 inch refractor at the Allegheny Observatory on Sunday evenings. Since none of our parents were interested in attending, the three of us would take buses and trolleys there on clear nights. I remember seeing the planet Uranus and distant galaxies like Andromeda. The problem was getting home before the buses and trolleys stooped at midnight. We always had to call my dad at midnight when we needed a ride hom from East Liberty.
One winter night there was lunar eclipse that laster for several hours beginning at 1 AM. Louis Middleman came over and we watched it from my snowy backyard. That was the winter I had built a huge snow fort. All that I remember was that it was cold, and that the moon had an eerie yellowish cast, but nearly dark.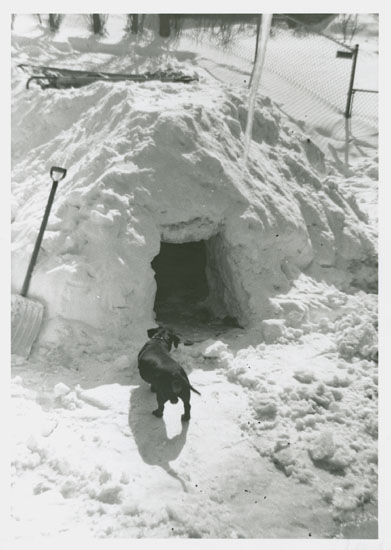 Snow fort in my back yard - dog Dasher.
By fifteen I had become tired of spending my summer weekends on my father's boat on the river. My mother had also become fed up with the boat and wanted to join the swim club where her friends belonged. Montclair Cabana Club was located on Route 30 about 20 miles away. We had gone there as guests once or twice the previous summer (the same guests are allowed only once each month) and found the place a fun and friendly family oriented operation. We joined and remained members for three years until the pool was eventually sold.
The family oriented club for 300 families had leased the old Blue Dell public pool, which had a capacity of 3000 bathers. It was huge, 100 meters long and 50 meters long; slightly larger than a football field. Most of the pool was shallow, 3 to 4 feet deep, except for the end 75 feet of its length, which was 7 to 8 feet deep. While the place lacked a high diving board because of its shallow depth, it did have one or two, one meter diving boards. Three sides of the pool's concrete apron were lined with beach lounge chairs and another eighty additional were set on the hillside.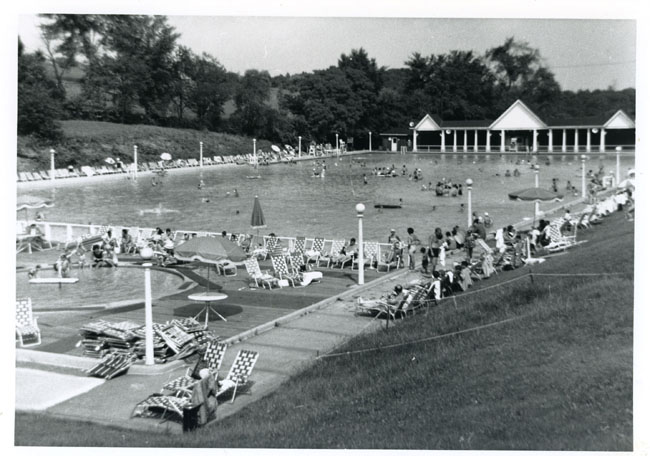 Montclair Cabana Club's pool was larger than a football field and used by 300 families.
The 150 foot long building at the deep end of the pool housed dressing rooms and a recreation room. Beyond were picnic grounds, four tennis courts and a restaurant. Two 35mm Cinemascope motion picture projectors were housed in its basement and they projected movies onto a small 25 foot outdoor screen. The owner of the property owned a chain of drive-in movie theaters, including the Blue Dell Drive-In located on the adjacent hill. On Tuesday evenings everyone would take a lounge chair by the pool and move it to the theater area. A committee of parents picked a family oriented movie that was playing at one of the nearby theaters. The movie we picked would become the second feature at the theater and one of the parents would return the first few reels of our movie to the theater in time for their second show to start.
Swimming was the big thing at the club. When I was sixteen one of the life guards organized a swim team. There were six to eight other cabana clubs like ours ( they had regular size pools ) to compete with in a league. While they were forming the team, I was learning the Butterfly stroke and attempting to swim one width of our pool (half a length was my norm). We had practice at 11 AM and I often had to get a ride with neighbors since my mom rarely got up that early. My freestyle stroke, since I had never been coached, was more of a tiring windmill stroke. Our coach quickly tried to break me of the habit. We had to swim at least a quarter of a mile each morning. I was so tired that I needed to take a nap after lunch. The kid that was supposed to swim Butterfly on the Medley Relay team quit the team and I got the job by default. I also built up my endurance by swimming at least a half a mile later in the afternoon. I swam like I was in a trance, rarely looking at where I was going but making a flip turn when my hand touched the wall.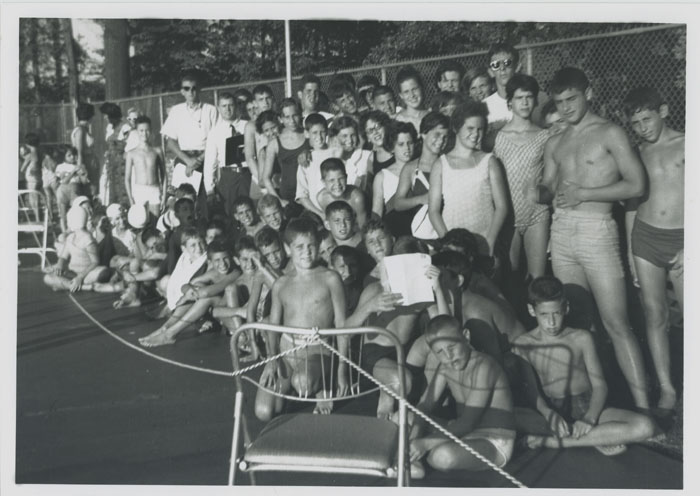 Montclair Swim Club's swim team. I'm in the back row towards the right.
When the pool was sold, my family joined the Oakmont Swim Club in East McKeesport. It had a small normal L-shaped pool and there were a few members from Montclair. Two years later we joined Schwer's Swim Club because many of my mother's friends belonged. Unfortunately there were very few college age kids at the pool, so I hung out with high school kids.

As a child I was always fascinated by mechanical contraptions. I had an erector set that had enough parts to built the large Ferris Wheel. My Lionel train was set up on two 4 x 8 foot plywood panels in the basement playroom. As I got older and my interest changed towards science, I had a microscope and chemistry set. I belonged to a mostly adult astronomy club at Buhl Planetarium and at 12 worked and saved for nearly two years to buy a $200 refractor telescope. Nearly half was earned by operating a store in my garage that sold candy and ice cream to neighborhood children, I bought my inventory from a wholesale house and made a two cent profit on each nickel candy bar.

I was also fascinated by dinosaurs. Whenever I was in the Oakland section of Pittsburgh, I would visit the Carnegie Museum and gaze for an hour at the world class collection of skeletons dug up in Wyoming at the turn of the century. However, the study of dinosaurs in the 50's was dull and boring, and thus I had no desire to be a paleontologist.

I had other hobbies, too, as I collected stamps first and then United States coins. It was easy to obtain unsearched through coins since my dad owned a vending machine business. I often searched for rare dates through $200 bags of pennies and nickels and $500 bags of dimes. By sixteen I was buying and selling coins at local coin shows.

I was also interested in rockets and had an electrically operated launch pad in my parent's driveway. The neighbor's weren't very happy with the arrangement as many of my thin walled aluminum tube rockets blew up and rocked the neighborhood. My choice of rocket fuel was the problem as burning sugar with potassium chlorate isn't always a stable mixture. The oxidizer was readily available in Chemistry class and the teacher once gave me an entire bottle.

Unfortunately as a child I had no mentors. Adults, except for a few high school teachers, had no interest in me or what I was doing. My parents didn't teach me things since my dad seemed to believe you learned things by osmosis. He believed that when you needed to know something, somehow you would just know it. When I asked my parents a question beginning with "Why?' they would retort "Y is a crooked letter." I learned to look things up in books. When I wanted to learn to play chess, I looked up the rules in Hoyle's Rules of Games. Fortunately I became self reliant because I needed to accomplish things with no encouragement.

I attended Peabody High School where I got beat up nearly every week. I was a tall thin nerdy kid, wore glasses and probably weighed 100 pounds at most. Occasionally I ended up in the principal's office because I usually fought back, but lost. I was smart and took most of the advanced classes. By 10th grade I wanted to become a physicist so I took courses in Physics, two years of Chemistry and four years of math. Although I liked art, I was pushed into taking four years of mechanical drawing as my only elective. Getting into a good college was the goal. With high SAT scores in Math and Science along with good grades, I applied to four engineering / science colleges and was accepted to my first choice, Rensselaer Polytechnic Institute in Troy, New York. Best of all, it was 500 miles away from my parents.
College was considerably harder than high school, especially since most of the students were in the top 10% of their high school classes. As a Physics major, I took Calculus, Physics, Chemistry, German and an English reading class. I lived in the dorm and studied six hours a night, two on German alone. Thre were always classmates around since there were 50 students in 25 rooms per floor in the three story dorm. I wasn't good friends with anyone until the spring when Jeff Parker, the popular kid in the adjacent room, discovered he enjoyed my company at meal time. It offset the problems I was having with my roommate.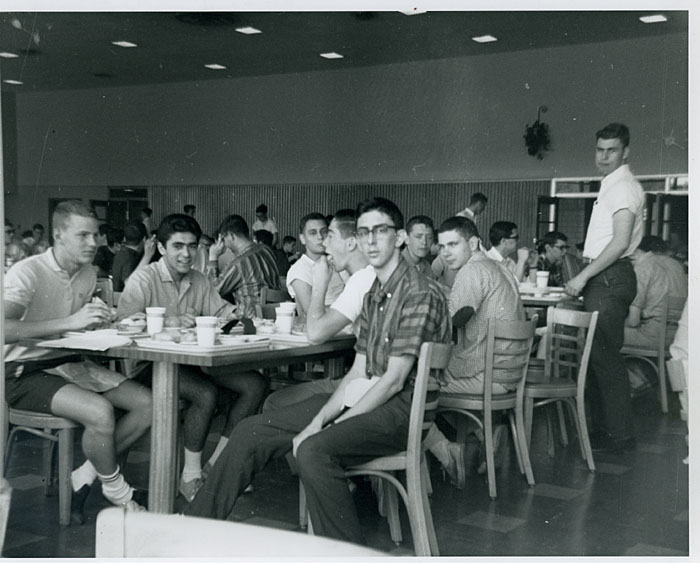 Freshmen dining hall. The group is from my dorm floor and my best friend Jeff Parker is sitting across from me. The student standing, Kent Shell, became president of the student body during our senior year.
The school was big on ice hockey and as a freshmen you could skate at the rink during gym class. Sophomore year you could play ice hockey in class, and I after my junior year began playing right defense on an intramural ice hockey team at night. The school's ice hockey team went to the NCAA playoffs in Denver where they lost the first game and came in third. The team had two all-Americans. It was fairly easy to get tickets to home games at a cost of 25 cents because there were students in my dorm who didn't like attending hockey games.
Football, on the other hand was an embarrassment to the school. When I arrived, one class had already graduated without seeing a winning game. Naturally we lost all the games during my freshman year. Then the college had an idea. Nichols College had just acquired four year status so we played them. Things were looking good as RPI was ahead at the half. But then Nichols tied up the game in the last minute, and RPI was now attempting to set the record for the most no-wins in a row. Actually we got to 43 games when we played Middlebury College for the last game of my junior year. The game was broadcast on radio and after the half when RPI was ahead, people from all over began to arrive to see the historic outcome. RPI won 28 - 14 and the students tore down the goal post. It made Sports Illustrated. Middlebury had the bad luck to play RPI for the first game during my senior year and lost once again. RPI proceeded to lose the next four games, even lost to Army's B team. The amazingly won the final four games for the first winning season in 35 years. Five more goal posts were torn down.

For lack of room in the upper-class dorm, four of us rented an apartment a mile from campus. Unfortunately it was a bad choice for me since they ran it as a democracy, three against one. They did some stupid things to vote against me. Conditions improved when we suspected that one of the roommates was manuipulating the aprtment's accounts receivables, thus cheating us for money we contributed to the apartment bills. He flunked out after the first term. However, my friend stopped by and one day in the spring and discovered that I was a nervous wreck from living there. He invited me to his fraternity house on Saturdays to cheer me up.
Physics began to bore me during my sophomore year, since I couldn't care less if the atoms spiraled inward or outward. I switched majors to mechanical engineering for my junior year. Since I was determined to graduate on time, I doubled up on my engineering classes and took both my junior courses with their sophomore prerequisites. I got a job that summer with Westinghouse Electric's circuit breaker division to earn money to buy a car and support my snow skiing passion in nearby Vermont. Day passes in Vermont were only $7 and if you showed your college I.D. you could ski afternoons at Brodie Mountain in the Massachusetts Berkshires for only $2. I spent my semester break at Killington during my junior year, and the next three semester breaks my senoir year and in grad school at Stowe Vermont, a four hour drive from Rensselaer. You could buy a five day lift pass with half day lessons for $35 and could stay at the Winterhaus dorm (4 in a room) for $7 per night with all you could eat breakfast and dinner. Lunch on the slopes was a dollar, and throw in $5 for gas, and one had an $80 ski week.

I received my engineering degree on time and went on to graduate school there where I earned by Masters in Science, Mechanical Engineering. Since I wanted to design industrial robots, which was in its infancy, I took courses in both mechanical design and control systems in the electrical engineering department. Some of my assignments required computer time on the school's IBM mainframe computer. It was the days of punch cards and two day turn-a-round just to see if you made a mistake in programming. It could take weeks to get your program running correctly. We got faster and better results on one of the engineering department's many portable analog computers that we used to simulate the control system for the Saturn V rocket. But that required hours of intricate wiring of the computer's amplifiers and capacitors. The results were plotted on a chart recorder.

In 1969 I moved to Long Beach, California to satisfy the requirements of my draft board that I design weapons in exchange for not fighting in the Vietnam War. I designed airplane control systems for McDonnell Douglas, then Minuteman missiles for TRW Systems.

During a two year unemployment period, beginning in 1970, I became interested in still photography. I had been making travel and ski movies with a movie camera equipped with a Cinemascope lens, but it had become too expensive for me and wasn't leading to a career. Instead I wanted to produce a color photo-essay book about Southern California's beach towns from San Diego north to Santa Barbara. The five year project resulted in a book published in 1975 called "Summer is Forever."

I was a terrible writer in college, but fortunately I learned to write during the two year period of writing five drafts for my Summer is Forever book from 1973 to 1975. At that time I had just wanted to collaborate with a writer, but everyone I knew was certain that my book would never be published.

I returned to my aerospace engineering career in 1972 at Lear Siegler in Santa Monica. This required me to relocate and I found an apartment with pool in Venice, California, one block from the beach. When I was laid off once again, I found another job in 1973 at Hughes Aircraft in Culver City. Two years later I was unemployed again and it looked like being out of work during another severe aerospace downturn at least 18 months.
While I was working at Hughes Aircraft, I finally had enough savings to travel to Europe to see all the castles and walled cities from the Middle Ages, the Renaissance cities, alpine mountains in Switzerland, all the great cities of Europe, and art museums throughout Europe. I took a 3-1/2 month leave of absence from June 1st to September 18, 1974 and booked a charter flight through the German-American club (the only cheap way to fly to Europe) and bought a three month Eurorail pass. I researched the trip for six months and even knew the rail travel tiems between destinations. The trip began in Amsterdam and after exploring other Dutch towns, I was off to Paris for seven days. My money belt, however, created a bulge in my clothing and somehow it was stolen. I managed to get a new passport, had another Eurorail pass mailed from California, and American Exporess replaced my stolen Traveller Checks. While I waited for my Eurorail pass to arrive, I travelled to Mount St Michel and the Loire Valley to see eight chateaus. Once I had my Eurorial pass again, I travelled throghout Spain, Madrid, Seville, Sergovia, Toledo, the Don Quioxite windmills, then to Tangier, Morocco (I found the country to dangerous and aborted my plans to travel to Marrakesh.). Everyone I talked to returning from southern Morocco said that if you fell asleep on the train, you were robbed. I was travelling alone.
Back in Europe, I travelled to Garnada, Barcelona, then to Carcassone, the largest walled city in Europe. Then through southern france and Monaco to Florence. I timed my arrival so that on the second day I could travel to Sienna, Italy to watch the famous Palio, a mediaval pagent and horse race where the horses race three times around the city square. There are so many crashes at the turns including one where two horses slid into our grandstand, that the winner is the first horse to cross the finish line, riderless or not.
From Florence I travelled to Pisa, then three days in Venice, likely the most unique city in all of Europe wheer tavel from one section of the city is by water. A Grand Canal lined with Renaissance mansions seperates the two sides of the city connected by only three bridges. Smaller canals criss cross the city and walking up and down the numerous bridges wears one out. I travelled north to Verona, then to Zermatt, Switzerland for a brief rest. Hiking in the mountains isn't exactly a rest, but is less trying than walking around cities. My next stop was Chaminoiz, France where they have the most spectacular 5 kilometer orr 3 mile aerial tram ride across the Mt Blance glacier to Courmeyer, Italy. My train left Zermatt and travelled down to the valley to Martiney. Then passengers boarded a train that was a cog railway. It went up a steep mountain and travelled on a route thousands of feet above mountain villages below to the French borner at Vallercine.Another train took one to Chaminoix.
Chaminoix is a French ski reort, and the trip to the glacier 9000 feet above via two aerial trams. The second is so steep with only supports at the ground station and rock pinaccle called the Augille du Midi that is like riding up an elevator shaft, the last 2000 feet vertical. Once at the top, you crossed a bridge, then walked through an ice cave to reach the glacial overlook on the flank of Mt Blanc, Europe's highest peak. An aerial tram with cars in groups of three, set every quarter mile apart, disaapeared in the distance. They slowed the cable down to a stop for passengers to load every quarter mile. Since they can't put towers on a moving glacier, the cars tunneled though a rock pinnacle a mile out. Then to get over a saddle (or pass) on the Italian side, the Swiss strung a cable between two mountain peaks perpendicular to the main cable. This remarkable Flambeau Suspension holds your cable up so that you can clear the pass and reach the Italian side. If you like, three aerial trams can take you down to the Italian ski resort. Your ride, one way takes 30 minutes.The cars travel 500 feet above the glacier that has crevases larger than an apartment building. The roundtrip ride is likely the most spectacular scenic ride anywhere in the world.
From Chaminoix I travelled to Rome for four days of exploring the Roman ruins. Then I travelled To Sorrento, south of Naples where I visited the ruins of Pompeii and Herculeum, the Isle of Capri and the Amafi Drive where I rented a motor scoter to see the cliffside villages. Then it off to Brindiisi to catch a ferry to Patrus, Greece. I had plans to tour the Greek Islands, but fate intervened. That night Greece and Turkey declared war over Cyprus and when we arrived at Patros, the boat was commendered for troop transport. It is too bad that I couldn't read Italian newspapers or I might have reconsidered my trip. The ferry company had sold us a ticket to a war. Seeing that thousands of Greeks were trying to flee the counrty and war, five Danish teens and I decided not to take the bus to Athens where we might be trapped.. We managed to get passage on an Italian luxury liner back to Italy. Although our tickets were for deck passage, the crew woke us up at 2 AM and gave us a cabin. I needed the sleep since I had been awake for 36 hours.
Since my schedule was off by a week, I decided to take a night boat to Dubrovnik Yugoslavia from the port of Bari about an hour north of Brindisi. The communist country, my first, issued a visa overnight. Dubrovnik was a walled Venetian port town along the Croatian coast of the Adriatic Sea. Its walls were 12 feet thick. I found a room with a family that rented rooms just outside the town gates in a private cove. The town was spectacular and had nightly classical concerts. The next day I took a day trip to Mostar, a Muslim town with a famous hight arched bridge. When I left Dubrovnik several days later, I rode a bus to Split to see Diolication's Palace. It was a disappointment so I took the night train to Vienna. After several days in Vienna visiting palaces and museums, and going to concerts, I travelled to Saltzburg, Austria, which is a beautiful picturesque barouque city with a castle above the old town.
Munich, Germany was my next stop and one of my favorite cities in Europe where I spent nearly a week. Although the city was heavily bombed during WW2, they rebuilt all the old buildings and palaces. They have an animated mechanical clock (Glockenspeil) over the city hall in Marien Platz. The treasures in the places were spectacular, and the art galleries, and the Deutches Museum (Science Museum). I also travelled south to Fussen and Oberammergau where King Ludwig of Bavaria built his famous fairy tale castles.

I took a bus along the Romantische Strasse to see several walled cities. The bus stopped at Rothenburg on Tauber, likely the finest walled city in Germany. I was able to stay the night and catch the bus to Wurtzburg late afternoon the followingday. When I awoke the next day I toured the torture dungeon in the twon hall, and discovered the town was celebrating the 500th anniversary of their brewery. While I don't like the taste of beer, that beer was the best I had ever tasted. From Wurtzbugh, I travelled to Nuremburg. The charming old walled town had been completely rebuilt and was a wonder to behold. Its specailty is making mechanical toys and selling them at huge outdoor fairs at Christmas time.
I took the train to Bern, Switzerland, then to the mountain town of Grindelwald for a much needed rest for several days. The town overlooked the Eiger. I did some light hiking to sightsee. Then it was off to Lucerne and then to Mainz on the German Rhine River where I took an all day boat tour from Mainz to Colonge. I stopped at Heidelburg to see the castle before travelling to Goslar in the hartz Mountains. I took the train to Berlin and visited East Berlin because I wanted to see the Pargammen Museum where they had an entire Turkish temple. East Berlin was depressing and I felt sorry for the children growing up there. West Berlin, on the other hand, was vibrant and alive.
Next I travelled to Copenhagen where I stayed at a family home for three days. I visted the Danish Open-Air Museum, the palace, and of course Tivoli Gardens, which with its bright lights is quite magical at night. Although it is an small amusement park with tame rides, it excells as a vanue for classical concerts and circus acts. Since I still had three days left to use from my lost week in Greece, I took a night train to Oslo. While I found the architecture in Oslo boring, they have an entire island of great museums. The following day I took the train to Bergen and toured two of the fjords. I seemed to have the flu and decided that the trip by train would be both too long and besides my illness wasn't condusive to two days on a train. Instead I booked passage on a ship across the North Sea to Newcastle England. Luckily I don't get seasick as the North Sea is rather rough, and I really didn't fell well the entire 24 hour trip.
After I arrived in England I bought a ticket to London, but stopped at York. Although it rained the entire day, I visted the cathedral, the city walls, and the wonderful Castle Museum, which featured entire streets with Victorian buildings. I continued on to London and found a hotel near the King's Cross Railroad Station. There I met two college kids from Seattle, who often went with me to the British Museum, Tower of London, National Gallery and others. Since they were basically tired of each other, one boy accompanied me to see Windsor Castle. On other day trips I went to Salisbury to see Stonehenge, and Stratford von Avon to see a Shakespeare play. At night I bought theater tickets in the upper balcony for 60 pence ($1.50). The night after returning from seeing Shakespeare's Twelfth Night, I saw the Rocky Horror Show play in London.
I left London after a week for the European mainland. I took a train to Brugges, Belgium which is the Venice of the north, a bautiful canaled Medieval town. Then it was off to Luxembourgh, then Brussels, which I found boring. Then I travlled to Amsterdam for two days to finish what I missed of my sightseeing. Then as my trip wound down to the final days, I traveeled to Zurich where I would return home, then travelled to the tiny country of Liechtenstein. Then I had one more day of sightseeing in Zurich before my plane flight back to Los Angeles. I had become so acculmated to European slower unhurried lifestyle that I found Los Angeles tiresome. Besides without the convenience of trains, I had to drive everywhere. Worst of all people were so rushed in their daily life that they disn't have time for you. Once again I was laid off fom my aerosapce acreer in January 1975. Since I would be out of work for at least 18 months, I decided to pursue a full time career as a professional still photographer. Although I had a fine portfolio from my travels around the United States and Europe, I soon discovered talent wasn't the key to success. Photographers obtained jobs in Southern California because they had friends, not because they were good. I never enjoyed parties nor making friends. My photographs, however, were occasionally published in travel magazines, but I wasn't earning enough money to live on. I became manager of my apartment building to balance the budget.

Frankly I had too much spare time. When the neighborhood children built a fort and dock for their rafts on an island on the canals along the Marina Peninsula, I built a bridge to the island with discarded lumber. Then I became more ambitious during spring 1977 and announced to my neighbors that I would build a 50 foot span across the canal at Hurricane Street. It would be the only bridge along a mile and a quarter stretch since the city had condemned and boarded up the Lighthouse and Outrigger bridges. I showed them the engineering plans for a three foot wide foot bridge on two abandoned concrete pilings, then asked for donations to buy 18 foot long wood beams.

The bridge was built over a single weekend with the help of three teenagers and their fleet of rafts. Two days later the city discovered it and condemned it as unsafe when it didn't meet bridge code. The bridge's fate made the news and consequently the city needed a coastal permit to tear it down. A compromise was reached in which they agreed to restore the Lighthouse Bridge in exchange for tearing my bridge down. The city claimed it cost them $7000 (includes engineering and administrative costs) to tear down my $100 bridge, and another $60,000 to fix the other bridge. Only two of the commission's nine members voted to send me to jail.

I became interested in Venice, California's history in 1978. I had heard that the town originally had numerous canals and several amusement piers with roller coasters. I began collecting historic photos and researching the town's past. I had learned to do original source research in a college American diplomatic history course during my senior year. I published a small, thin 60 page illustrated book, a history of Venice from 1905 to 1930. When it didn't sell in the book stores, I sold the $3.95 book door to door during the three months before Christmas. I became very discouraged after that and by 1982, I became a history burnout.

Sometimes I think my passion for creating and collecting illustrated books is rooted in my childhood. While I was a compulsive reader (I'll read the cereal box on the kitchen table), I owned few books as a child until 8th grade. My parents weren't readers except for newspapers and Life magazine. A relative gave me my first book, a child's Lone Ranger when my tonsils were removed at age eight. Then in the 8th grade the teacher introduced us to the Teenage Book Club where I bought classics and boy's books for 25 cents. I also owned a children's set of encyclopedias which I read from cover to cover. I didn't own an art book until I was a senior in college and didn't begin building a small library until I was an engineer. By then I was mostly shopping at used book stores between jobs.
My photographic career wasn't progressing and I needed a break to think. I decided to go back to Europe for 30 days, since it was about all I could afford. I left on July 18th via Air France to Paris. I was worried about the increase in prices during the last five years. A neighbo told me how expensive Paris had become since she was there recently. However, when I went to the tourist office at Charles DeGaulle Airport, they found me a 4th class hotel at Place Republic for $10 / night. Since I had failed to obtain a visa to travel to Pargue, Czechslovakis, I stopped at their consulate. I was perepared to leave my passport for the weekend fi necessary, but they told me to come back after lunch. When I arrived, they said, "The American is here." I toured Paris throughly for a week, then activated my 21 day Eurorail pass for a trip to Le Puy, south west of Lyon. Rarely visited by Americans, the town is dominated by a huge statue of Christ and nearby rock pnnacles outside town have small churches atop them.
Then it was off to Strasborg on the French border, then to the quaint town of Freiburg in the German black forest and then to Basel where I planned to take a night train to Venice, Italy, one of my favorite cities. After a tiring three days in the canaled city, I then travelled to Saltzburg, Austria. I saw another marionette opear, The Barber of Seville, and toured the salt mine at Hallein. You reach the mine via chairlift and then slide down ramps from level to level. The thick white suit prevents slide burns, and your guide acts a a brakeman.
I then spent three days in Munich before departing for Prague. I met a German couple on the train and they had a reservation for a hotel. But when we arrived, Cedok, their travel agency was closed. We had to black market German marks for the cab ride and the driver said he knew a couple who rented a room in their home. She spoke English and it was only a five minute walk from a subway station. Prague at the time was a German city in architecture that was badly run down. People were cautious and at a park, a family's children that I observed, did play like American kids, since they were wary of the secret police. The country wasn't a fun palce to visit. I had to exchange money every day, but found nothing in the stores to buy except smoky crystal. I tried to spend my extra kroner at an restaurant, but I misread the menu and what I though was an expensive meal, was the weight of the meat in grams. It only cost $1.50. I stuffed my kroner in the bottom of my hiking boots when I left until we passed the tanks on the border.
Nuremburg was a delightful surprise. They had banned automobiles in the old city and it was all pleasant walk streets. Then I visited Bamburg and Regensbugh, and then took a train across the Danish border to the country's olest town, Ribe. From there it was touring Hambug and nearby Lubeck, an old walled city on an island. Then I traveled to Brugge, Belgium for several days, before returning to Paris for my flight back to Los Angeles.

In the summer of 1979, when the popularity of Venice's boardwalk reached critical mass and it became a tourist destination, I decided to start a postcard company to promote my photography. I thought it would be simple since no other postcard company made Venice cards nor sold them on the boardwalk. I found a few stores to sell them and set up a tricycle to sell them myself in the middle of Ocean Front Walk. Although I didn't sell many postcards, I held a monopoly on Venice's card business for five years. Customers always claimed that they could buy better postcards elsewhere, but after my competitors came to town, business improved because they could see that my competition had few Venice scenes, which was my specialty.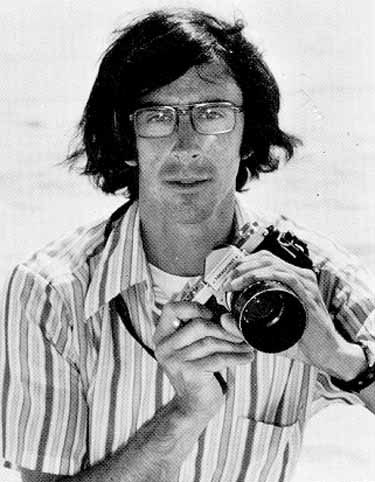 Jeff became a free lance photographer after he quit his engineering job. This photo was taken for his Summer is Forever book jacket in 1974.


The cartoon tourist map business that I began in 1979 was expected to make the real money for my company. I was the first to draw a color cartoon map of a community, similar to ones drawn for amusement parks. It was a poster with advertising on the back, along with lists and locations of Venice's murals and historic sights. The advertising revenue allowed the fold-up map to be sold for only one dollar. While it was a success, I failed to obtain advertisements for adjacent communities. Businesses and Chamber of Commerce people preferred to work with known PR agencies. But the cartoon map concept caught on and others imitated my work and became successful nationwide..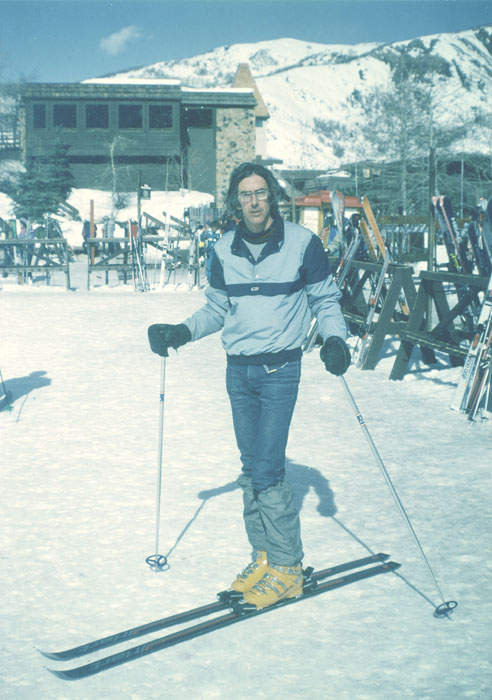 Jeff spent considerable amount of time skiing in the western United States.

I did manage to update the map in 1985, but it quickly turned into a fiasco when the Venice Chamber of Commerce banned the map and television coverage made me a celebrity. Another artist and I became carried away while drawing the cartoons that depicted a gang fight in the ghetto, a mugging, prostitution and drug dealing. While it was true, parts of the community didn't see it as a joke, and when they threatened the stores, it was only available at my postcard stand.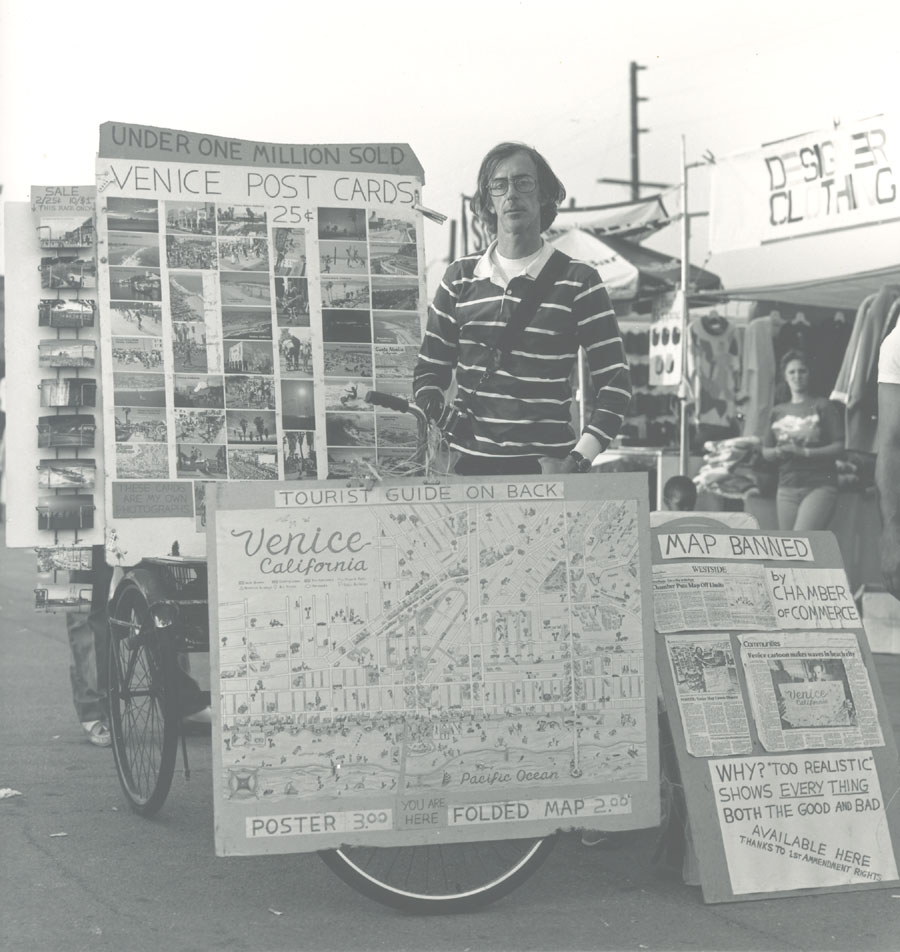 Jeff Stanton selling postcards and banned tourist maps from his tricycle along Venice's famous Ocean Front Walk. - 1986

I was unconcerned with my lack of success because I was engrossed with my Apple II home computer. I welcomed my spare time during the slow winter season to be able to design computer games and write software review books for a South Bay computer software company. Eventually I wrote two textbooks on assembly language arcade game programming for the Apple II and Atari 800 computers. I became a computer game consultant and ran my postcard company as a hobby.

As new computers debuted, I upgraded. My favorite computer and the one I type my books on is an Amiga 1200. I wrote the DOS book for the first model in 1985, when it became the first multi-media computer complete with a windowed, multi-tasking operating system. Since it played games exceptionally well, it was considered an expensive toy by Mac and PC business users. Yet it could, back then, run circles around those computers.

Unfortunately I was a generation older than most of the programmers, old enough to be their fathers. I was forcibly retired from the computer game business when I was in my mid 40's. I had been successful in the early days of the home computer business because I people hired me because I was smart. In time, when business and marketing people took over from the nerds, it became like any other business in that getting a job depended on who you knew. Likely there was also resentment towards me in the computer game business since I had given B and C grades, sometimes even a D to many company's software products and lost them money in sales.

Luckily I had resisted pressure from my computer employers to sell my postcard business and therefore I still had a business to rely on. However, I found the postcard business boring and disappointing because I thought that the exposure of my photographs would bring me an occasional photographic job. During the 17 years that I've owned the company, I never got even a single one hour job as a photographer. I get constant praise for my work, but people tell me that they would rather hire their friends, even if they aren't as good. (Note: The photos illustrating my 1996 Venice map are my photographic post cards.)

It seemed that the key to success in the arts was having an outgoing personality to make friends. I didn't have that trait and when I went to a party I managed to meet the five people out of fifty that I had absolutely nothing in common. Besides most adults found my interests juvenile and criticized my lack of motivation in not using my time to make money. Their maxim was "time is money" and if you can't help me make money why would I waste time on you.

Surprisingly it was the neighborhood children and teens in the computer clubs from 1979 to 1988 that found me the most fascinating. After all many felt that I held the perfect part-time job. While I was editor-in-chief of The Book Company (subsidiary of Arrays, Inc.) I got to review all of the computer games that were produced for the Apple II, Atari 800, Commodore 64 and Amiga 1000 computers. I had so many games that I used neighborhood kids to reach the upper levels of the arcade games.

And when I turned my entire living room / dining room area in the early 80's into one huge Lionel train layout (140 feet of track), complete with a full blown operating freight yard and remote firing Minuteman missile cars, the kids were enthralled. My neighbors looked on in dismay at an "adult child." When I wanted to go to the amusement park to ride roller coasters, or go snow skiing in the middle of the week, it was the teens who often accompanied me. Eventually these kids grew up and got jobs and no longer had anything in common with me. I was always hurt that they wouldn't accept me as their friend after they grew up, but I was just part of their childhood, something that they preferred to leave far behind.

With too much time on my hands, I decided to rewrite and expand my original Venice history book; to bring it up to the present and expand the material on its amusement pier history. Venice's long time residents weren't helpful and all photo collections in the community were unavailable for my use. I guess that people resented the fact that an outsider choose to write the community's history.

Publishers weren't receptive either, so when I couldn't find a publisher, I decided to publish it myself. The first version of the book, published in 1987, was 176 pages and had about 200 historic photos. When it was time to reprint in 1993, I did two additional years of research and expanded the book to 232 pages with 90 additional photographs. My experience as a photographer enabled me to choose the very best in historic photos and insist they be printed as clear as the originals, many from 8 x 10 negatives.

Once my book was done I became bored again. When people tried to get me to put my archive on a CD ROM for sale, my eyes rolled. Others tried to get me on the WEB, but I had little interest. Finally a UCLA economics professor, who lives in Venice, made me a deal that was hard to pass up. He offered to have graduate students code my site and was confident that local companies would fund the project. When they declined, the project sat in limbo for months. Finally Don Westland, who designs Internet sites for a living offered me use of his Venice Ocean Front office. I write the material on my Amiga, move it to an IBM disk and code the HTML by hand on his Pentium. I digitize the photos on an HP color scanner, then move it through the Internet to UCLA's Sun work station server at the NAID center.

Of course I'm not making any money designing WEB sites. I've always preferred working on projects that are interesting than ones that pay well. It is likely that if someone offered me $25 / hour to design an uninteresting site, I might decline.
In 1998 a number of amusement park researchers encouraged me to write a history book on Coney Island, NY. I had created a Web-site the previous year, but needed to do research both at the Library of Congress in Washington, DC and at libraries and archives in New York City. Fortunately I knew someone who had moved to Arlington, VA so I had a place to stay for my ten day trip. Later I was approached by the grand-daughter of the founder of Steeplechase Park, who said she wanted to collaborate on the book using her family's extensive archive. So I had a place to stay on Long Island for the three week trip. Unfortunately she was very secretive and actually wanted to find out how I knew so much about her family's history. She would tease me with family scrapbooks, but only would show me photos that she needed identified. I was not allowed to copy anything. I also visited another researcher who had a museum in his home on Long Island. Since he planned to write a book about Coney Island, his collection wasn't available for use either. I spent the next year writing the Coney Island history when fate intervened.
For 27 years I lived in a small apartment on Pacific Avenue along Venice (Marina) Peninsula in front of the Marina del Rey 6000 small boat harbor. The apartment was under rent control, had a swimming pool, and best of all was only one block from the beach. Although I always considered buying a house, prices in the area had climbed from $35,000 in 1972 to $350,000 and up by 1999. And most of those "expensive" homes were on a 30 x 90 foot lot and needed extensive renovation because they were generally less than 1000 square feet.

In 1999 my neighbors were messing with people in the neighborhood that they didn't like. They would file a complaint with the Los Angeles Housing Department, which was created to protect tenants from slum landlords. For example, if one had a plumbing problem and the landlord wouldn't fix it, they would sue. In August – September 1999 a Housing Department employee showed up at my door, flashed his Marshall's Badge, and told me he was here to investigate. Apparently he hated books, because once he saw my wall-to-wall bookcases, the first words out of his mouth were, " I sue people like you with libraries. I have five lawsuits pending." He had found an obsolete 19th century law on the books that allowed only one small bookcase about 4 feet tall and 3 feet wide. He looked at anything I had stored in boxes and told me that had to go to storage. When he opened up my garage, it was full of my excess including my tricycle I use to sell my postcards. He explained that businesses run out of an apartment were illegal and that I would have to close my postcard business. He really must have despised me since he faxed the lawsuit overnight to the oil company that owned the building. Suddenly I was being evicted and the inspector told me if I moved to another apartment in the Los Angeles area that he would make my life a living hell. I talked to several lawyers, but no one wanted the case. The case made the local newspaper, but no one offered to help. I was soon to be homeless with everything I owned in expensive storage.
Finally I freaked out and went to see a realtor to either buy or rent a house. She had known me for years and didn't question if I could afford a house. We looked at homes in Venice and Mar Vista, mostly junk that I thought needed to be demolished. And they weren't cheap either; over $300,000. Finally I read the wrong page of the real estate listings and we looked at a 4-bedroom, two story 1876 square foot, family home in south Mar Vista, about two miles from the beach. The house had been on the market for over two months because its wood-shake roof needed replaced. It was located in a pocket neighborhood of 100 homes on cul-de-sac streets and built from 1968 - 1972. I put a deposit of $10,000 to begin escrow and made an offer of $390,000. I was worried I would get into a bidding war and about $400,000 was all that I could afford. The bottom line is that I bought the house, the owner replaced the roof in order to complete the escrow, and I moved in the middle of November. Actually it took 17 days to move. I had help and rented a truck twice for the larger loads. Although a bed was at the house, I slept on the couch at my apartment so that regardless of my exhaustion, I would pack every day. I can say I was traumatized by the ordeal of being kicked out of Venice, buying a house in one day and moving.
At least I had plenty of walls to expand my 2500 volume library consisting mostly of large illustrated books. It even had room for my video projector, which eventually was replaced with a hi-def projector from Europe with a motorized screen hung from the ceiling so my large stone fireplace wasn't blocked .
Unfortunately the three month ordeal left me unable to concentrate on my Coney Island book for more than a few minutes at a time. To regain concentration I choose to go to the Culver City Library and read the Venice Vanguard newspaper on microfilm for four to five hours a day. Reading every column inch and taking extensive notes was a five month project. Previously in my research I had only read the first page of the newspapers and not for every year. Eventually I was able to begin writing again.
Five years later in 2005, when Venice's 100th anniversary approached, I was able to double the size of the text to 100,000 words for an enlarged hardback version of my Venice history book. Time was a constraint since the descision to create the enlarged book was made in early April. The final chapter's text wasn't finished until a few days before that chapter was scheduled for press. I typeset on Quark and discovered that it was pages too long. Rather than edit it, I enlarged the book by an extra 8 pages, which also allowed additional color photos, mostly from my postcards. I spent six weeks at the printer, stripping the printing film in 16 page signatures on a huge light table. I managed to salvage halftone photos from my earlier version, and managed to finish the book in time for the July 4th celebration. Unfortunately, it was difficult to sell copies of the book because the Venice Historical Society locked me out of most of the events. And stores in Venice, except for a very few, refused to sell my book. Six weeks later, I printed what would be the last batch of Venice postcards.
Jeff and his alien friends. The postcard was actually created as a joke at my printer. They photo-shopped my head, as I wasn't in the original photos. I tell gullible tourists that my brother's wife was abducted by aliens and when they came to visit, I posed with them. The father is standing behind me and if you play nice, they won't zap you with their ray gun.
Modern technology, the Internet and cell phone were slowly destroying my book and postcard business. By 2010 book stores were closing in droves in the Los Angeles area. People no longer wanted books in their homes, figuring that anything they needed could be found on Wikipedia. But it was the cell phone that destroyed my postcard business, since anyone could instantly take a picture and E-mail it. Stores no longer wanted to sell quarter postcards and people, especially the young didn't need them. Worse no one had time to read since they answered 3000 text messages a month and spent two hours per day on their Facebook accounts. Luckily I'm past retirement age.
While I still can be found along Venice Beach selling books and postcards on weekend, I do it mainly to keep busy, sinceI primarily do it to pretend I have a job. Between 30,000 and 50,000 visitors pass my table each day, I'm lucky if one or two people per day glance at my table full of books. As to postcards, my customers are older folk, usually from Europe who will buy four cards for a dollar. An average day is 4 to 7 dollars, thus I have a lifetime supply of postcards. But people are dismayed that other than my weekend exposure to people, which I find a torture, that I choose to play recluse during the week. I'm used to being alone and it gives me time to read and watch movies. That is just the way I choose to cope with life.

Return to Home Page