Revised September 6, 2013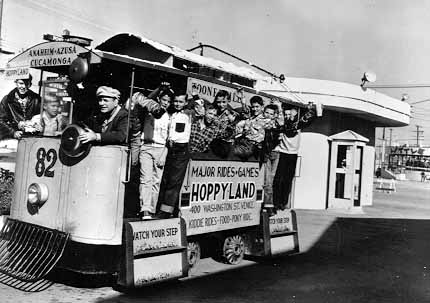 The Hoppyland tram transports patrons to and from the parking lot. - 1951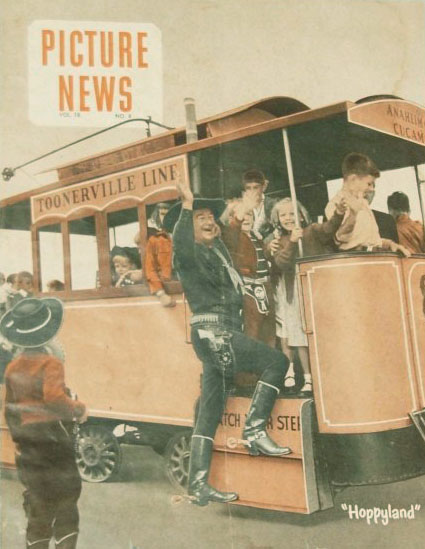 After the Venice Amusement Pier closed in 1946, there was hope that they would rebuild elsewhere in Venice. The Kinney Company did confidently make plans, but they didn't have the money to make it happen.

Charles Lorman instead announced plans in May 1947 for a $2.5 million park to be built on a 80 acre tract at Dell Avenue and Washington Street. He obtained a ten year lease. His Ocean View Amusement Park would include the 30 acre Lake Los Angeles (location of the present Marina del Rey harbor) to be developed as an aquatic sports center. The park would have an elaborate midway, roller coaster, merry-go-round, children's rides, bowling alley and skating rink. A shortage of building materials prevented them from immediately starting construction. Lorman was soon replaced by Earle Charleton who scaled down the project significantly.

Eventually Earle Charleton's Venice Amusement Park, Inc. developed Venice Lake Park on the site in 1950 with 15 acres devoted to amusement rides. The kiddie park featured a 35 foot high Philadelphia Toboggan Company Junior roller coaster called the Little Dipper, John Kissane's two train, mile long miniature railroad that circled the park, several pony tracks, a lagoon boat ride in motor-driven boats, Zeppelin and Whirlwind aerial rides, a Tilt-a-whirl, Octopus and Skooter rides. The lake featured a water skiing show with a legless skier. Free evening dancing centered around the large turn-of-the-century merry-go-round on the main midway, The Venice Wrangler's furnished western style music.

In 1951, William Boyd, better known as Hoppalong Cassidy, was brought in as a business partner, and it required only a $55,000 investment to retheme the park. Hopalong Cassidy, the white-haired paragon of Western Virtues had parlayed a 66-film screen career into the role of America's first true TV hero. Children adored him, watched his western TV show every week, and ofen bought Hoppy black-colored western wear, and cap pistols..
The new and improved 80 acre park opened as Hoppyland on May 26, 1951 and included picnic grounds, baseball diamonds, horseshoe pitching lanes, and a lake for swimming and boating in addition to nearly twenty thrill rides. There was a special kiddie land area featuring a miniature merry-go-round, Ferris wheel, sleigh ride, airplane, pony cart and auto rides. Velare's Double Ferris Wheel, previously on the Ocean Park Pier, was added to the adult lineup.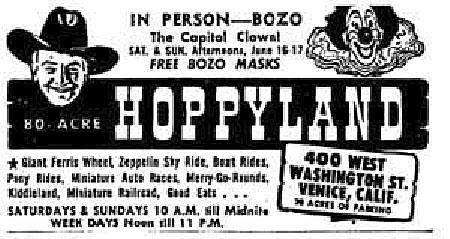 Hoppalong Cassidy made frequent appearances at the park and always encouraged the children to drink their milk, eat their vegetables, mind their manners and obey their parents, all part of the "Hoppy code of conduct."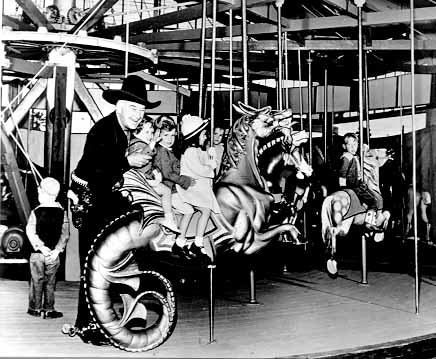 Actor William Boyd "Hoppalong Cassidy" poses with children on opening day. The carousel is a rebuilt E. Joy Morris menagerie machine. - 1951
Hoppyland devoted a large share of space to live pony rides. Thirty horses and ponies were available on three tracks. There was a ring for small children that was controlled by sweeps, a track where bigger kids could ride free running mounts, and a quarter mile pony cart ride around the park's goat mountain. The park, unfortunately, wasn't very popular since it competed with the nearby Ocean Pak Pier, and only lasted until 1954. Years later Lake Los Angeles and the Hoppyland amusement park property became part of the Marina del Rey, largest private boat harbor in the world when it opened in the early 1960s.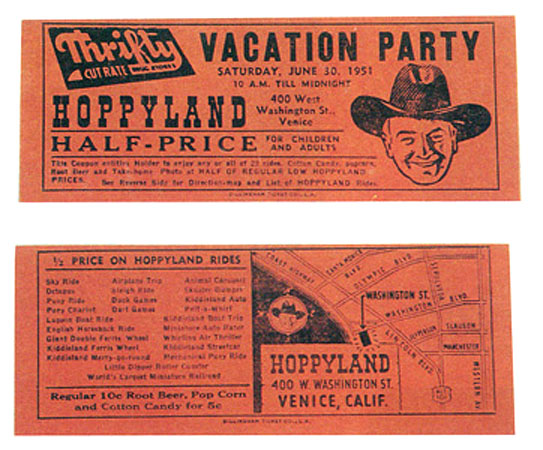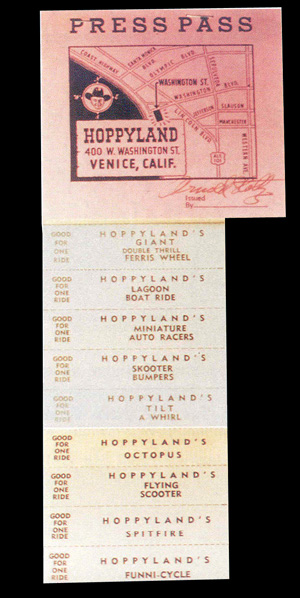 LIST OF RIDES (compiled from tickets & advertisements
Sky Ride
Octopus
Pony Ride
Pony Chariot
Lagoon Boat Ride
English ____ back ride
Giant Double Ferris wheel
Kiddieland Ferris wheel
Kiddieland Merry-go-round
Airplane Trip
Sleigh Ride
Dart Game
Animal Carousel
Kiddieland Auto
Tilt-a-whirl
Kiddieland Boat Ride
Miniature Auto Racers
Whirling Air Thriller
Kiddieland Steetcar
Mechanical Pony Ride
Little Dipper Roller Coaster
Miniature Railroad
Flying Scooter
Spitfire
Funni-Cycle
Skooter Bumpers


NOTE: Photographs of the park are very rare. While I've met dozens of families that held their kid's birthday parties there, not one carried a camera. Several movie magazine's in 1951 featured articles with photos on the park, but the Hoppy collector who owned them wouldn't let me Xerox them.

The following photos are from a 10 minute movie on opening day called Ho[[y at Hoppyland Movie. Numerous movie stars and their families attended the event.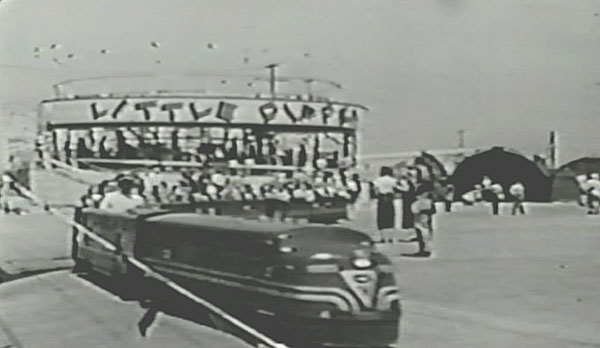 Hoppyland - Train & Little Dipper coaster.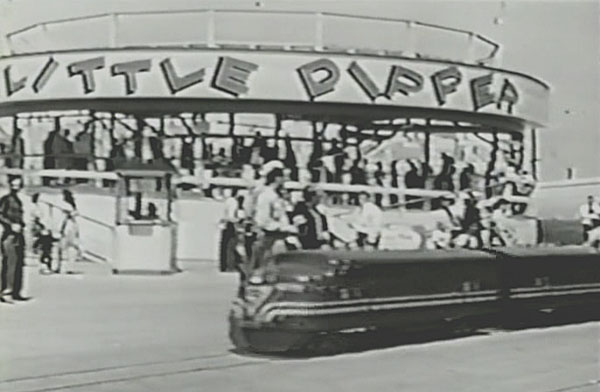 Hoppyland - Tarin & Little Dipper coaster.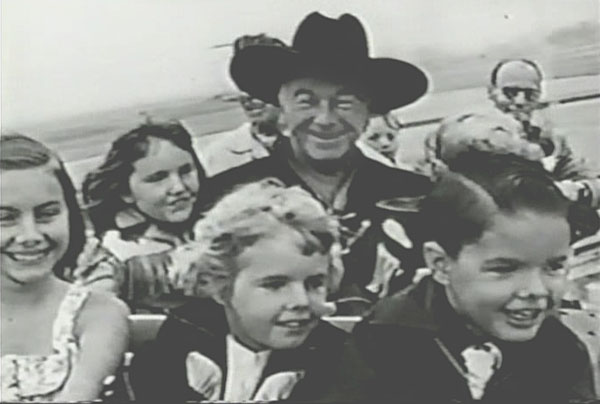 Hoppyland - Hoppy & several movie star's children.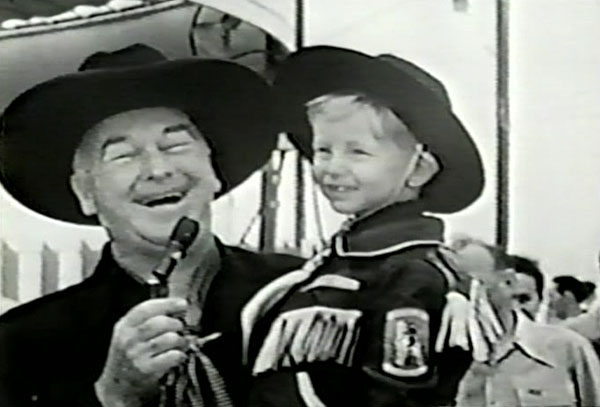 Hoppy and David Ladd (his father Alan Ladd was on a movie set and didn't attend).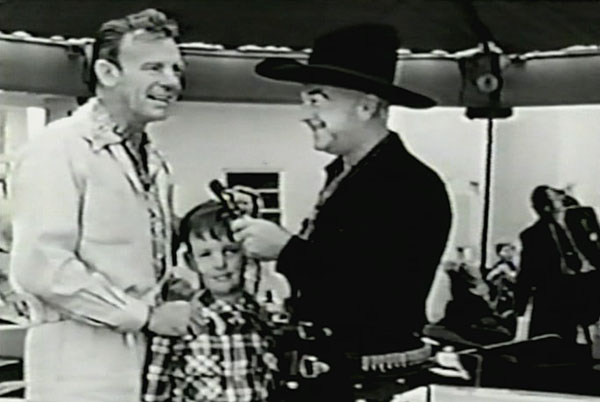 Hoppy with Dennis O'Keffe and his son.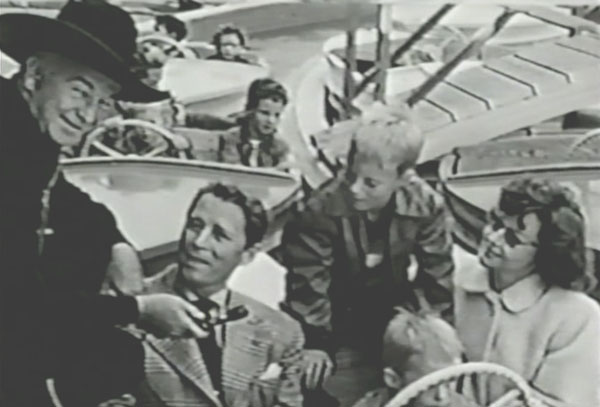 Hoppyland - Hoppy and Susan Hayward and her family.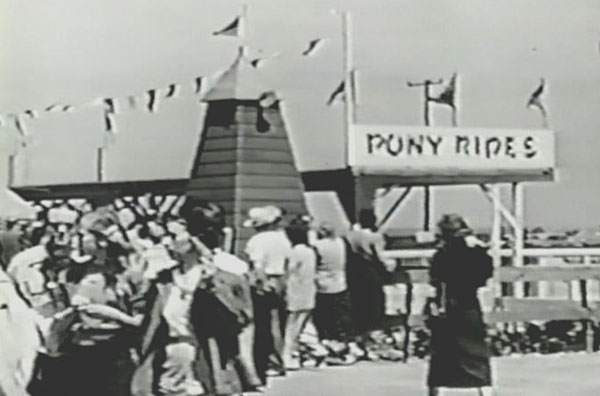 Hoppyland - Pony Rides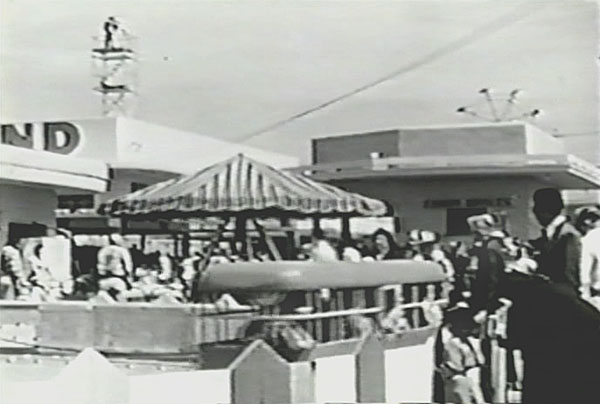 Hoppyland - Kiddie Ride