Barnes City Zoo
The material is copyrighted © 2006 by Jeffrey Stanton.
Al Barnes Circus made Venice California its winter home from 1914 ot 1919 between the first week in December and the first week in March. It was located near the Venice Lagoon in a large circus tent and several smaller ones behind the Race Thru the Clouds roller coaster. But as the circus grew in size, they looked for a more permanent home with more space.

They purchased the old 120 acre Sbacha Ranch on Washington Boulevard between Venice and Culver City in November 1920. The property's shape, if facing north, resembled the outline of the state of Utah; the smaller top left portion extending north of Culver Blvd. to Washington Blvd between Kensington and east to McLaughlin. The remainder of the property, south of Culver Blvd. extended south along Kensington, then Messmer to Ballona Creek, then east to Berryman, then north to Culver, and west to McLaughlin where it joined their northern section of their ranch. Since most of the circus tents and buildings, and eventually the zoo, were located north of Culver Blvd., it is believed that the circus sold lots suitable for homes on the unused southern portion of the property.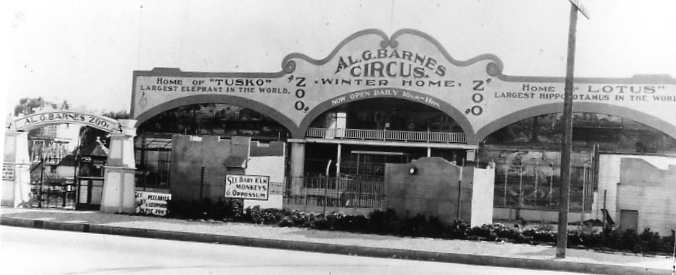 Barnes Circus Zoo
Since the circus exhibited several thousand performing animals during their 35,000 mile annual tour via private train, they opened the Barnes Circus Zoo in December 1923 at a cost of $79,000 at the corner of Washington Blvd. and McLauglin. The circus claimed that it had more performing animals (1200), than all the other circuses combined. There were 180 horses in one act alone.

The Zoo was a combination of a regular zoo and several freak show exhibits. It remained open even while the circus was on the road since when performing animals became too wild to handle, they were left behind at the zoo. Its collection of 4000 animals included many rare animals like Saddleback Tapirs and Onas. The later was from the Celebes Island, and was known to kill lions and tigers. It looked like a cross between a goat and a buffalo. They were from the docile bovine family and didn't look like it was too wild. But it used its feet and horns to its advantage, and the combination could be deadly.

They exhibited 'Tusko', a seven-ton elephant that stood 12 foot, 8 inch high. It broke loose the year before the zoo opened, and destroyed a small town in Washington. In November 1924, they removed its tusks after the enraged elephant tried to kill its keeper. It was chained down, but even if it broke loose, it was still restrained by 9-foot-high iron bars set in concrete. Its sheer strength was apparent by the bent bars on one side of the enclosure. They also exhibited another elephant named Barney.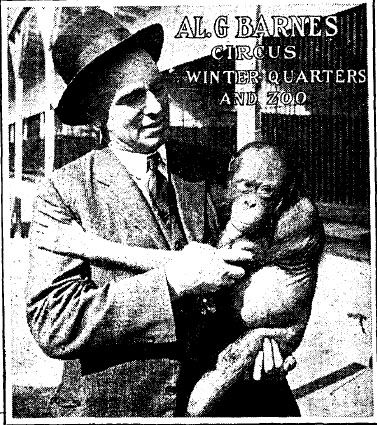 Al G Barnes and his organatang Sally.

'Lotus' was the largest performing hippopotamus in the world, and Joe Martin was their gorilla man. Those two exhibits were open only when the circus was in town. During the entire year the zoo exhibited Russian grizzlies, black and brown bears, elk, ostriches, reindeer, pumas, panthers, leopards, camels, llamas, several lions (Nubian and one with a black mane), a zebra, a tall giraffe named Mary, a lone buffalo, three tigers (a Siberian, Bengal and Sumatra), a hybrid lion-lepard, several sea lions, a pair of Peccary hogs from South America, and a polar bear. There was an exhibit of rare birds (peacocks, colorful parrots, and pelicans), and nearly every variety of the monkey family, including a pair of rare white-hair gibbons, and 'Sally' an organatan. Eight of the mother monkeys had babies, and there was also a baby elephant.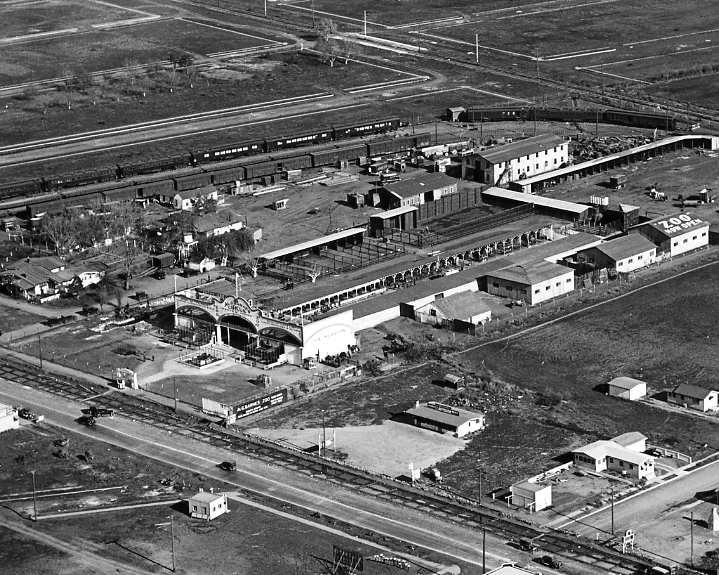 Aerial view of Barnes City and Zoo. Washington Blvd is atreet along bottom.
Al Barnes - Circus Owner
Alpheus George Barnes Stonehouse was born on a farm in Ontario, Canada in 1862. Since boring farm life didn't suit the feisty boy, he ran away from home to the city. He became a street peddler and later a roadshow impresario. After seeing a demonstration of Edison's motion pictures, he bought a projector and phonograph and in 1895 arrived in Glenwood Springs, Colorado on a horse-drawn wagon. He met Dolly Barlow there, who owned a small farm. When he married her five years later, they used the $2700 from the sale of her farm to purchase several road shows that formed the nucleus of his circus.

Al Barnes, always attracted to beautiful women, was accused in divorce court by his wife Dolly in 1916, of having many lovers and deserting her. During the five year public battle he became involved with Babe Eckhart, his calliope player. When he refused to marry her, she shot and killed herself on the step of his private Pullman railcar in Idaho in 1919. Two years later, after agreeing on a property settlement with Dolly, he married Sarah Jane Hartigan, his circus bareback rider. But despite a child between them before marriage, in 1921 he obtained a Nevada divorce on the grounds of battery. She had chased him around a locked cage with a horsewhip in front of thousands of spectators. She slapped him with a paternity suit, and the six year legal battle contesting the divorce didn't end until he finally admitted that two of their three children were his. She wasn't the last of his many wives.
Annexation
Selling surplus property to homeowners proved to be the circus' undoing. Barnes' winter home neighbors began to resent his circus, because noise like the roar of the lions at feeding time could be heard a mile away, and his disorderly circus employees bought liquor from the local bootleggers. In October 1925, Culver City sought through the ballot to annex the Walnut Park area which included a long slender shoestring piece of property along Washington Blvd to Walnut, one block east of Lincoln Blvd. It was only 484 acres (3/4 square mile), but it included all the businesses along the boulevard, and part of Barnes City where the zoo was located. The vote was 84 to 50.

To ensure Culver City didn't annex additional property of Barnes City, which was nicknamed "Monkeyville," the La Ballona Improvement Association was formed to petition the county government to officially incorporate the remaining property as a city. To protect his interests, Al Barnes took an active part in the incorporation election that occurred in Feburary 1926. While some of the 692 registered voters lived in the adjacent neighborhoods, 254 were employed by the circus, Virtually the entire electorate, 603 approved the incorporation. Some claimed that "Barnes changed his entire circus schedule on election day so that the monkeys could vote without leaving their cages." Barnes handpicked the city's first Board of Trustees, and made his brother mayor.

But in March of that year, the dissatisfied homeowners demanded a new election. When the Board of Trustees refused, the citizens took their case to the California Supreme Court. In the April election (when the circus was out of town), the Home Owners ticket, backed and supported by individuals opposed to Barnes faction, was elected. Then a group of citizens circulated a petition seeking an annexation election with Los Angeles. On September 15, 1926, Barnes City, by a vote of 261 FOR, and 153 AGAINST, became a part of Los Angeles.


Circus Relocates
Annexation of Barnes City to both Culver City in 1925 and Los Angeles in 1926 brought regulation to their property. Anger over the townsfolk' revolt, Barnes decided to his winter quarters to unincorporated land in the San Gabriel Valley. In Feburary 1927 he bought a tract of land a quarter of a mile long facing Valley Blvd. between El Monte and Baldwin Park for $1,000,000. The move would be short lived since the circus was sold in 1929 for $1,000,000 to an eastern syndicate, who operated the American Circus Corporation.


---