Westinghouse Time Capsule
Westinghouse's exhibit on time consisted of three open-sided circular pavilions. In the center, suspended by stainless steel wires over a reflecting pool, was a Time Capsule that was to be buried in tar and concrete on the next to last day of the Fair. Plans were for it to remain buried for 5000 years as a message to the future. Ten feet south of the site was the location of the original burial site of Westinghouse's first Time Capsule.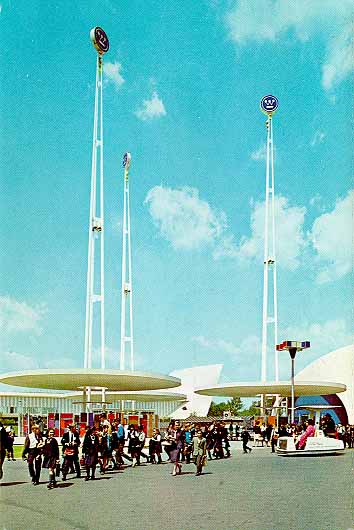 Westinghouse exhibit.



The first circular pavilion contained a full-sized model of the original Time Capsule that was buried at the close of the 1939 World's Fair. A window along one side revealed what had been packed inside. They included a slide rule, a woman's hat, synthetic rubber, 10 million words on microfilm taken from books, magazines and newspapers. There were also messages to the future from Albert Einstein, Robert Millikan and Thomas Mann.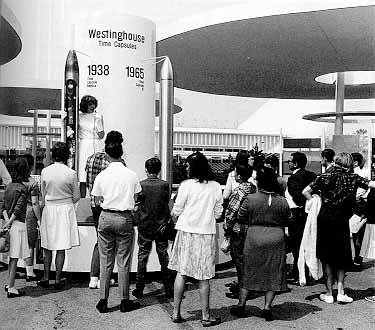 Westinghouse's two time capsules.



The second pavilion showed photographs of some of the awesome things that had happened since the first capsule had been buried; wonder drugs, jet aircraft, atomic explosions, commercial television and the first man in space. A distinguished committee choose what would be recorded in the new Time Capsule.

In the third pavilion was a 5000 year calendar that showed events of the past in detail.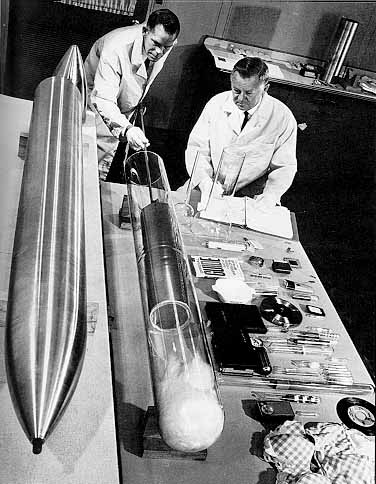 Westinghouse scientists preparing the 1965 Time Capsule.
Contents of the 1965 Time Capsule
bikini

Polaroid camera

plastic wrap

electric toothbrush

tranquilizers

ball-point pen

molecular block

50 star American flag

superconducting wire

box of detergent

transistor radio

fuel cells

electronic watch

antibiotics

contact lens

reels of microfilm

credit cards

ruby laser rod

ceramic magnet

filter cigarettes

Beatles record

irradiated seeds

freeze-dried foods

rechargeable flashlight


synthetic fibers

heat shield from Aurora 7

Revised Standard Version of the Bible

film history of the USS Nautilus

fiber-reinforced material

film identity badge

material from Echo II satellite

computer memory unit

pocket radiation monitor

graphite from first nuclear reactor

Vanguard satellite radio transmitter

container for carbon-14

tektite

pure zirconium

desalted Pacific Ocean water

birth-control pills

pyroceramic baking dish

plastic heart valve

Official Guide to New York World's Fair

photographs of important events