Spain Pavilion
Spain had the most remarkable pavilion at the Fair as it portrayed its role in the discovery, colonization and independence of the Americas. It's pavilion, which had three attached buildings, enclosed a rich collection of exhibition halls, theater, restaurants and inner patios. A six foot statue of Queen Isabela, first queen of a united Spain in 1492, by sculptor Jose Luis Sanchez, stood in front of the pavilion.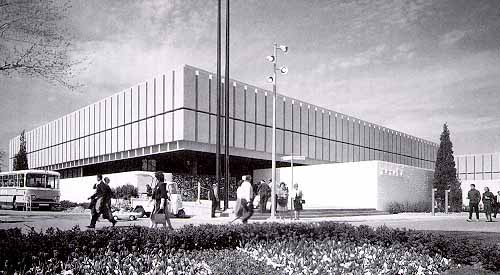 Spain's pavilion.



The pavilion's Historic Hall was decorated by giant, semi-abstract murals by Joaquin Vaquero Turcios. They depicted Spanish faith, culture and the conquest of the Americas with the conversion of its peoples to Christianity. Documents and objects relating to Columbus' voyages to the New World were on exhibit. La Tizona, the battle sword of Rodrigo Diaz de Vivar, the 11th Century Christian warrior known as "El Cid" hung just outside the Historic Hall.

Priceless works of art, many never shown outside Spain before, were displayed in three sections of the pavilion. The Museum of Masterpieces had four paintings; El Greco's "Knight with Hand on Christ"; Goya's "La Maja Vestida La Maja Desnuda"; Velazquez's "Pablo de Valladolid"; and Zurbaran's "Santa Dorotea."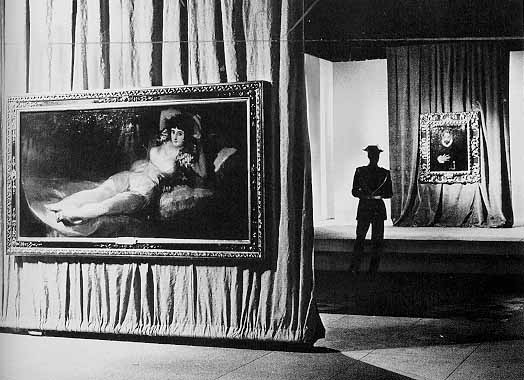 Museum of Masterpieces featured paintings by Goya (foreground) and Velazquez (background).



The Hall of Sacred Art, showing modern and traditional religious art and objects, portrayed the unbroken course of Spain's Catholic heritage. One wall was a stained-glass window 45 feet wide by 6 feet high created by Manuel Molezun. And in the Gallery of Contemporary Art, a new exhibit was held each month. Paintings by famous Spanish artists like Picasso, Miro, Dali and Gris were on permanent display.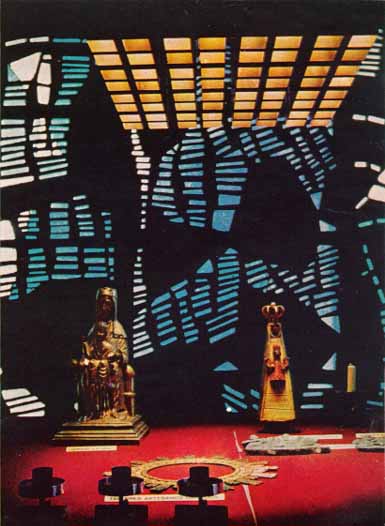 Hall of Sacred Art.



Upstairs in the pavilion was a detailed look at the nation today (1964). Displays covered a variety of products, both hand-crafted and manufactured, including woman's high fashions, hunting gear, children's toys and a model home.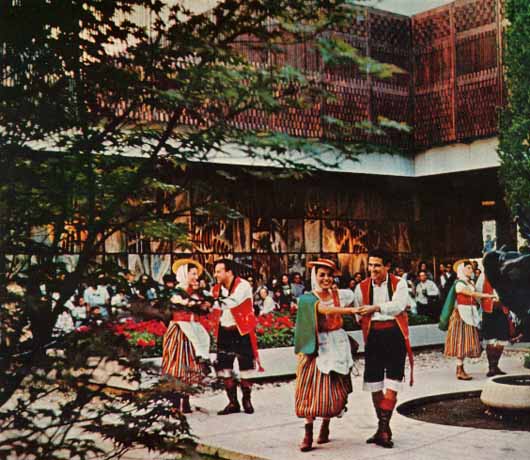 Spanish folk dancing on the restaurant's patio.



There were three restaurants within the pavilion. One was a "marisqueria", or outdoor seafood bar. The "Granada" served traditional Spanish food in an informal setting. The "Toledo" was a de-luxe restaurant featuring international cuisine.