Philippines Pavilion
The pavilion's main building, surrounded by a moat and reached by three bridges, was in the shape of a salakot, the familiar wide-brimmed, peaked sun hat worn throughout the Philippines. The building was decorated with many rare woods brought from the islands. On sale in another building were Philippine handicrafts.

Twelve large intricately carved panels, designed by artist Carlos V. Francisco, depicted the story of the islands, starting with the legendary discovery in a bamboo tree of the first Filipinos and concluding with the growth of the independent Republic following World War II.

On the second floor of the main building was an exhibit showing the advances of Philippine industry and some of the cultural activities found on the islands. In a long shed were various products for sale of the Philippines; wood carvings, shells, tobaccos, bamboo chairs, swagger sticks, shirts and lace.

In a 500 seat open-air theater, young Filipinos presented a program of dances; Tinkling (bamboo dance), Itik-itik (duck dance) and Pandango Sa Ilaw (dance of lights).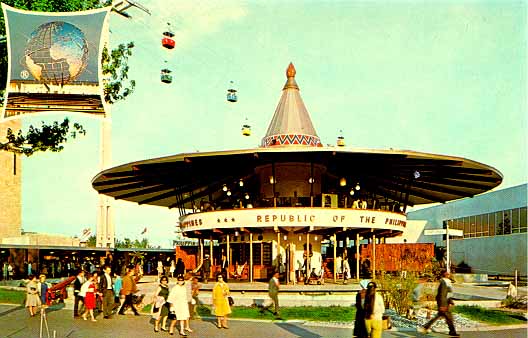 Philippines pavilion.