New York City Pavilion
The host city's pavilion was previously built for the 1939 World's Fair and served as the headquarters of the United Nations General Assembly in 1946 before the U.N. moved to its present site. New York City, which was celebrating its 300th birthday, presented two major attractions; Panorama around New York and an ice show by former Olympic figure skating champion Dick Button.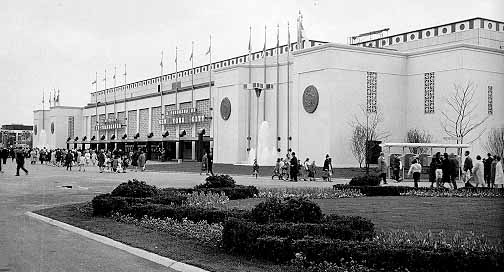 An exterior view of the New York City Pavilion.



"Panorama around New York" offered the visitor a simulated helicopter ride over a huge scale model of the city. The model on a 180 x 100 foot layout included every one of 835,000 buildings and all of its streets, ferries, docks, bridges and airports. It was built to a scale of one inch to 100 feet; at that scale the Empire State Building was 15 inches tall. Visitors could view the model with rented binoculars from the balcony, or they could take a simulated helicopter flight over the city at a lofty height of two feet.

The pavilion also exhibited a model of the city as it existed in 1664; an exhibit of art, sculpture, artifacts and photographs from the city's most important museums and libraries. There was also a display by the Tribourough Bridge and Tunnel Authority showing color photos of New York City's many bridges and tunnels. The building also housed the city's radio station WNYC and its UHF television station Channel 31 so visitors could watch its operation. Admission to the building was 10 cents.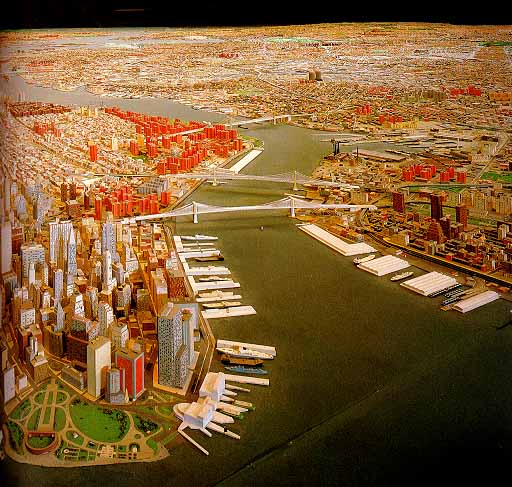 The pavilion featured an incredibly detailed map of New York City that included all 835,000 buildings displayed in a 180 x 100 foot scale model.