New York State Pavilion
The New York State Pavilion was of unusual design. It featured three observation towers, one of which at 226 feet, was the tallest structure at the Fair. Speedy "Sky Streak" capsule elevators whisked visitors to the observation platform above. Beneath the towers was the Tent of Tomorrow, the world's biggest suspension roof (larger than a football field), supported by sixteen 100 foot columns. Translucent colored panels in the roof flooded the tent's interior with colors.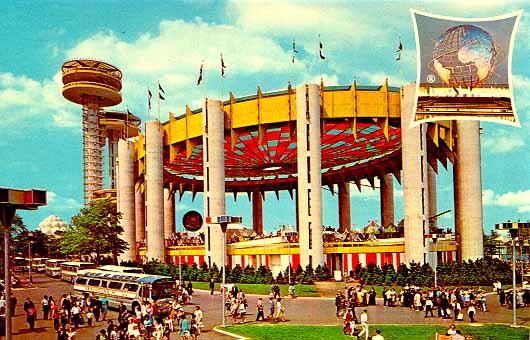 The New York State Pavilion complex featured three tall observation towers and a colorful "Tent of Tomorrow" with the world's biggest suspension roof.



Below, on the main floor was a mammoth map of the state in terrazzo tile. Around the map were a number of attractions, including an exhibit by the New York State Power Authority, a fine arts gallery, fashion shows and an automat. The Fine Arts Gallery displayed portraits of early New York colonists and 19th century examples of the famous Hudson River school of painting. The power exhibit displayed a 26 foot scale replica of the St. Lawrence hydroelectric plant with spinning turbines seen through transparent panels.

On the building's mezzanine, people walked along a miniature highway called "Highway Through New York". It was lined with glimpses of the state's life - exhibits from regional museums and the state's smaller industries.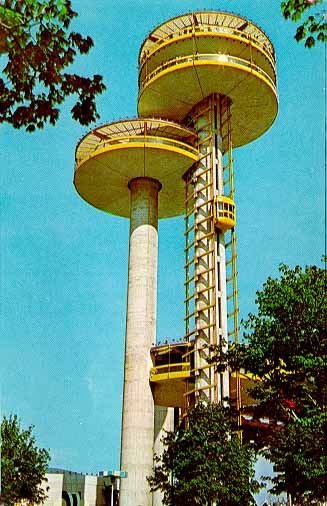 Sky Streak capsule elevators whisked visitors to its observation decks high above the fair.



Next to the Tent of Tomorrow was the Theatherama, a large, cylindrical movie theater decorated with controversial "pop" art. They featured such unlikely subjects as an automobile wreck, a comic strip redhead and black dinner jackets draped over a ladder. Inside the theater, moving pictures were projected onto a 360 degree screen, transporting the viewer to Niagara Falls, Jones Beach and other state scenes.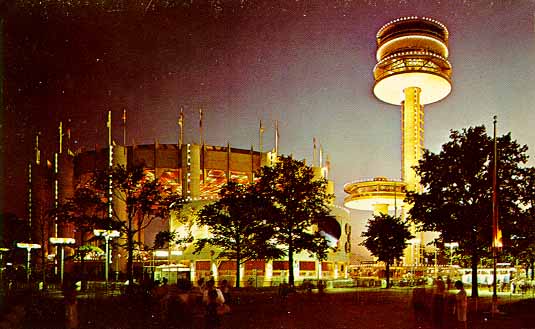 New York State Pavilion at night.