Mormon Church Pavilion
The Mormon Church's pavilion's three towers were replicas of the east towers of Salt Lake City's famed Mormon Church and was illuminated by lights at sunset. A gilded statue of the angel Moroni was placed atop the center spire. The pavilion was set amidst flower gardens and a reflecting pool stood in front of the building.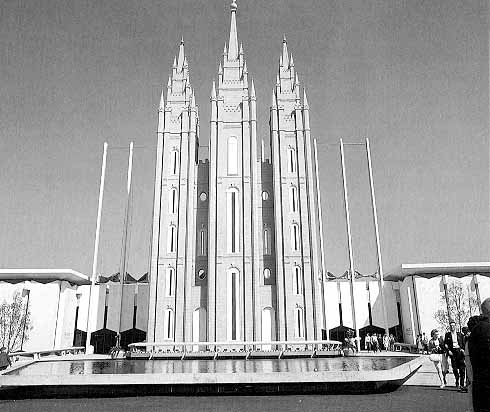 Mormon pavilion featured three towers.



Two twin exhibition halls containing 135 seat theaters, alternately showed 15 minute films on Mormon history and the Church of the Latter-day Saints. A nine-ton replica of Bertel Thorvaldsen's famous statue, The Christus, stood in one wing. Two 110 foot murals told the story of Christ and of the Latter-day Saints.