Kodak Pavilion
Kodak's pavilion, which displayed five of the world's largest (30 x 36 feet) color photographs on an 80 foot tower above its roof, called attention to its unusual pavilion below. The pavilion, which had 15 exhibit sections and two theaters had a threefold purpose; to demonstrate the wealth of experience to be gained from photography, to provide scenes on its rooftop garden for on-the-spot picture-taking, and to show the influence of photography on various aspects of modern life (science, leisure, medicine, industry and education).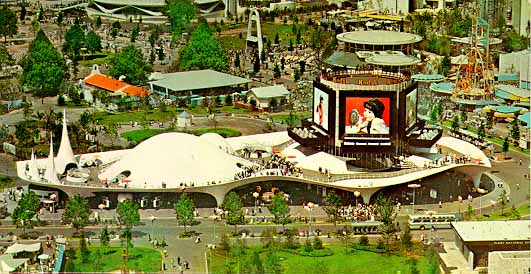 An aerial view of Kodak's pavilion.



The roof of the building, which was reached by escalator, provided a variety of backgrounds for photographers. The 363 feet long roof was unique in that it was supported by an unusual arrangement of columns that made it appear to float when viewed from a distance. The roof garden featured sloping walkways, sculptured fountains, pools containing exotic flowers and an area simulating the moon's surface.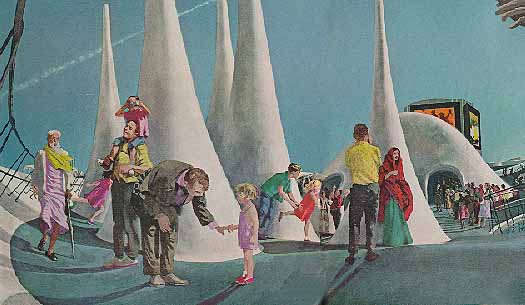 Kodak's rooftop garden featured unusual settings for visitor's on-the-spot photography. This area simulated moon terrain.



Below in a theater built into the base of the eight story picture tower, was a 23 minute color movie using a new multi-image 70 millimeter projection process. The "Searching Eye", made by the noted film maker Saul Bass, gave a child's view of common-place and unusual wonders of the world.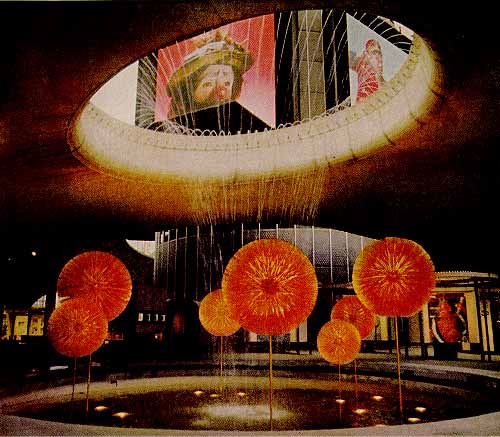 Kodak's enormous 30 x 36 foot color photographs could be seen from below.