Japan Pavilion
Japan's pavilion combined the graceful architecture of ancient Japan with contemporary designs. Inside the displays emphasized the differences between the new Japan and the old. Side by side with some of the world's most advanced electron microscopes, cameras, automobiles and industrial machines, were displays of the non-industrial Japan of only 100 years ago.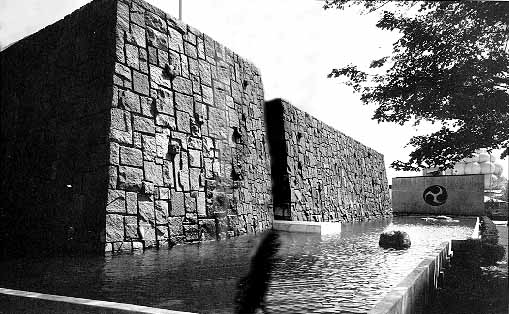 Japan pavilion's somewhat forbidding stone walls reminded one of the fortified castles of the Shoguns.



On display were models of the world's largest tanker, the world's fastest express train (160 MPH), a portable planetarium, and Japanese made rockets.

A second building, reached by a ramp from the first, offered an array of consumer goods; sport cars, motorcycles, frozen foods, sewing machines. There were also demonstrations of flower arranging and a ritualistic Japanese tea ceremony.

In a third building, called the House of Japan, were two restaurants which served foods such as sukiyaki and tempura. The first, on the main floor, catered to diners who preferred Western tables and chairs. The second, on the mezzanine, served meals the Japanese way, on low tables with the diner seated on straw mats. Diners at both saw stage shows which presented glimpses of Japanese theater and dance.