Ford Pavilion
The Ford Rotunda, a building several blocks long featured a number of exhibits designed by Walt Disney. The building, a glass rotunda with 65 towering pylons at one end and a large exhibition hall at the other, required enough steel to erect a skyscraper 125 feet square and 22 stories high. Since the emphasis was on the automobile, part of the tour of the rotunda was in automatically operated Ford-built convertibles riding on a special roadway.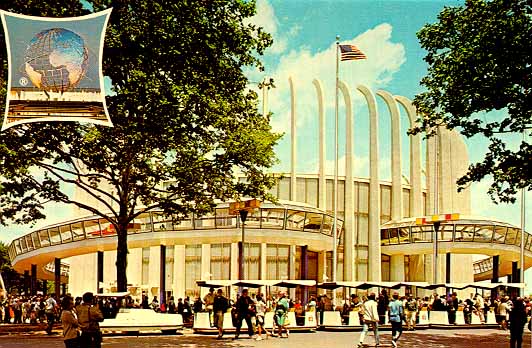 Ford's Rotunda building.



Fairgoers, seated in convertibles and riding the "Magic Skyway", were first taken for a ride through plastic tunnels around the outside of the rotunda for a sweeping view of the grounds, then onto the exhibit building and the fantasy-land within. They toured the earth's past from the dawn of time, through the age of dinosaurs, to the world of the caveman. Huge dinosaurs engaged in combat while primitive creatures soared overhead. Life-sized audio-animatronic caveman went about their work in a triumph of electronic animation. The future came fast as the visitor's car glided on a super-skyway over the City of Tomorrow with its towering metal spires and the glittering glass of bubble-shaped buildings.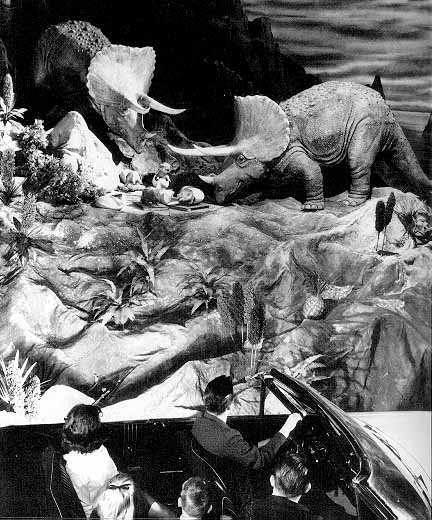 Visitors riding in Ford convertibles went on a Magic Skyway back in time to the age of dinosaurs.



A separate Hall of Science highlighted some of the Philco-Ford laboratory's research projects. Scientists demonstrated laser light, the sound of stars picked up by a radio telescope, and displays of new materials to be used in future Ford automobiles.

Finally there was an exhibit of Ford-built cars of all kinds - antique, new, experimental and foreign made - a paradise for automobile enthusiasts.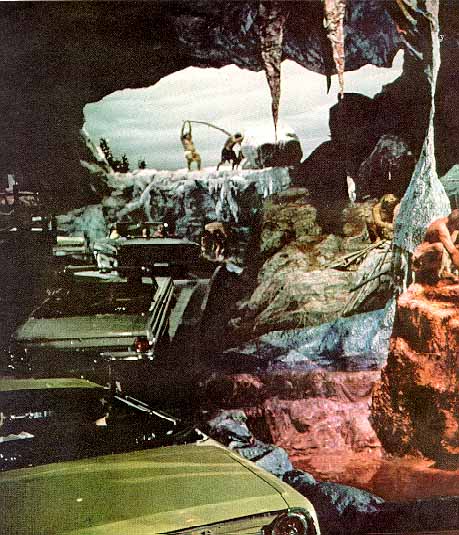 Walt Disney's audio-animatronic cavemen entertained visitors riding along Fords "Magic Skyway."