Best of the World's Fair

Multi-Media Experiences

There were a number of stunning films at the Fair. The Johnson Wax pavilion presented Francis Thompson and Alexander Hamid's "To Be Alive." It used three eighteen-foot wide screens to capture scenes of ordinary life from around the world, from childhood to old age. It would take three identical images and by interplaying them, turned it into one extended image or three distinct images.

In the United States pavilion, the film "Past as Prologue" was viewed on moving grandstands. It led one through American history and finally to the moon and the Milky Way on 135 screens that rose, slid, and formed tunnels.

Noted film maker Saul Bass created two unique films for the Fair. His "From Here to There," at United Airlines in the Transportation and Travel pavilion, projected scenes of parting and arrival at airports in sepia tones that were suddenly interspersed with full-color wide-screen aerial views from a jet. His 23 minute "The Searching Eye" at the Eastman Kodak pavilion projected the views of a boy exploring the world around him in 35mm, and showed the audience waht the boy saw or didn't see in 70mm.

Foreign Pavilions

The most striking of the international pavilions, especially for those who had never been to Europe, was the privately sponsored four acre Belgium Village. It was a meticulous copy of a walled 19th century Belgium village and contained a city hall, a 1500 seat beer hall or Rathskellar, a copy of a 15th century church, 100 houses, a canal and bridge all built out of stone. Attractions inside the village included an 1898 carousel, crooked streets lined with small shops that sold handicrafts and Gille folk dancers. Four times each day gaudily dressed clowns wearing wooden shoes, ostrich feather head dresses and bells, danced through the streets.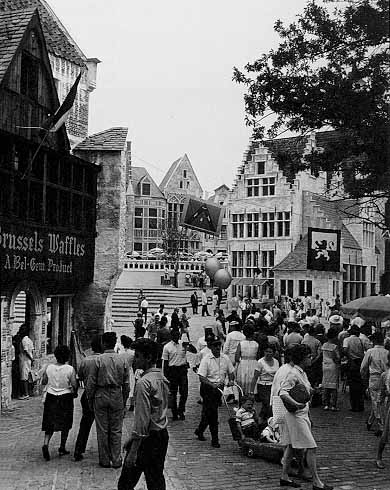 A winding street lined with shops in the Belgium Village.



Spain spent $7 million on their pavilion and it lived up to everyone's romantic notion of Spain. Although the pavilion's exterior was plain, its interior laid out in typical Spanish style with interior courtyards, was a showcase for Spanish art, music and fine dining. Its massive staircase lead past white stucco walls, through crowded courtyards spiced up with flower beds of gereniums, to exhibition halls where Spain's art treasures were displayed. There were paintings by Goya, Velesquez, El Greco, Miro and Picasso. Upstairs contemporary artist's and sculpturer's works were on display and for sale.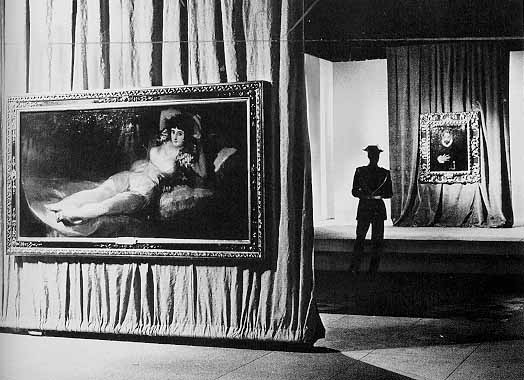 Museum of Masterpieces featured paintings by Goya (foreground) and Velazquez (background).



Outside the galleries, the pavilion was alive with the sound of flamenco wails and throbing guitars. The Coros y Danzas troope performed on the patio fourteen times a day. Nearby were three award winning restaurants.

The most photogenic pavilion was the Republic of China (Taiwan). The opulent red and gold pavilion was a reproduction of a traditional imperial palace. Inside were rare and beautiful art objects from both ancient and modern China.

State Pavilions

The Illinois pavilion with a Disney designed animatronic Abe Lincoln, that realistically stood up and recited a speech, was the most unusual exhibit at a state pavilion. The New York State pavilion had two tall observation towers that resembled flying saucers. Its exhibits were below and restaurants were in the towers. Other interesting state pavilions included Montana which displayed its heritage in a museum inside a series of railroad cars. Inside were western memorabilia and a million dollars in gold nuggets. Louisiana recreated New Orleans' Bourbon Street inside its pavilion complete with jazz musicians that entertained at the restaurants that lined the street.

Corporations

Perhaps the most novel corporate pavilion was Pepsi Cola's. It was a tunnel of love style water ride developed by Walt Disney called "It's a Small World - A Salute to UNICEF." In various areas were familiar scenes like France's Eiffel Tower, a Dutch windmill and India's Taj Mahal. The animated figures danced and played with animals while they sang, in various languages, the song "It's a Small World."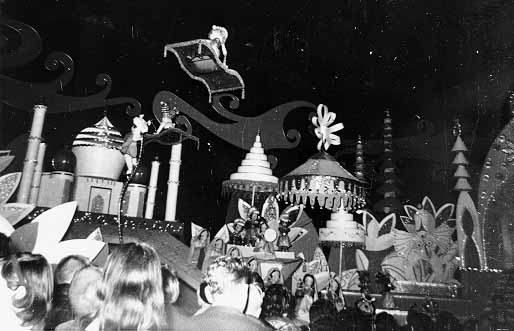 A boat full of passengers passed the city of Baghdad and its flying carpets during Pepsi Cola's "Its a Small World" show.



Crysler's Pop-Art pavilion was one of the largest at the Fair and one of the most imaginative and fun places to visit. An over-sized engine, 55 feet high and 100 feet long with a dragon for a crank shaft stood on one island for the visitor to explore. Its Design Island was dominated by a giant car, 80 feet long from bumper to bumper. Its wheels were more than 20 feet high. Beneath the car, which sat seven feet off the ground, was an exhibit area in which visual displays stressed the company's automotive styling. There was also a zoo of metallic monsters and a giant rocket poised on the lake.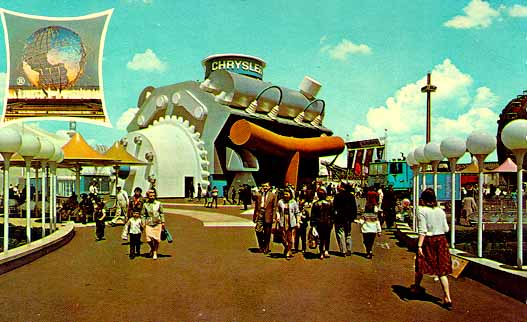 An enormous engine 55 feet high dominated Chrysler's Engineering Island.



Many of the corporations choose technology and the future as their theme. These included IBM, Dupont, Bell Sytsems, General Electric, RCA, Ford and General Motors. These are discussed in the article "Showcasing Technology at the 1964/65 New York World's Fair."

Art Works

The Vatican Pavilion displayed the most famous piece of art in the world; Michelangelo's 465 year old (in 1964) masterpiece carved in Carrara marble, the "Pieta." It was the first time that it was displayed outside St. Peter's Church in Rome.

International Cuisine

The Fair boasted that it had 112 restaurants. Many featured international dining and "continental cuisine" at a time when restaurants of this type were not common in America with the exception of perhaps half a dozen large cities; Manhattan, Chicago, San Francisco, Miami, Boston and Los Angeles. At the India pavilion one could experience tandorri and paratha; the Korean pavilion featured kimchio, the Japanese pavilion served sukiyaki and tempura; one could taste markouk at the Lebanese pavilion restaurant or try homas and shaurmah at Jordan's restaurant; and for a real adventurous treat, sample special African delicacies including chicken, lamb and pork dishes ganished with a peanut suace at the Tree House Restaurant in the African pavilion. And at the Hawaiian pavilion, in the Five Volcanoes Restaurant, one could participate in a luau.

The Spanish pavilion had three of the best restaurants and they captured nearly all of the Fair's blue ribbons. The "Toledo" had an elegant haute cuisine, the casual "Granada" a spicy Spanish menu, and the open-air "Taberna Marisquerra" featured Spanish snacks, seafood and pitchers of sangria (red wine and soda with lemon and orange slices.

Many of the World's Fairs were long remembered for a fast food sensation introduced at the exposition. The ice cream cone was introduced at St. Louis in 1904 and the 1964 New York World's Fair had the "Bel-Gem" waffle. Of course it orginated at the Belgium Village, but it was also all available all over the Fair. It was constructed of a fat, fluffy waffle base that was piled high with strawberries and topped with whipped cream. Best of all it was delicious.



[Home] [World's Fair Articles] [1964 World's Fair Maps] [Sponsors]