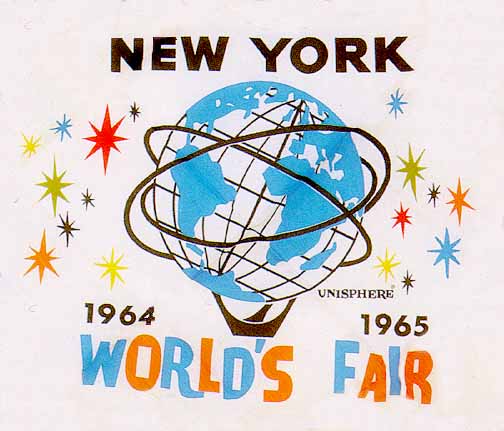 New York 1964 World's Fair
Updated November 11, 2006
The 1964 New York World's Fair at Flushing Meadow in Queens, New York had a two year run; from April 22 to October 18, 1964 and from April 21 to October 17, 1965 - a total of 360 days. It was held in conjunction with the city of New York's 300th anniversary of British forces under the command of the Duke of York gaining control of the Dutch city of New Amsterdam in 1664.

The 1964-65 World's Fair featured 140 pavilions on 646 acres, the old site of the 1939-40 New York's World Fair. Althought the majority of the pavilions were United States commerical companies, there were also 21 state pavilions and 36 foreign pavilions. It was the dawn of the space age and the fair's theme was "Man in a Shrinking Globe in an Expanding Universe."

The problem was that the fair wasn't sanctioned by the Bureau of International Expositions because world's fairs are limited to one year runs. Besides the BIE had already given their blessing to Seattle's 1962 fair (only one U.S. fair allowed per decade). Consequently most European countries and the Communist bloc boycotted it. None-the-less countries mainly in Asia, South America, the Mid-East and Africa were represented.

But it was U.S. industry, led by General Electric, Ford, General Motors, Crysler, I.B.M., Bell Telephone, U.S. Steel, Pepsi Cola, Dupont, RCA and Westinghouse that spent lavishly, erected handsome pavilions and stuffed them with entertainment that they hoped would boost their image with consumers. In all more than a billion dollars was invested.

In some ways the World's Fair two year run was a success and yet monetarily it was not. It was predicted that the fair would attract 70 million people over its two seasons. But after the end of the first season, attendance was running 25% below projections and a $10,000,000 deficit. After the fair's bland and dull fun zone failed to attract patrons, e better entertainment was added, but that did little to help. Fortunately a surge of attendance, 7 million people during the final three weeks, boosted attendance to 51 million. It was a new record for international expositions. The Fair, however, did not generate enough money to pay back notes and to finish Flushing Meadow Park in the ambitious style that Robert Moses hoped. It can best be remebered as a grand showcase of the dynamic changes that took palace between the 1930's and 1960's.


ALL 140 PAVILIONS CAN BE REACHED VIA THE CLICK-ON MAPS
The author has digitized numerous photographs and color antique postcards from his archives. The material is copyrighted © 1997 & 2006 by Jeffrey Stanton. While students may use it freely in their school reports, commercial use of the material in any printed form is prohibited without permission and fees paid to the author.
The site is looking for additional historic material; antique postcards, original photographs, ride tickets, and various souvenir items. If one has material either for sale or to donate to this site, please leave a message (E-Mail) or write to Jeffrey Stanton 12525 Allin St. Los Angeles, California 90066.
The author has a similar sites for Expo 67 - Montreal World's Fair, Coney Island History Site, and Venice, California History Site.
Click here to reach the various LINKS.
[1964 World's Fair Articles] [1964 World's Fair Maps] [Sponsors]
---
1964 World's Fair Maps - There is a detailed main map of the entire fairground that allows you to choose any of five interactive (click on) maps you wish to use to see the various pavillions and attractions. Each SVGA (700 x 700 pixels) map is approximately a 170-200K file. There are between 20 and 50 interactive click points on each map that show pavilions at the New York 1964 World's Fair. Each click point brings up one or more views of the pavilion [if available - the list below shows each map shows an * if a photograph is used] plus descriptive text. Each view is captioned. Those that only have a VGA monitor will have no trouble with this section as the large maps are scrollable. Make sure your browser's cache is on since to get back to the map you will need to click on the brower's back arrow. Besides you don't want to download those huge map pictures again. Additional photos are needed since only 25% of the pavilions are illustrated by photos.


Articles - The are several articles that give the reader a general overview of the New York 1964 World's Fair; its construction, as a showcase for technology at the beginning of the space age, and its impact on the general public.


Historic articles and photos copyrighted © 1997 & 2006 by Jeffrey Stanton



Website Hoseted by the Westland Network