Yugoslavia Pavilion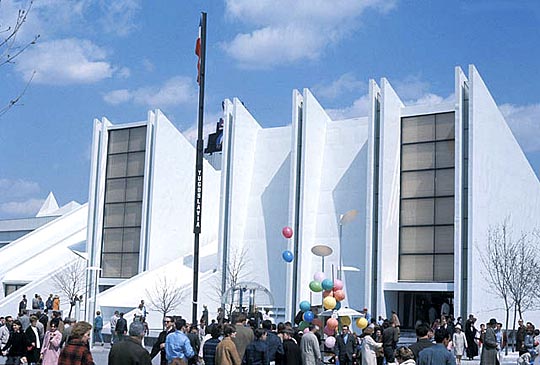 Yugoslavia's Pavilion



The exterior of Jugoslavia's pavilion was modern, Its seven large white triangular shapes reached for the sky in contrast to the black and green marble which formed the piazza around the pavilion, an extension of the marble-covered floors within.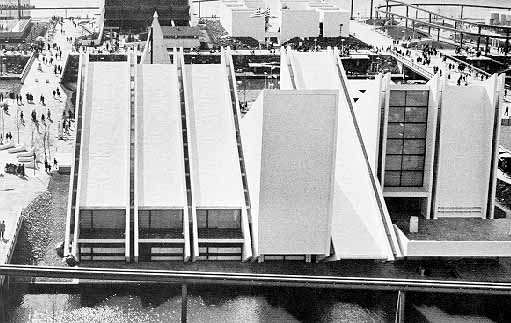 Yugoslavia's Pavilion



Once the visitor entered the cathedral like interior, he was confronted with a panoramic wall where images of its artistic treasures were projected. The wall served as an introduction to the pavilion's main section that depicted Yugoslavia's cultural continuity from Neolithic times to today's art. Art treasures from different artistic time periods were juxtapositioned; a clay figurine dating from 5000 B.C. and a contemporary bronze sculpture entitled "Girl"; paintings of the 13th and 14th centuries with a rotating collection of 120 modern paintings.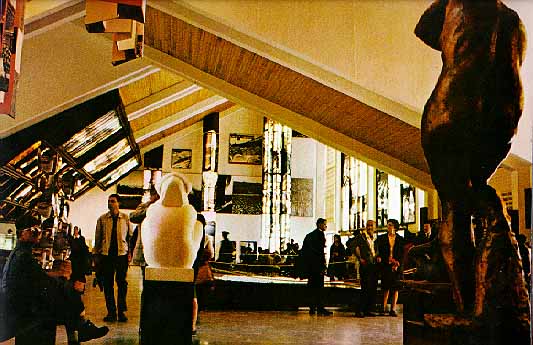 Interior of the Yugoslavian pavilion.



The area entitled Tourism and Tradition showed photographs of the country's landscapes and treasures, as well as a collection of folk art, strange musical instruments, painted Easter eggs, pottery and silverware. Strides in industrial progress was illustrated by scale models and samples of equipment and products.

The last section on the main floor covered the state and its social structure. Yugoslavia was a country of "one state, two alphabets, three languages, four religions, five nationalities and six republics"> Since it had been a political entity only since 1918, the display stressed the political, social and economic measures applied to its problems of diversity.