Venezuela Pavilion
Venezuela's pavilion was closest to a piece of sculpture; three large colorful cubes. They were simple in form, yet striking. The wide color range proclaimed gaiety of the country's spirit. Each building's high polished surface gave the effect of mirrors.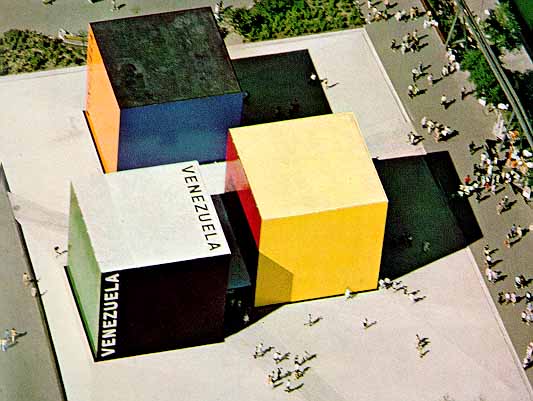 Venezuela's pavilion consisted of three large colorful cubes.



The first cube told Venezuela's story via a battery of movie screens. Visitors were introduced to the country's mountains, beaches, jungles and typical cities. Venezuela's industrialization was shown as well as its relationship to Canada.

Lively folk music, exotic fruits and drinks were offered at the bar located within the second cube.

The setting in the third cube was that of a tropical rain forest and an oasis. It was a place for the visitor to relax amidst tropical trees, flowers and fountains.