United States Pavilion
The United States pavilion was enclosed by the most memorable structure, Buckminster Fuller's 250 foot diameter geodesic dome. Unlike many of Fuller's ugly squat half domes, the one at Expo was a 3/4 sphere set amidst a park-like setting. It floated above the fairgrounds like an enormous silver bubble. During the day its acrylic skin sparkled in the sunlight, and when darkness fell, its interior lighting gave it a vari-colored glow.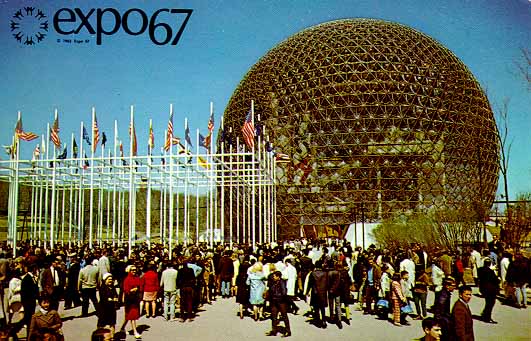 The United States pavilion was a 250 foot diameter Buckminster Fuller 3/4 geodesic dome.



Yet visitors to the pavilion either hated it or admired its exhibits. The fault line of opinions depended on which country one was from; those from the United States generally hated it, while those from foreign countries and Canada loved it. The problem that faced the designers was that it would have been ridiculous for the United States to demonstrate its technological supremacy in neighboring Canada, when American technology has dominated Canadian life at least since the end of World War II. And showing the nature of American life to an audience of mainly North American visitors would have been just as pointless.

Since Expo officials said that the pavilion's exhibits shouldn't be trade fairs, the pavilion's seven Cambridge designers decided to show the craftsmanship, inventiveness and creativity of the American people. They did this by exhibiting used spacecraft, Elvis Presley's guitar, Raggedy Ann dolls, an Andy Warhol pop art painting, and several hundred other examples of American culture, past and present. They put those items together in such a way that left many charmed and delighted; of course except for American visitors. Of course the items displayed were from the nation's attic, and that American culture was movies and Pop Art. It was clear from the complaints and apologies that Americans did not see themselves as others saw them.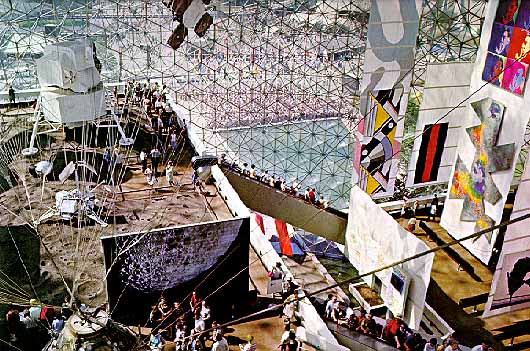 The Space Observation Deck near the top of the dome featured the technology that would carry astronauts to the Moon.
Model of the Lunar Lander, which would touch down on the moon's surface with a crew of two astronaunts two years later.
Photo by Bill Dutfield.



Upon entering the pavilion, the visitor was confronted by a giant eagle, wings outspread, its golden plastic discs which it was made shimmered in the wind. An escalator carried them upwards from the entrance, past Minirail tracks that cut through the pavilion, to a section called "The American Spirit." Items on display included Indian adornments such as feather head-dresses, bear claws and silver necklaces. There were also Indian bird decoys, works of art made from canvas, bark and wood. A colorful collection of American dolls from 150 years ago was exhibited and one large rack was devoted entirely to the classic Raggedy Ann dolls. There were American hats representing regions and occupations, cowboy guns, spurs and branding irons, a wooden baseball player originally sculpted as a storefront figure, and a small Alaskan totem pole.

Folk art was present in a collection of guitars and other musical instruments that belonged to popular singers such as Elvis Presley and Peter, Paul and Mary. There was even a collection of election mementos - flags, buttons, cigar bands and posters that were used in past presidential elections.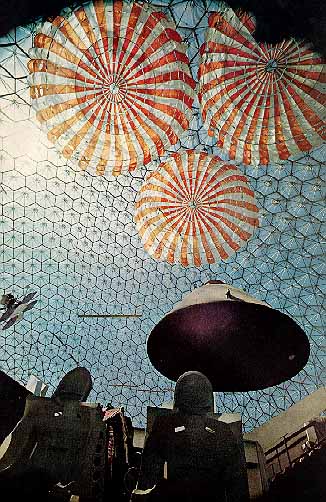 An Apollo space craft was hung from the dome.



The pavilion's next stage, reached by an extraordinarily long escalator ride up to the highest platform in the pavilion, showed American technology in space. The Space Observation Deck showed space hardware that would carry American astronauts to the moon. From the roof of the dome were suspended several actual Apollo and Gemini capsules, models of weather and communications satellites. Immediately above the observation deck was a ring of color photographs of America's space program accompanied by tapes of actual blast-offs from Cape Kennedy and conversations between astronauts in space and ground controllers. The central exhibit, on the level below the deck, was a three-man command module launched unmanned into space on a test mission in August 1966. Here too, was a model of the Surveyor space craft which landed on the moon.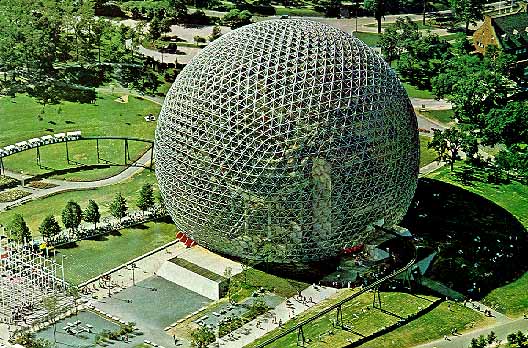 Aerial view of the United States pavilion.



Down on another level was an exhibition of 22 modern American paintings, whose vivid colors and huge dimensions dominated much of the pavilion. The artists represented all aspects of modern painting from Op art, pop art, and abstract expressionism. The paintings ranging from 7 to 56 feet and by popular artists such as Roy Lichtenstein and Andy Warhol were commissioned for Expo. These were perhaps the most controversial paintings at Expo since some visitors didn't think of them as works of art.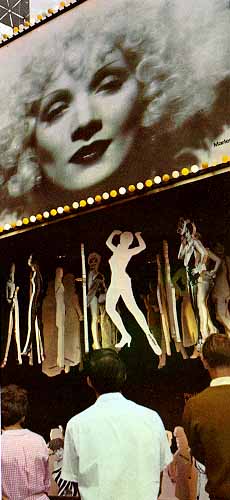 Movie stars such as Marlene Dietrich sold the American Dream to the world.



And finally on the level below were 33 giant photographs showing actors and actresses who, from the days of silent films to the present, had obtained the status of Hollywood stars - Humphrey Bogart, Marilyn Monroe, Clark Gable, Mary Pickford, and Elizabeth Taylor. A dozen spectacular "props" adorned the section. Three mini-theaters showed continuous five-minute films, made up of some of the most famous movie clips from American cinema.


The route of Expo's minirail passes through the geodesic dome.
Photo by Bill Dutfield.



And on the ground floor was a theater that showed an 18 minute three-screen film "A Time to Play" by film maker Art Kane. The movie was about children at play and how it prepared them for adult life.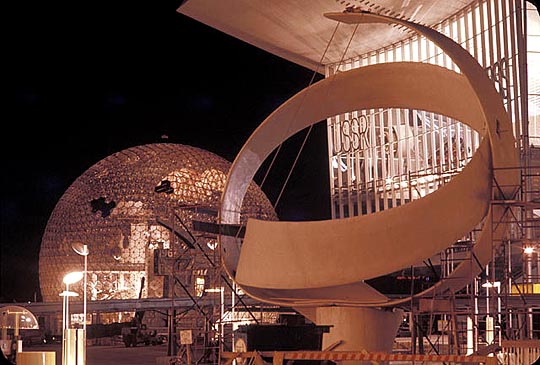 View of the United States pavilion at night from the USSR pavilion across the river.