Quebec Pavilion
Quebec's modernistic pavilion resembled a chateau-fortress floating above Regatta Lake. Connected by a foot-bridge, its walls were sheets of dark-tinted glass which reflected the passing clouds, the surrounding water, and the nearby buildings. However, at night, the pavilion became an immense glass cage showing off its illuminated interior.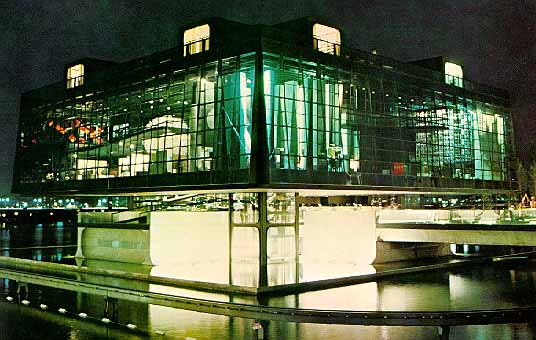 The exterior of Quebec's pavilion reflected the surroundings by day, and acted as a window to the displays inside by night.



Inside the pavilion was filled with 4,200 two-foot wooden cubes, painted in pure colors. The cubes were piled up into pillars, stuck together to make walls, used as display cases for films and still photos. The result was stylish and sophisticated as the pavilion concentrated on industry and city life, on technology and higher education. There was little displayed of traditional aspects of life that outsiders think of as Quebec. There were few references to religion, very little folklore and very little history. Fine art was pushed to a corner on the top floor. The intent in the pavilion's displays was "to illustrate the many aspects of human activity which had enabled the Quebec people to raise themselves to the rank of an industrial nation.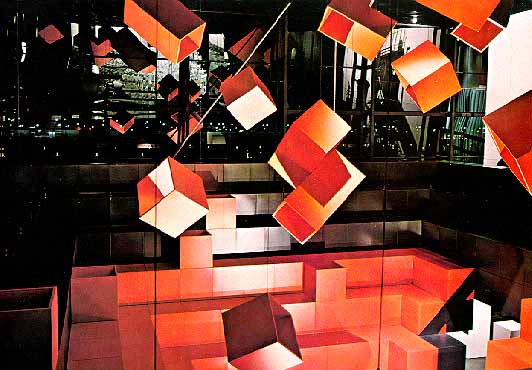 Maeder's 4,200 cubes were used as display cases for photographs and films. One group, frozen as it fell, symbolized a falling tree.



One entered the pavilion by a slowly moving circular elevator. For a moment everything was black and then one was suddenly in an abstract Quebec wilderness; mirrors multiplied to infinity stylized tree-shapes. One pile of Maeder's cubes was frozen in the act of falling, like a chopped down tree. Suddenly the visitor was among the cubes and their elaborate contents; fifteen different films, luminous panels, photographs and reproductions of ancient documents. Accompanying the displays was an electronic sound track; a mixture of bird songs, grinding machines, mine explosions, howling storms and bubbling brooks.