Polymer Pavilion
The Polymer pavilion was of rather unusual form. An intriguing metallic structure called "Curiosity" crowned the pavilion. It was a giant mobile in the form of a polymeric molecule in which many strange steel and aluminum disks shimmered in the wind. Three cylinders, each three feet in diameter, provided sculptured entrances at the east and west sides of the pavilion.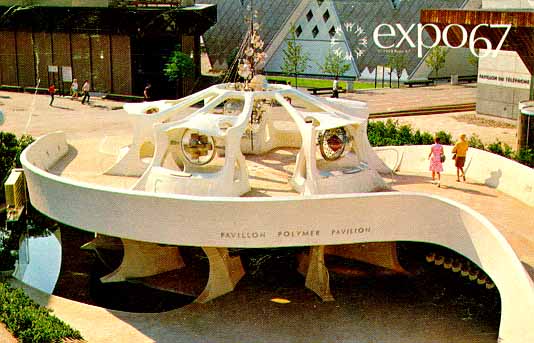 The unique Polymer pavilion.



Along the pavilion's ramp, from one niche to the next, visitors absorbed the lessons of polymerization; the difference between "right sides" and "wrong sides" of molecules. Exhibits taught the knowledge of polymerizable - the mixable, qualities of nature that had been produced for man. The practical application of that organic trickery was synthetic rubber developed by Polymer for the use in telephones, packaging, airplane tires, etc.