Ontario Pavilion
Ontario's pavilion featured a striking roof consisting of soaring angled pieces that formed pyramid shapes that appeared to float over an exhibit platform 18 feet above ground level. Each opaque vinyl glass roof segment created various sized exhibit areas. Below were a random mass of 1,320 granite blocks, so the effect was of a series of tents pitched in a cluster on rocky terrain.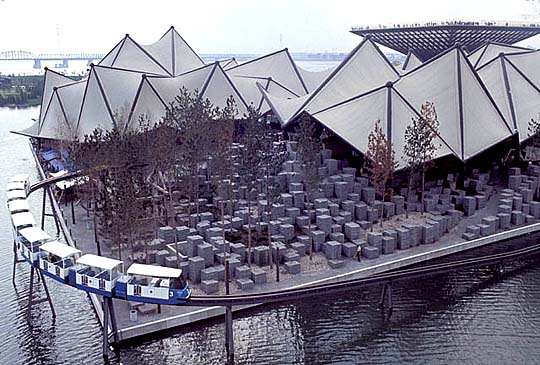 Ontario Pavilion



Ontario, as a Canadian province, featured 16 bilingual exhibits, a circular theater, and a large restaurant complex. The entertaining and imaginative exhibits captured the mood, character and dynamic outlook of the province. Colorful amusing paintings portrayed Ontario through a child's eye. An exhibit of historic Ontario in 1900 portrayed the home, entertainment, architecture and people of that period.

The focal point of the pavilion was its 570 seat circular theater which presented a unique multi-image 16 minute film, "A Place to Stand" on a 66 x 30 foot screen. The film was about Ontario; its industry, farming, city life, culture and sports. While the images weren't remarkable, they were juxtipositioned in forms that were irresistible. For example; during a scene with a harvester working in a wheat field, the screen was split into fifteen rectangles - fourteen showing only close-ups of wheat, the fifteenth a harvester advancing towards the audience. Then the scene of the harvester grew and grew until it filled half the screen and wiped out the close-ups of the wheat. Other scenes like the chaos of Toronto's night life was split into eight irregular hard-edged shapes so that it was like viewing a movie in splinters of a mirror. The movie had no narration or even sub-titles. It used only sound effects, orchestral music, and a song ("A place to stand, a place to grow, Ontari-ari-ario"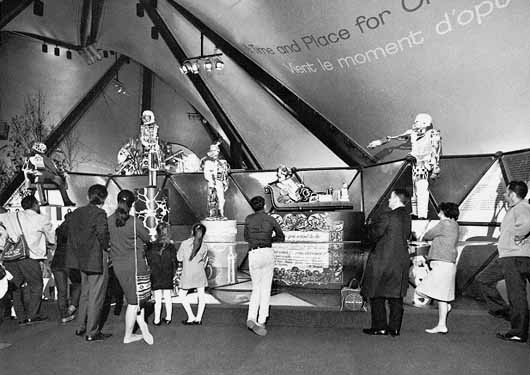 An exhibit in the Ontario pavilion.



The main exhibits began with colorful blow-ups of 50 paintings by Ontario school children. Subjects ranged from hockey and skiing, to men moving a house. Next, a charming five-minute drama about career opportunities was performed by animated robots with recorded voices.

The "Teen Scene", a busy kiosk decorated with a collage of records, school books, guitars and telephones, appealed to youth. Inside, the visitor saw a short film about Onatario youth.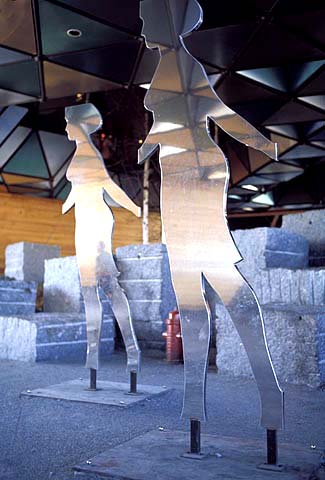 Stautes at the Ontario Pavilion.



"Profiles" featured six tall periscope-like shapes which the visitor peered into to see and hear about significant Ontarians. Other tributes to the past included a 1912 antique Adam Beck Circus Truck, in which the developer of hydroelectric power in Ontario toured rural areas to convince farmers that they should try newfangled electricity. On the truck was mounted an archaic washing machine, water pump, butter churn, milking machine and feed mill.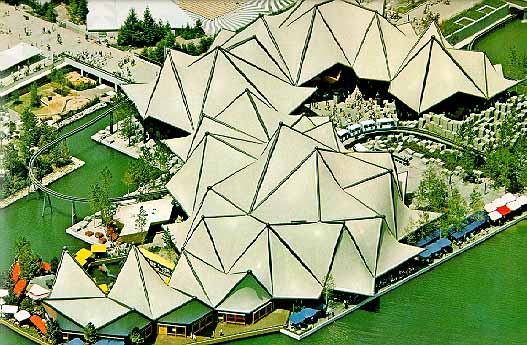 Aerial view of the Ontario Pavilion