Netherlands Pavilion
The Dutch choose a setting for the Netherlands Pavilion that reflected the geography of their country - by the water. The pavilion itself was architecturally unique. Its cocoon-like structure consisted of 35 miles of tubular aluminum, and it rested on concrete foundations covered by Dutch bricks. The pavilion was put together like a giant erector set and used a universal connector that allowed three-dimensional joining, thus eliminating welding, bolts, rivets and glue. One of its three main exhibition halls had a cantilevered area thrusting out towards the river for a magnificent view of Montreal.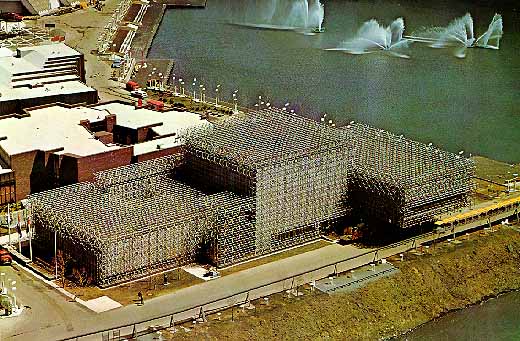 The Netherlands Pavilion used space-frame architecture. Its exterior structure was supported by 35 miles of aluminum tubing that was assembled like a giant erector set.



The pavilion dealt with life in the Netherlands and its overseas territories; Surinam (Dutch Guyana) and the Netherlands Antilies. Visual displays included; the Geography of the Country, its Struggle with the Sea, Industrialization, housing and town planning in one of the world's densely populated areas, Culture and scientific achievements, and an exhibit on Trade, commerce, shipping (rotterdam was the world's busiest port) and communications.

The sea was the theme of three major exhibits. The first exhibit was a huge model of the then 25 year old Zeeland Delta project that was scheduled for completion in 1978. The enormous model used 700 gallons of water to demonstrate the gigantic hydraulic complex that would provide more protection against the sea. A second exhibit depicted the importance of the Rhine delta to inland water traffic. The viewer could board a ship sailing down the busy Rhine, and via skillful use of film, maintain the illusion that the harbor was sailing past. The third exhibit featured a scale model of Rotterdam, the world's busiest harbor.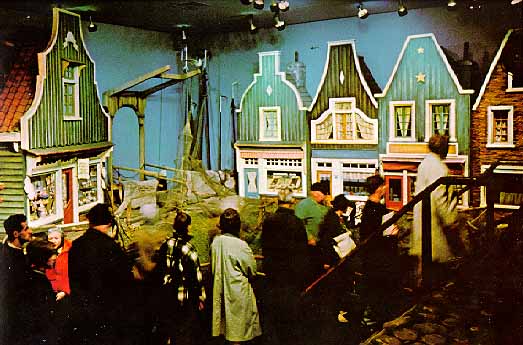 A replica of an Amsterdam street.



Other exhibits in the building included a model of Amsterdam made of cork, Amsterdam's International Airport at Schiphol. And the pavilion's third section, devoted to the arts, consisted primarily of a mural by Opland, Holland's leading cartoonist. It was made up of annotated line-drawings, witty collages and paintings.

A restaurant in the pavilion served Dutch food and drinks.


Model of shipping along the lower Rhine Rivr.




Copyright © Jeffrey Stanton 1997 & 2004
All Rights Reserved