Morocco Pavilion
Morocco's pavilion was an eight-pointed shape like the rowel of a Moroccan horseman's spur. Beside it stood a tall green and white minaret to remind the visitor of its Islamic heritage.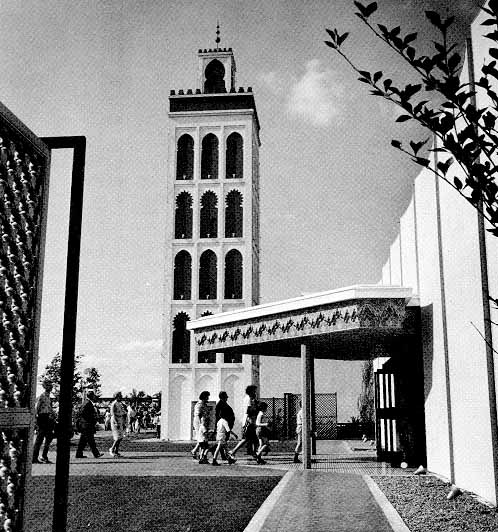 Morocco's tall green and white minaret adjoined its main pavilion.



At the heart of the pavilion were two large dioramas under the cupola. One showed Tinerhir, a southern Moorish town of the rural highlands. The other featured Meknes, the Versailles of Morocco. A nearby display had mannequins costumed as royal guards or as teachers to symbolize the magnificent city of Fez. In the galleries around the pavilion's rotunda, color photos, more costumes and statues reflected Morocco's past. In adjacent display cases were treasured relics; a Neolithic vase, a Phoenician sphinx, a Punic lamp, a Bacchus, and a Berber bust from the Roman era. Other treasures included Berber coins and jewels; daggers, ceramics, caskets and pieces of forged iron from Meknes; embroidery from Northern Morocco; 12th century bronze facings; and a 14th century frieze.

Also on display were ancient manuscripts that reminded the visitor of early Islamic advances in medicine, geometry and astronomy. Displayed near a priceless 12th century Koran, was a 14th century astrolabe discovered at Rabat.

Other exhibits showed modern Morocco - its modern port city of Casablanca and Agadair that was built anew after a devastating earthquake. Photographs of its spectacular mountains, verdant valleys, deserts, coasts and beaches were also displayed.