Monorail
"Expo Express", the Monorail system at Expo was a free transportation system that connected Place d'Accueil (the entrance) with the Ile Sainte-Helene, Ile Notre-Dame and La Ronde (amusement area). These large Canadian built trains by Hawker Siddeley (the company built the Toronto subway about the same time on a similar design), was a "true steel wheel on rail" system. The trains, that could accomodate nearly 1000 passengers, rode along a mostly elevated track. The trains were quick and efficient in transporting passengers from one section of Expo to another. Trains ran every five minutes and there were rarely any waits.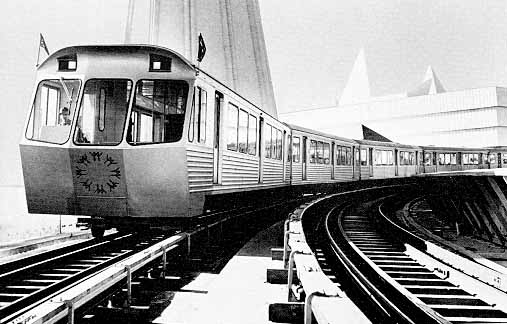 The Monorail transported passengers between the islands and to La Ronde.



Frankly I was so impressed with a system that obviously worked well, that I couldn't figure out why the system wasn't adopted by major American cities immediately. And 30 years later I still wonder why these and other monorail style trains aren't being used.