Minirail
Minirail station on the Isle Notre Dame.
Photo by Bill Dutfield.



Expo's elevated minirail system was installed more as a sightseeing device than a true transportation system. It was a low capacity ride and intentially slow to allow passengers to view the pavilions it passed. And in some cases, like at the United States pavilion, the minirail trains actually passed through its dome.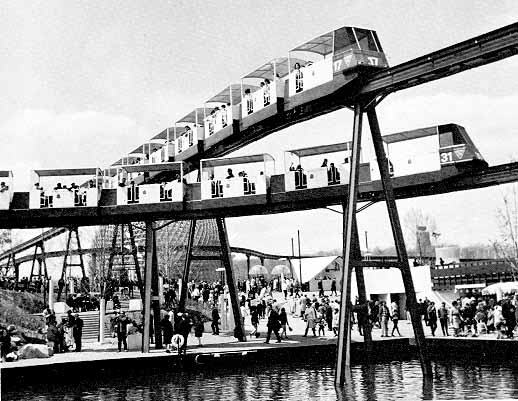 Two elevated minirail trains cross paths on the Ile Sainte-Helene.



There were actually several different routes, but the most popular was between Ile Notre-Dame and Ile Sainte-Helene. The fare was 50 cents and the lines were generally long. Another smaller system ran at La Ronde and charged 25 cents.


The Mini-rail train gave visitors a tour of the Expo grounds.
Photo by Bill Dutfield.