Kaleidoscope Pavilion
The Kaleidoscope Pavilion was sponsored by six leading firms in Canada's chemical industry. The pavilion was devoted to the theme Man and Color because chemistry, through thousands of processes, is responsible for practically all the colors in daily life. As the visitor moved around the pavilion's exterior, the huge ring of multi-colored vertical fins encircling it, appeared to move and change colors.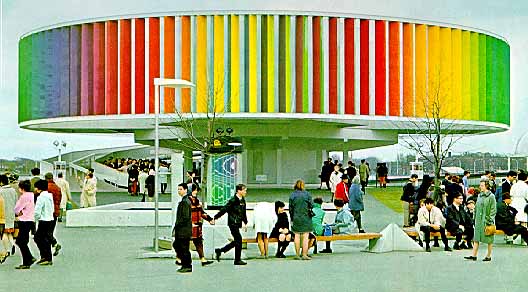 The Kaleidoscope Pavilion was a circular wall of color.



Inside an entirely new all-Canadian process was used to create spectacular effects designed to stimulate enjoyment and appreciation of all kinds of color. The presentation, which featured a story line, covered the colors of morning, midday, and evening by variation of the kaleidoscopic process in three chambers. The visitor's experience was both emotional and psychological as they were surrounded on all sides by a dramatic panorama of color, motion and sound.


The Kaleidoscope Pavilion at night. Photo by Bill Dutfield.