Judaism Pavilion
The pavilion was sponsored by Canada's Jewish community as a tribute to a people whose religion, culture and particular genius have left a mark on man and his world throughout the ages. The exterior of the rectangular pavilion had graceful elliptical lines that flared upward and outward. Large windows flanking the corners of the building, bathed the surrounding interior areas with diffused light.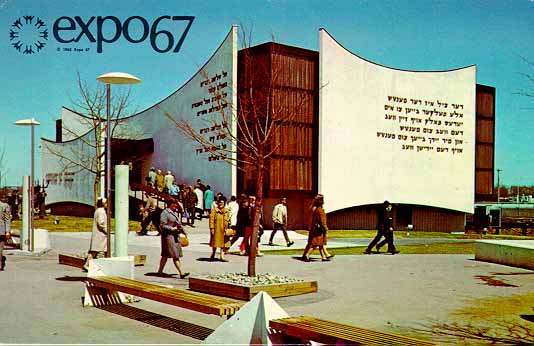 The privately sponsored Judaism pavilion.



Exhibits inside the building illustrated six sub-themes, the six main principles set forth in the Talmud (Torah or first five books of the Old Testament); learning, education and law; love of God; love of Man; quest for truth; quest for justice, and quest for peace.

Learning, education and law under Judaism were represented by rare volumes and manuscripts from various collections; first Bible printed for King James in 1611 and a magnificently illustrated Latin Bible printed in Venice in 1481. Another section showed famous Jews whose works had contributed to the progress of the arts and sciences.

Traditional splendor of various historic objects used to celebrate the rites of the faith were displayed; a remarkable collection of Torahs, silver incense burners, etc.

Another display recalled the persecutions suffered by the Jews, particularly during the 20th century. There were some photographs, crumpled letters, and excerpts from young Anne Frank's famous diary - an unforgettable symbol of the ordeals inflicted upon millions of those who followed Judaism. The next exhibit was full of hope. The Promised Land was a photographic montage that celebrated the young nation of Israel.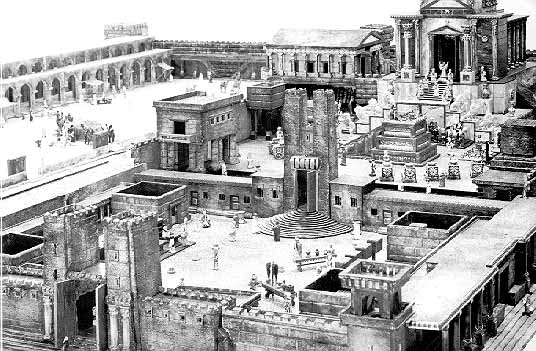 Model of the Jewish Temple in Jerusalem that was destroyed by the Romans in 70 A.D.



One of the most beautiful items in the pavilion was a scale model of the Temple of Jerusalem built by a Montreal couple, Suzette and Lazare Halberthal. The detail of the model was incredible and the model was populated with figures representing priests, soldiers, merchants and townsfolk.

Besides a small chapel for relaxing and meditating, the pavilion's lower level included an exhibition hall and auditorium. There were daily films and lectures by scientists, writers, poets, painters and composers.