Japan Pavilion
The Pavilion of Japan on Ile Sainte-Helene interpreted the Expo theme Man and His World by showing the art, industry and way of life of present day Japan. Its three section pavilion, which featured a traditional Japanese garden and restaurant where kimono-clad waitresses served authentic Japanese cuisine, was a blend of modern technology and traditional Japanese style.

The pavilion's building materials were square-cut beams of pre-stressed concrete. They were stacked cross-hatched like in the tradition of log-built feudal Japanese houses, and gave the pavilion a lightweight look where it seemed to float in space. An annex in the same style housed the pavilion's restaurant.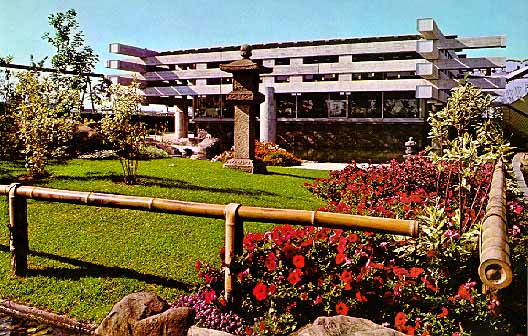 The Japanese pavilion featured its main pavilion, Japanese garden and restaurant annex.



Visitors to the pavilion ascended to its top level by escalator, then moved gradually down to the ground level through various themes. The first was Japan in Progress followed by Harmony with Nature. The later showed how the people of Japan lived.

Harmony with Tradition showed a model Japanese room which blended the fine traditions with modern ideas and equipment. The room was both startling and serene with a spacious lack of clutter. But the room is carpeted rather than laid with the traditional straw mats, and is unexpectedly fitted with modern one-piece chairs set into the perimeter of a many-angled well. And more remarkable was the presence of a TV set, stereo unit, modern telephone and typewriter. The room was a fascinating example of Japan's ability to combine the beat of both worlds; East and West.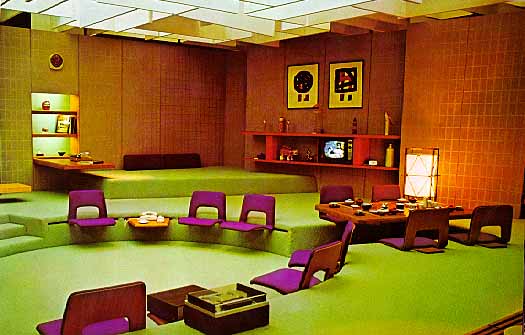 A blend of a traditional Japanese room with Western style.



Harmony with Technological Advance showed how Japan had contributed to electronic technology and industrial machinery. High-quality cameras, transistor radios, light motorbikes showed Japan's technological progress. And in the pavilion's final section, to show the strides the country made in electronics, was a computer that replied in Japanese to any message given it in English.

An annex in the same style housed the pavilion restaurant. The food too, borrowed from the Western world while it remained essentially Japanese. Chefs from Osaka prepared such delicacies as tempura (shrimp and vegetables deep-fried in wispy batter), jakitori and kushikatsu (chicken and pork in a Japanese shish-kebab). Each dinner was served in the Japanese manner with a bowl or tiny dish for each item. Drinks were sake, Japanese beer or green tea.

The one truly traditional part of the pavilion was its garden. It was an exquisitely wrought landscape of shrubs, rocks, flowers and grass, filled with the pleasing sounds of running water. Within the tranquil oasis was a pool which held beautiful Japanese carp and goldfish.