Italy Pavilion
Italy's pavilion faces the St Lawrence River.
Photo by Bill Dutfield.

Italy's pavilion was architecturally striking with its roof, a large curved surface, that began near the ground, then soared towards the sky, completely independent of the building below. Dominating the roof were three sculptures which symbolized the themes of the Italian exhibits: Tradition, Customs and Progress. A bunished bronze sphere by Arnaldo Pomodoro was the one that caught most passers-by's eyes.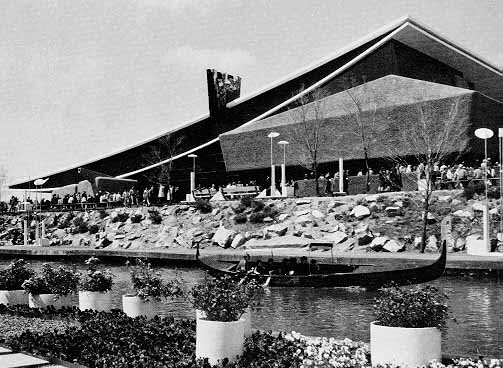 The Italian pavilion was dominated by a huge curved roof that was completely independent of the building below.



The main entrance to the pavilion was at the lower end of the sloping roof. The first section was devoted to Tradition. Just inside, a handsome Renaissance bronze sculpture, Little Eros by Donatello, greeted the visitor. In a dark catacomb-like area with lighted niches was a portrait gallery of men who made Italy great - from Cicero to Manzoni. Here the visitor could study notes on astronomy, a manuscript by Machiavelli, compare the signatures of Leopardi and Petrarch, and see reproductions of drawings by Michelangelo and Raphael. And in a patio setting was a perfect copy of David, another famous work by Donateelo.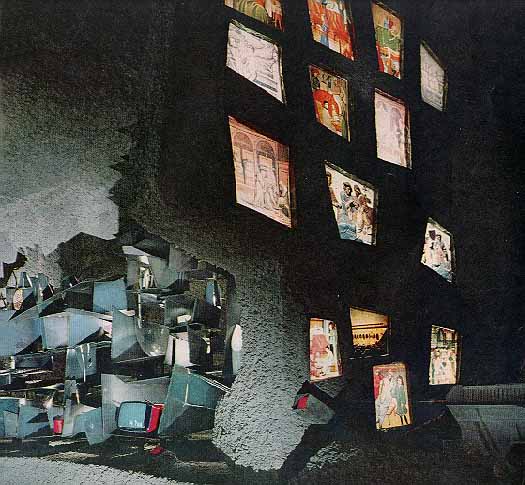 Art through the ages dominated one wall of Italy's exhibit on Tradition.



The section, devoted to Italian customs, began with slides of Romeo and Juliet in their native Verona. The attempt was to illustrate how the joys and tragedies of life are experienced in Italy. A simulated public square, a bar and a restaurant offered the visitor an opportunity to experience the charm of Italian social life and to sample excellent cuisine.

There were numerous exhibits in this section. One exhibit reminded the visitor of Italy's prominence in high fashion, while recalling the country's history through examples of Pompeii hair styles and Renaissance costumes. Italy's historic need to explore new horizons to seek out trade was shown by ancient maps, an astrolabe and the log-book of a 15th century navigator.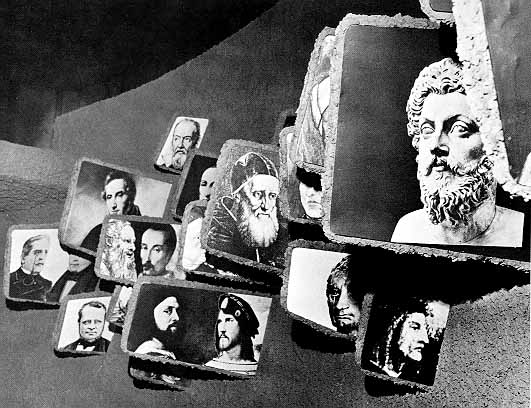 A modernistic portrait gallery honored the brilliant men who made their contribution to Italy's past.



The section devoted to Progress opened with a gallery of 21 paintings showing the newest trends in contemporary Italian art. A display of Italian contributions to science and technology demonstrated a parallel research in design. The striking appearance of a computer, a sewing machine and a machine tool proved their point. Italian automobiles, that combined good looks with efficient function were also on display. A Fiat 124 was split in the middle to show its structural and mechanical features. And finally, one of the Italy's technological achievements was a fascinating robot that could light cigarettes and pour liquids.


Ball sculpture on the pavilion's roof.
Photo by Bill Dutfield