Greece Pavilion
Greece's pavilion was simple in form - a series of white cubes separated by passageways leading to its interior. The area surrounding the pavilion represented an authentic Grecian landscape, with thyme, pines and cypresses. At its entrance, a patio tiled with Greek marble slabs and set off with statuary, trees and shrubs, provided a small open air theater for art performances.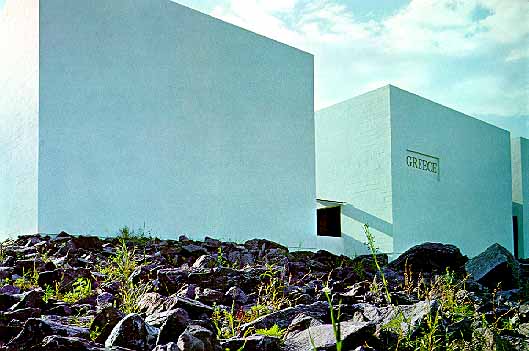 The Greek Pavilion.



The exhibits inside its eight halls ambitiously attempted to tell the story of Greek culture's influence upon Man and his World - on civilization, democracy, science, literature, fine arts and theater. Its first three halls told of contribution of Greece to arts and sciences from antiquity to 1967. The next two areas told of Greece's natural beauty, archeological sites, tourism and its relationship to the sea. Two more halls represented Greece of today through popular art and its continuance of tradition with a 15 minute movie.


Classical Greek statues of ancient statesman and athletes.
Photo by Bill Dutfield.