Economic Progress Pavilion
The pavilion's outside wall, which entered the pavilion at the same time as the visitor, turned out to be stage scenery cleverly arranged on the facade of rotating 45 foot pylons. From the exterior it appears that the large red and blue designs on the facade are moving, but they didn't metamorphose into intelligible pictures from projectors until you were seated.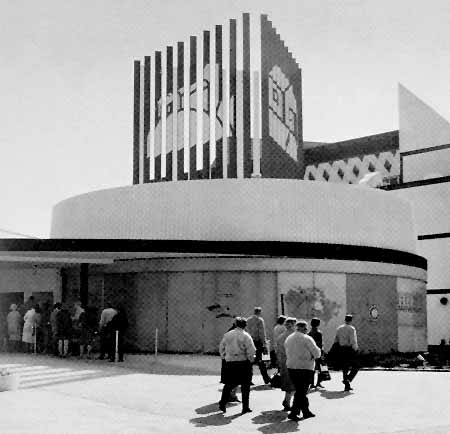 Economic Progress pavilion



Henry, a life-size puppet, day dreams of the future. He, like other young people, was trying to find his way in a constantly evolving world. He tried to understand how he fit into those laws of competition that determined how much things cost and where people worked. Henry and the visitor soon realized that in this age anyone who wanted to succeed need efficient tools. Henry went to a university where he struck in rich for the five professors he encounters harmonize like the Muses. They sing there courses in anthropology, sociology, business administration, and economics. They explained the principles on which today's highly industrialized society was founded.