Cuba Pavilion
Cuba's pavilion consisted of a series of geometrical white wooden cubes, bordered by marine-blue steel frames. While the tumbled juxtaposition reminded visitors of Mondrian's geometric canvases, the architect said that his design evolved from a series of containers, standardized units that were an offshoot of Cuban experiments in prefabricated housing. Inside, the controversial pavilion presented a theme of "revolution." It was frankly a propagandistic presentation that used black and white photographs to achieve maximum impact. There were huge images of war, revolution, oppressors and leaders in black and white. Human figures in pre-Castro Cuba were white on black (printed like a negative), shown as mere wraiths. Pavilion hostesses explained the symbolism: the people formerly exploited and enslaved, have taken their destiny into their own hands. The interior's paranoid atmosphere was heightened by fishbowl windows in jewel-like tones of red, blue and yellow, which distorted the color of the outside world.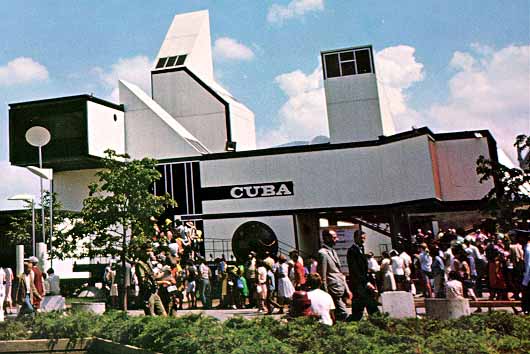 Cuba's pavilion resembled a Cubist painting, but was really an experiment in simple inexpensive construction.



The Cubans presented their history, from the discovery of the island by Columbus in 1492, until the takeover by Castro, as one of oppression and exploitation. History was explained in a melange of headlines, symbols and photographs of slaves, missiles. leaders, workers, battles and dictators.

A second floor photo exhibit described the accomplishments of the revolution in education and culture. On the top floor was a wordless film culled from newspaper footage. Cuba as the playground of the rich under Batista was contrasted with the post-revolutionary country in which woman and Negroes, previously discriminated against, played an active role in the building of a socialist society.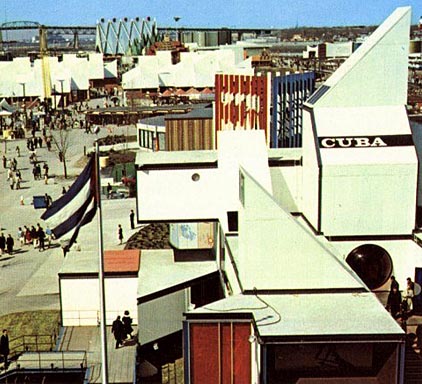 Exterior view of Cuba's pavilion.



Copyright © Jeffrey Stanton 1997
All Rights Reserved