Republic China Pavilion (Taiwan)
The architecture of China's pavilion recalled that of an Oriental palace. Under its eaves were undulating green tiles and wooden carvings that thrust out like the heads of legendary beasts, all framed by wind bands of multicolored patterns inspired by religious symbols. Three arched doors brightened the facade, the center one finely worked with twining floral patterns. The same designs were repeated in the wooden trellises set in the side walls.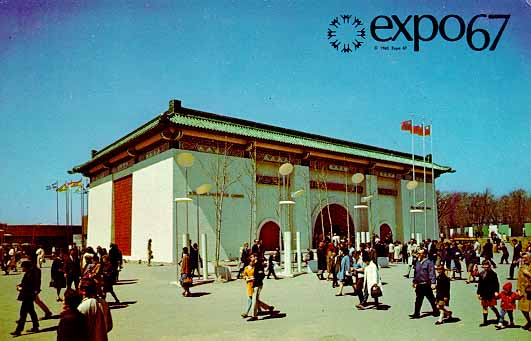 Republic of China pavilion.



The building had two floors with three large exhibit halls on each. A blown-up photograph of Chiang Kai-shek, President of the Republic, welcomed the visitor at its entrance. The first room was showcased China's argriculural industry. There were examples of food products and agricultural machinery. The second room illustrated the island's current way of life: a sitting room and dining room furnished in the Chinese fashion, but with modern electric appliances. The third section was devoted to textiles showing original patterns and colors. A restaurant in the rear of the pavilion served Cantonese specialties.

The three rooms on the upper floor displayed fine arts, handicrafts and tourism. Shown beside abstract art were traditional Chinese paintings. There was also a display of musical instruments including a harmonica made from bamboo. Engraved silver, vivid ceramics, pottery and china, and a collection of dolls in national costume revealed the country's rich folk art. The last hall contained captivating little wax models enacting scenes from Chinese opera on miniature stages.