Canadian National Pavilion
The Canadian National pavilion was a cluster of nine black polyhedrons (cells) and inside a complex of passageways linking them to an eight-sided motion picture theater. The cells were raised from the ground and visitors approached the pavilion from a sheltered garden beneath. Sponsored by a national railways and communications agency, the pavilion's purpose was to entice the visitor into grappling with time, through motion via a series of animated exhibit devices.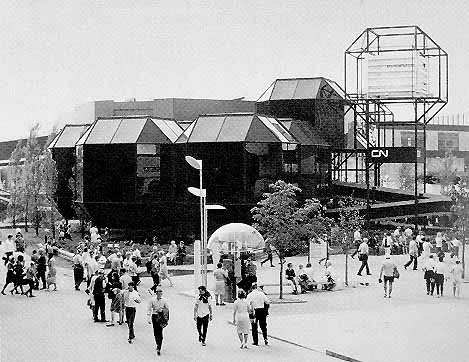 The Canadian National pavilion.



In a dark room with violet light, a screen spiraled away to create the fourth dimension. Globes pivoted, dials spun and lights swiveled in an Einsteinian world of relativity, where one wondered whether a meteor aged more slowly as it heutled through space. Time has a subjective dimension and it is perceived differently for different people. A kiss - Is it the same for the boy, the girl? For the rejected suitor?

Next door in the pavilion's eight-sided, 200 seat theater, happenings spilled out full or split screen in rapid succession; a crawling baby, a free-falling parachute jumper, a globe- orbiting astronaut. Which of them aged most slowly? The 14 minute movie drives home the truth that, though never totally free of time, man can apply himself to mastering it.

The pavilion's passages widened into many-sided rooms. Blades rotated at different speeds and gyrating spheres slowly subsided. Amidst thunder and lightning a cosmic explosion broke open a dark ball and a glowing earth emerged - tied to the universe by laws of time and motion. In still another room blue-green light showed the solar and lunar cycles, the waning of the seasons and the great sweep of evolution. Time was beyond human scale.

How do men spend their time? In movement filled lives often in search of pleasure ranging from a thoughtful game of chess to a breakneck ski descent. Time is a challenge to be fought, often by courage alone. A woman put on make-up to lessen the inroads of age; an athlete trys to run the three minute mile. Then one came to another dimension in time where geometric flowers opened up to reveal intricate fruits of man's passion for clockwork, for time-keeping.