Belgium Pavilion
Belgium's pavilion was a refined structure of red-brown brick broken by solid window panels of brown solar glass. In its foyer, busts of King Baudouin and Queen Fabiola presided over displays of periodicals, books and records, close to Bonduel's "Stations of the Cross", an example of folk art.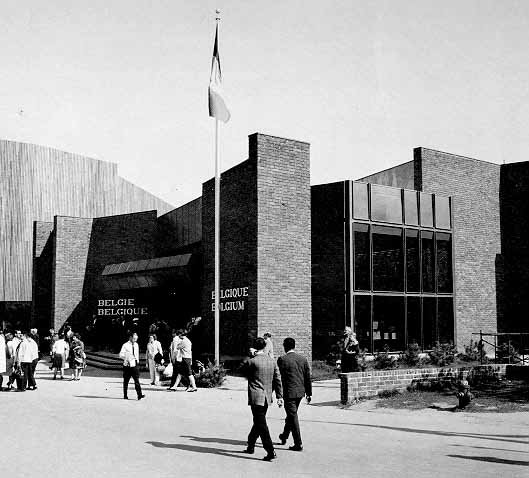 The Belgium pavilion.



Nearby in Its Hall of Honor, other treasures represented different regions of the country; from Flanders - a painting "The King of Drinks" by Jordeans; from Antwerp - "The Education of the Virgin" - by Rubens; and from Liege - "The Reliquary" by Charles the Bold. Three large ancient tapestries decorated the walls of the hall. In addition two magnificent books, Plantin's famous Polyglot Bible of 1572 and the Book of Hours of Margaret of Austria, were exhibited on a lectern.

Also exhibited in the Hall of Honor was one of Belgium's national treasures, a masterpiece of goldsmith's art - "The Shrine of Saint Remacle." He was a priest who died during the 8th century in a monastery he founded at Stavelot. Spotlights that played on the golden cooper sarcophagus, highlighted the precious stones and the shrines exquisite mediaeval renderings of the twelve apostles on its two sides. In the background, taking up one entire wall, was a full scale reproduction of Van Eyck's famous polypych, "The Adoration of the Lamb."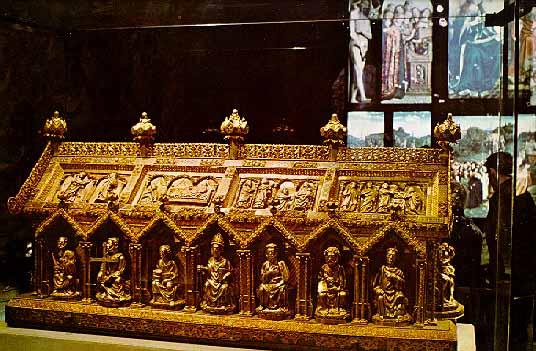 Art treasures displayed included the Shrine of Saint Remacle and in the background, a reproduction of the Van Eyck polyptych.



The layout of the pavilion's ground floor with its use of glass and its absence of partitions allowed the sections to flow into one another. Other ground floor exhibits told of religious and civil liberty in Belgium, and of its independence in 1830. An audio-visual display showed Belgium people and how they live.

A wide staircase guided visitors to its upper level where the Hall of Fame commemorated famous Belgium who made important contributions to the arts and sciences. There in a spacious room, 55 Belgiums were showcased. Among the famous were painters - Van Eyck, Bosch, Breughel, Rubens and Van Dyck; poet Emile Verhaeren; novelist Maurice Maeterlinck; architect and father of industrial design, Henry van de Velde; musicians Cesar Franck and Adolphe Sax, inventor of the Saxophone; geographer Gerard Mercator; and Vesalius, the father of modern anatomy.

There was also a display of Belgium industry illustrated by a sampling of products. On display was a collection of diamonds and a diamond cutter at work. And downstairs, a lacemaker from Bruges demonstrated her skills outside the entrance to the gourmet restaurant Le Bruxelles.