Alcan Pavilion (Aquarium)
The Aquarium was a joint project of the Aluminum Company of Canada and the City of Montreal. It was designed as a permanent installation and would operate after Expo closed. The Aquarium was composed of two vast circular buildings of different heights, joined at the intersection of their circumferences. Inside was 23 separate fish tanks, and the Water Circus, with a comfortable amphitheater and deep dolphin pool.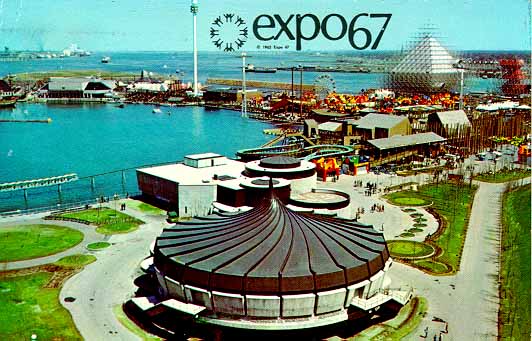 The Aquarium at La Ronde was located on the edge of Dolphin Lake.



Five dolphins performed in the Water Circus. They played soccer and jumped through hoops, even harmonized in a rousing rendition of Frere Jacques. One performs a trapeze act and applauds himself by spanking the water with his tail. Even the baby dolphin gets into the act.

A coral reef display shows a diversity of marine fauna. Other displays show penguins, sea horses, porcupine fish, marine turtles, savage moray eels and a man-eating shark.