Beach Art
This is the Story of Beach Art, Inc. and how The Official Open Air Art Museum of Los Angeles County Beaches came to life.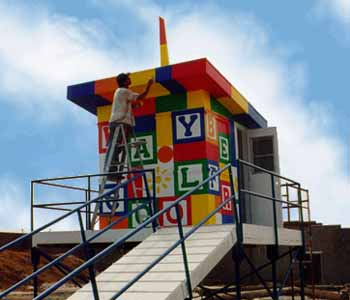 Beach Art's first project, a life guard station that will be placed at Mother's Beach in Marina del Rey.
It had long been a dream of artist, Sergio Premoli, to give a special gift of art to the children of Los Angeles. He imagined life guard towers as canvases on the beach where art could be experienced in a comfortable new kind of museum. A museum where you don't need a ticket to get in and you don't have to dress up and wait for visiting hours. Beach Art, Inc. has been able to make this dream come to life . The company has contracted with the County to build and paint 30 new life guard towers by the year 2000. Small teams of students and young artists under the direct supervision and guidance of each designing artist will paint the new life guard towers that will become known as The Official Open Air Art Museum of Los Angeles County Beaches. Each new painted tower will be different. It will become a functioning landmark and a work of art for everyone to experience.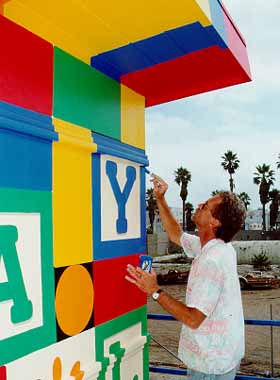 Renowned Venice artist and muralist, Rip Cronk, is adding final touches to the life guard stand.
The very first new life guard tower for the museum was recently completed. It was built to the specifications of Los Angeles County Life Guards and the County maintenance department. This new tower, seen in the photographs, is being painted in artwork designed by Venice Artist, Rip Cronk. Cronk is being assisted by students and teachers from Venice High. This new tower, designed to look as if it were made of children's colorful wood blocks, will soon be placed on Mothers' Beach in Marina del Rey. Five more towers will be placed on Venice Beach this year where approximately 8 million visitors to
the beach will see them.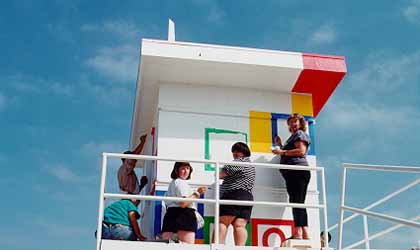 Young student artists are a big part in Beach Art.
To place your corporate acknowledgment on a major piece of art for the world to see and participate in this unique historical art project, email us at BeachArtLA@aol.com
Back to the Venice Community Page...

This page was produced by the Westland Network
Copyright © Beach Art & Westland Network 1997 - All Rights Reserved