You are looking at a Live Webcam from the Santa Monica Pier that is updated every 4 seconds. The Santa Monica Pier is a must-see, local attraction with fun and games for kids of all ages. Take a ride on the giant Ferris wheel and get a bird's-eye view of the surrounding beaches, Pacific Ocean and coastal mountains. The Pier is located in the seaside town of Santa Monica, just west of Los Angeles, and at the end of the historic Route 66.
More Beach Cams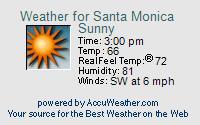 WestlandTraveler.com
Get the lowest price in minutes Guaranteed,
no matter where you want to go.
More Beach Links